The Raptors as a franchise have invested a lot in Jonas Valanciunas. Think back to the season he played at home in Lithuania after getting drafted. The Raptors not only routinely checked in on his nutrition and physical training, they also made it a point to create a documentary to placate fans about this saviour who was heading their way.
Fast forward three seasons, and Jonas is a polarizing figure among Raptors' fans. With the efficiency he's continually shown, there's no doubt that he has remarkable offensive potential, but it's the defensive side that remains a big concern. His Defensive Rating slipped from ~103 to ~105 after being left even more exposed by his team's porous perimeter defence. While he did show improvement as a rim protector, Valanciunas is still susceptible in pick and roll coverages, or in virtually any situation where he needs to move. I think the mental side of the game will come -- guys like Andrew Bogut and Marc Gasol aren't exactly sprinters -- but it's concerning that JV lacks any fluidity when moving up and down the court.
Offensively, he's the X-Factor in this team developing a new dimension of attack. With his solid free throw shooting ability and uber efficient post up game, it's no surprise that JV's TS% hit a career high of 62%. As Kyle Lowry and DeMar DeRozan hit the downside of their primes, it'll serve the Raptors well to continue to lean on Valanciunas and get his usage rate up.
Statistics
80 Games (80 Starts); 12.0 PPG, 8.7 RPG, 1.2 BPG, 57% FG%, 78.6% FT%, -0.7 Net Rating.
Best Game
January 12 vs Detroit Pistons (114-110 Loss)
No game represented Valanciunas' efficient offensive potential like this game. JV absolutely lit up Andre Drummond all game, to the tune of 31 points and 12 rebounds, while shooting 14 of 15 (!!!!) from the field. Now, keeping with our typical JV theme, Greg Monroe and Drummond stole 10 offensive rebounds on his watch. Regardless, end result and plus-minus aside, this was the game that Valanciunas showed how promising his offensive arsenal can be.
Worst Game
January 8 vs Charlotte Hornets (103-95 Loss)
The Hornets had a front line of Bismack Biyombo and Marvin Williams this game. Whether it was a case of the Raptors looking off JV or JV refusing to assert himself, there was absolutely no reason he shouldn't have dominated the undermanned Hornets. Instead, he shot 3-of-9, with 6 rebounds in 22 minutes, and was a -16 on the night.
Strengths & Weaknesses
+ Supremely efficient offensively
+ Relative youth
+ Expandable offensive arsenal (solid jump shot, good in P & R and post ups)
- Porous defensively, especially when made to switch
- Below average rebounder (Check This)
- Moves like he has cement in his shoes
Role Next Year
No player's role interests me as much as Jonas Valanciunas'. Of the Raptors top five players in Usage Rate, four of them were perimeter players (I'll let you guess who). Valanciunas was fifth, but given how efficient he's been, he needs to be utilized much, much more. Yes, that true shooting percentage will drop a little, and that's okay. It'll still be higher than what Greivis Vasquez routinely puts up. I also hope that Dwane Casey adjusts his scheme defensively enough to accommodate leaving JV in during crunch time. I'm curious to see how his mobility looks, and remain optimistic that 3-4 years down the line, JV will be a clear net positive.
Gif to Sum up the Season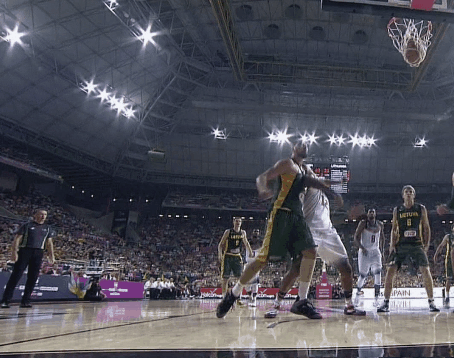 TOUGHEN UP, JV