With only a few days before the NBA lottery, the HQ takes a quick look at Toronto's draft history...
With the 21st pick in the 2000 NBA Draft, the Toronto Raptors select Morris Peterson, from Michigan State.
That's where it all began for me.
Not in terms of my fandom regarding the Toronto Raptors, but that was really the first Raptors' draft that I can remember.
Oh sure, I remember the Ed O'Bannon/Damon Stoudemire debate.
And I remember the Antawn Jamison for Vince Carter draft day swap.
But the selection of Morris Peterson still brings back vivid memories, and me, as a huge college ball fan, was thrilled that Mo Pete was somehow still on the board when the Dinos were making their pick that year.
In terms of pure value, Peterson has to be one of the better picks made by the franchise of all time does he not? Considering that draft class may be the worst of all time, with names like Marcus Fizer, Stromile Swift, Jerome Moiso and Mo's "Flint Stone" buddy, Mateen Cleaves being picked before Peterson, he was a pretty solid selection.
Not so solid?
Obviously Rafael Araujo would be on such a list.
While I may remember the Mo Pete selection quite well, the Hoffa debacle I can remember as if it were yesterday.
The Raptors, desperately hoping one of the top point guards in the draft would fall to them, got to the eighth pick in 2004 with Ben Gordon, Shaun Livingston, and Devin Harris, all off the board, selected one after another in fact.  A number of us were watching this unfold and had all sort of started to settle in on the idea that while the Raps wouldn't get a future 1, they would still get an exciting prospect in Andre Iguodala, the player many mock drafts and experts had predicted Toronto would take at this spot.
However we all know what happened next.
David Stern stepped to the stage and called the name of a little known bruiser from BYU, a player most anticipated as a mid to late first-round pick.
Two seasons and a PER of 5.8 later, he was shipped off to Utah.
Other "dud" selections?
Chris Jefferies, Jimmy King, Aleksandar Radojevic, Michael Bradley, Joey Graham...maybe even PJ Tucker considering some of the decent to solid second-round picks selected in his draft class.
That's not to say the Raptors though historically have been terrible in the draft.
In fact if you go through their history of picks, you'd have to argue that there have been more good than bad, a statement backed up by the same ESPN.com D.R.A.F.T. initiative that I've been referencing of late.
In one of their posts on team draft history (up until 2009), the D.R.A.F.T. team put together the following graph: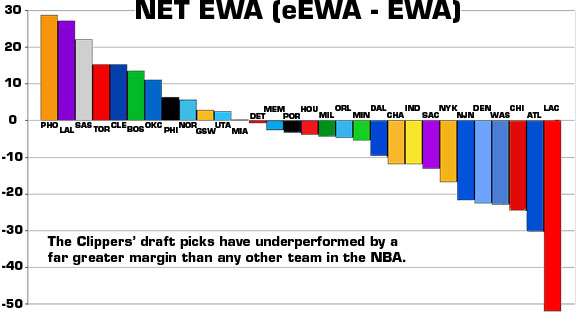 As you can see, the Raps have actually been the fourth best team in terms of drafting players that have, taken as an aggregate, exceeded the expected wins added mark they were supposed to produce.  In the graph above, that mark overall for the Dinos is about 15 wins on average.
Not too shabby.
No, I'd argue the draft hasn't been the key issue in Toronto historically but it's been what's gone on after that.
Picks like Carter, Tracy McGrady and Damon Stoudamire would have formed a pretty formidable group...had Toronto been able to hang onto them longer.
That's really a topic for another day but point being, despite a few flame-outs here and there, the Raps have done a pretty decent job in grabbing quality talent, regardless of what position they've been selecting from.
This is huge as unless the league makes major changes to its collective bargaining agreement this summer, the draft will still be the best way to build a championship caliber club outside of one of the major markets.
One other thought for this Saturday; while I've been pretty tough on Bryan Colangelo for his draft-work as the Raps' GM, take a look at the graph above again.
The number one team?
The Phoenix Suns, who owe a good chunk of their draft success to a certain GM who happens to be running the Toronto Raptors right now...
...and who will be attending this Tuesday's lottery...