Over the next few months, RaptorsHQ.com will be undergoing some major transformations.
Some will be visual, others, on the content side.
This morning though before we sink back into mega-draft coverage tomorrow (Raps are bringing in another group for a look on Wednesday), we thought it would be a good idea to finally introduce something that's been in the works for a while; a specific portion of the site dedicated to Canadian Basketball.
Ever since the slow demise of Hooplife, this is something we've been wanting to do for a while and last fall we grabbed former Hooplife writer Ray Bala for the task.
Ray has been working tirelessly behind the scenes and has already secured some incredible access to upcoming events, something that should be interesting not only to our current Raptors-specific readership, but to the many basketball-junkies out across the nation who just aren't getting the fix they need.
While Ray will primarily be looking at Canadians playing D1 in the US and professionally overseas, he'll also be scouting local tournaments, looking at the Canadian University basketball landscape and the National Team, and even working on some cultural stories fusing the game, music, fashion…you name it.
To kick things off then, a few words from Ray Bala about Ray Bala:
Having a passion for all things basketball, Ray has managed to somewhat parlay that passion into a writing career. Having been a contributor to various basketball, and non basketball, publications of the last few years, he has also held the position of sports editor at a Toronto community newspaper, lifestyle editor for the Australian basketball magazine "Handle," as well as contributed to Canada Basketball's own site. Ray is also currently assisting in the PR department for the Women's Blue Chip Basketball League, "Toronto Stealth." He is currently still obsessed with all things basketball, particularly Canadian, as well as trying to find the time to grow his music and shoe collections. When not at the local YMCA working on his spotty jumper, he can be found scouring the city looking for his next meal.
It's great to have Ray on board and what follows are two pieces he's recently completed.
The first is a brief interview with Wayne Dawkins, the founder and organizer of the annual All-Canada All-Star Weekend while the second is a recap of the weekend itself which just concluded this past Saturday.
I'll let him take it away from here – FRANCHISE.
This past weekend marked the ninth time that the longest running national high school all star event tipped off. Since 2000, the All-Canada Game has been showcasing the best and most talented basketball players from coast-to-coast and this year was certainly no slouch. On tap this time around were not only skills competitions and the men's and women's All-Star games, but there was also the addition of an alumni game that not only stirred memories, but also provided plenty of excitement. There were nine players that have secured Division 1 NCAA basketball scholarships expected to attend, one of whom was a top-ten prospect in the US, not to mention others who had signed to play at Canadian schools in the coming season. There was even scheduled to be an NBA player in the game! I caught up with the event's founder and organizer, Wayne Dawkins, to go into the roots of the game and why it has successfully managed to stick around when other have come and gone.
Ray Bala: How did the game come about?
Wayne Dawkins: It started in many years ago. I had a coach I used to work with named Saeed Al-Naji and we had put together a great group (of players) that included Denham Brown, Kevin Massiah, Tristan Martin, just a phenomenal group of guys. We eventually teamed up with Ro Russell, who was running Elite Toronto Development and had Duane John, Chris Exhilus and Olu Famutimi, and together formed the organization Grassroots. When we combined, one of the things we wanted to do was to create better opportunities for our athletes. The second was to fundraise. Saeed was the one that came up with the idea (of the game) first and this would be a place to accomplish what we wanted: expose our athletes and raise funds. Fortunately it has grown and is growing strong.
RB: I know that there have been a few events similar to this over the years and they have come and gone. It's good to see that the event has been consistent enough to come back for now nine summers. Why is that?
WD: I think a lot of mistakes some organizations have done is that they have not put the athletes first. When you look at some of these other entities or organizations, the athletes didn't feel connected to it for whatever reason and when no one is putting money into the basketball community, things die.
RB: Are you surprised at the event's steady growth over the years?
WD: I'm surprised because financially there isn't anything there. People think that the event has a huge budget. It runs on a shoe string budget and a lot of volunteers and in the beginning the volunteers were mostly the athletes and students. [The All Canada Classic is] basically a volunteer operation with me being the biggest volunteer at the helm. How it survived so long, people point the finger and say that it's your passion and energy.
RB: How have you managed to continue the All Canada Game's growth?
WD: Keeping this event going has been about reinventing. I looked closely at Madonna and she is very determined and is constantly reinventing herself. And with this event, you are constantly tweaking it in a way that is works for our community such as an awards banquet to honor the athletes, coaches, and community members. Finding different ways to make it more inclusive and bring the community in as opposed to trying to cash in. If your agenda is about these athletes, they will buy in. If it's not, they can smell it a mile and it will fall apart.
RAY BALA
All Canada Weekend 2009 - Recap
Toronto - This past weekend Wayne Dawkins and his Metro Phase 1 program hosted the 9th annual All Canada Game in Toronto. I'm sure that most of the casual Canadian basketball fans were not aware and this is a shame since this was probably the single best event of its kind in the country. All the best high school level players in the nation were in one place and it did not disappoint.
Dawkins and his team put in some hard work getting together the Canuck equivalent of the McDonald's All- American game. They had a weekend of events for the Canadian basketball community which included a skills competition and an alumni game for both men and women along with the young men's and women's games concluding with an awards banquet on the last day. I was unfortunately only in attendance on the Saturday, which was the showcase day when all the games were played, but everything I got to take in in terms of game action, was every bit as impressive as I had expected.
I got into the Seneca College Sports Centre just in time for the men's alumni game which featured players who had played in the event's nine year history. I arrived midway through the first half and it looked like a sure runaway victory by the East Team, which featured former D1 players like Sefton Barrett, Eugene Kotorobai and former top 100 prospects Jeffrey Ferguson and Olu Famutimi. They seemed to be in control in all of the first and halfway through the second half. But this wouldn't be an all star game without some excitement and this game was definitely full of it in the last five minutes. With a West Team that featured former National Team members Jermaine Anderson and Denham Brown, the game turned into an instant classic.
With less than six minutes to go, the West cut the lead from 17 to three with 38.5 seconds left. Brown would score again to cut it down to one point putting even more pressure on the East. The East responded however by making one of two from the line after a foul to go up by 2; 90-88 with 17.3 seconds remaining. However Denham Brown would not be denied and put back a missed "and one free throw" with less than two seconds to go in regulation to knot the game at 90 points and force overtime.

In fact Denham would make the extra period his own personal showcase dropping nine of the 11 points scored by his team beginning with the first seven of overtime, and his West squad would go on to win the first alumni game 101-96. It was an extremely exciting finish and laid the groundwork for what should be another exciting affair next year.
The main event, the Men's Rumble, was another great one. Dawkins and his team got the best young talent playing in this country, and as mentioned, some that play down south. It was a who's who of players and it drew a myriad of Canadian basketball personalities including National Team Coach Leo Rautins and former Raptor Jerome Williams. Franchise recently talked about the importance of laying the groundwork for Canadian Basketball culture here in Canada via the Raptors, and alluded to the Alvin Williams potential coaching position as part of this. Seeing JYD at the game further reinforced this mantra and hopefully this is a major endeavour going forward for the Raps.
The game itself was great and it played out like any other all star game; a lot of offense, little defense, sloppy play early and a lot of ooohhs and ahhhs. The players for both teams definitely had the game to be at this event but those prospects playing Stateside seemed to be a cut above the others with Junior Cadougan (signed letter of intent with Marquette) in particular looking unstoppable.
It was a seesaw battle between the East and West in the early minutes with the West taking a ten point lead into the break. The second half would be a little different as both teams were looking to lock-in on defense, but the offense still flowed well. Turnovers were still abundant (this was an All-Star type event) and Cadougan was still showing why he was invited to the National Team try-out a couple of years back. Tristan Thompson, probably the most highly regarded player in recent memory from Canada, looked a little sloppy and uninterested at times, though his skill set was noticeable. I wasn't able to stick around for the whole second half but I had seen enough to know that the event had definitely succeeded in bringing together the best of the best.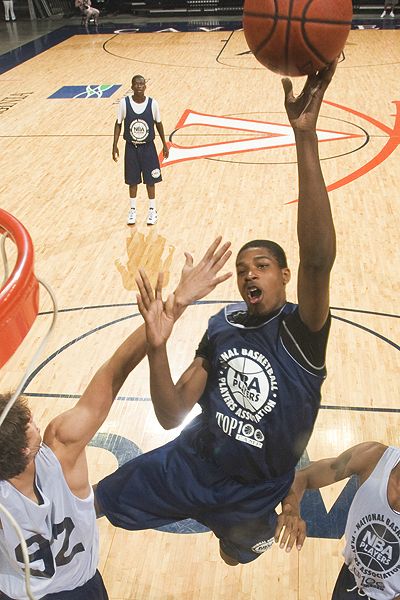 A few notes on some of the top players in attendance:
-Thompson, a top 5 recruit on sites like Rivals.com and Scouthoops.com for the class of 2010, looks noticeably more muscular than he did the last time I got to see him in action.
-Cadougan, who has been noted to over-dribble at times, was a lot more efficient, using his dribble to get to the hole whenever he wanted, often finishing at the rim.
-Recent Slam Magazine subject Brady Heslop, a 6-1 gunner who is considering Waterloo and U of T, can shoot and I mean SHOOT! He didn't miss a 3 when I was watching and I saw him hit at least ten with defenders draped all over him.
-Finally, Alwayne Bigby (Northeastern) was the best athlete playing in the game with Gonzaga bound Manny Arop coming a close second.
All in all, the All-Canada Weekend was a great event. It would have been nice to attend each day but that's something the new HQ team will be working on going forward as we expand the breadth of our coverage.
And the one day I did get to showed that this event was definitely worth the price of admission and is really in need in our basketball community.
RAY BALA