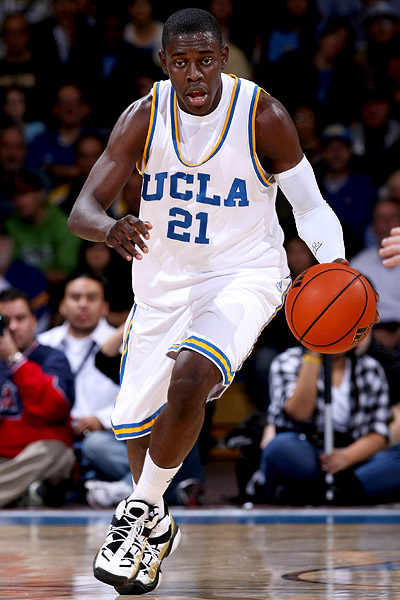 D Day for the Toronto Raptors.
Yes, draft-day, and also decision day in a process that's been about as murky as Lake Ontario.
For the first time that I can remember, less than 24 hours away from the draft there seems to be only one thing that's certain – uncertainty.
Chad Ford's latest mock draft on ESPN.com has a "confidence" level attached to each of his mocked picks and after Blake Griffin, there aren't a lot of high percentages let's just say.
And for good reason.
Memphis, Oklahoma City and Sacramento could go any number of directions and in fact, Ford has James Harden falling all the way to the Knicks in the latest scenario.
For many Raptors' fans that would indeed be heartbreak hotel as previous to this morning, there didn't seem any way that Harden would fall so far and to have him go with the pick right in front of Toronto would sting.
So who in the end do I think Toronto will choose?
Again, I think a lot hinges on who's left on the board when the Raptors roll around. Up until yesterday evening I thought James Johnson was the top choice for Toronto, but word from some of my sources already at the draft in New York is that Flynn is in fact suddenly the forerunner.
However with most mocks now saying that Flynn could go at 4 to Sacramento, I think Jrue Holiday and not Johnson, will be the final choice.
Of course if Holiday gets chosen too prior to the ninth pick, things then get VERY interesting as someone in the ilk of Harden or Evans will have to drop. This would be a dream scenario for me personally as Harden and Evans would be my top two options at 9. In the end though, I have a feeling that Holiday will be the pick, bringing me back to my thought process immediately after his first workout here in Toronto a few weeks ago.
Would I be thrilled with Holiday joining the team? I prefer him to DeRozan or Johnson and would be fine with the selection, but would be happier with Flynn or Henderson. I don't think Holiday's season at UCLA did him justice and while I wasn't a fan before the draft process began, a closer look at Holiday's metrics recently have warmed me up to him as an option. Considering his ability to play the 1 and 2, Toronto's needs, and his defensive intangibles, it looks to be a fairly safe pick.
The big question for me though is what happens with Roko if either Flynn or Holiday is the choice in the end.
One of the first errors in judgment made by BC was to under-estimate Jose Calderon's abilities and had he known that Jose would rise to be a top-level 1, then perhaps Villanueva is either retained or moved for another need. In any event, it avoids the pressure of having to move TJ Ford, and therefore the last thing I want to see is a repeat of history. If Roko suddenly takes a giant step next season and outplays whomever Toronto drafts, it could be a tough road to start to go down again for fans.
It will be interesting to see what direction this team goes in though tonight in any event.
Will BC draft for need, for a player who has the best upside, or take the best player available – ie – one that can impact this team immediately? With the recent moves by Washington, Milwaukee, and now Cleveland (Shaq???) the one thing that's certain is that the East isn't getting any easier. Therefore I'm hoping that Toronto looks at drafting a player with an NBA skill-set that can impact this team immediately and Howland is thinking along the same lines. The organization needs to start collecting assets again and the draft is one of the best ways to do that.
Also, Howland believes that the best case scenario for the Raps, no matter how unlikely, would be to somehow turn the number 9 pick into a lower round pick and a future number one. His argument to me last night was that this year's draft class is just so weak that picking up a first rounder in a future draft would be a coup. In comparison to the upcoming free-agency period, we both believe that the draft is a distant second in terms of the future of this franchise. So unless Toronto gets lucky and as mentioned, Evans or Harden somehow fall, we don't believe that any of the prospects the Dinos are considering at 9 will have a huge impact this coming season.
Vicious D is essentially on the same page as us and is worried about the whole "Go big or go home" mentality. Here was his take when I spoke with him last night:
"If you're a Raptors fan, you're probably worried about that mindset. Heck, I certainly am. Yes, it's possible to swing for the fences and get a draft pick that turns into the next superstar athlete and the entire NBA knows that Toronto needs one if they hope to compete with the best of the East. However, I'm of the conservative mindset. We've already been warned to death regarding this draft's lack of superstars. In my opinion, that means you look for guys that can contribute now, have a lot of hustle, and can bring intangibles. Which reminds me of a time when the Raptors had a late first round pick and drafted Morris Peterson, a player who arguably in this weak draft class, would be a mid to late lottery pick.
That's why I'm hoping the Raptors go for Gerald Henderson. He may never be a flash player, but the people we've struggled to replace in the past two years never were. Peterson and Garbajosa were simply players who came and put spirit and a calm presence to the Raptors. I believe we'll see many of those same qualities from Henderson if we draft him."
I'd love to see Henderson here of course, but right now it looks like he's at the bottom five of Toronto's list.
A few other interesting questions Howland mentioned to me last night regarding tonight's draft:
-Although BC has stated he is not necessarily looking to get back into the draft, it's clear from some of the recent deals this week (Jefferson and Crawford) that certain teams are making moves with only financial considerations in mind. It would be wise for BC to leverage this somehow to pick-up another asset.
-Do you think BC regrets not dealing the team's second round pick (which was used on Jawai) for the handful of future second round picks offered at the time?
-There is a lot of discussion about why Toronto can't be more active in deals prior to the draft. The reason for this can be traced back to when BC packaged a plethora of assets for JO. As we all know, BC took a risk and the results were not pretty. The effects of that deal continue to be felt today. Although Marion is off the books the Raps just don't have any assets to get heavily involved on the trade market. The roster is currently made up of three core pieces in JC, Bosh and Bargs, a handful of scrubs in Banks, Douby, O'Bryant and Jawai and little else in terms of guaranteed deals. By dealing so many assets to Indiana BC severely limited his future options. In comparison to say San Antonio, the Raptors just don't have a variety of middle-of-the-road contracts to deal. As time goes on we see just how bad that deal was for the franchise. Of course hindsight is 20/20.
Adding to this last piece of Howland's, it sounds like the going rate for second-round picks this year (cash + future second round picks) is extremely high. This is probably because of the parity in the draft, where early second-round picks could easily end up being more productive NBA players than many first-rounders.
Unfortunately after hearing that, I doubt we'll see Toronto throw its hat in the ring for a second draft choice now, a shame as I believe that there are indeed many good prospects who will be available in round 2.
Finally, don't forget that we are hosting our annual draft party at Harbour Sports Grille tonight. Howland will be holding down the fort so if you think you'll be dropping by, let us know in the comments section so we can book additional seating if need be.
I'm not sure what sort of set-up I'll have in New York, but if possible will be live-blogging and sending up-to-the minute updates, interviews and other exclusives to Howland for posting.
It should be a very exciting night, and hopefully Toronto is able to grab some key pieces for the coming season(s.)
FRANCHISE
Oh and if the Draft isn't enough for you we have National Program news. With a jam packed summer scheduled for our many national teams, Canada Basketball has just released the men's and women's rosters that will be competing at the World University Games.Both teams, comprised of players from both the NCAA and CIS ranks, are scheduled to head out today for Europe. For more info on the event and the teams click the link.