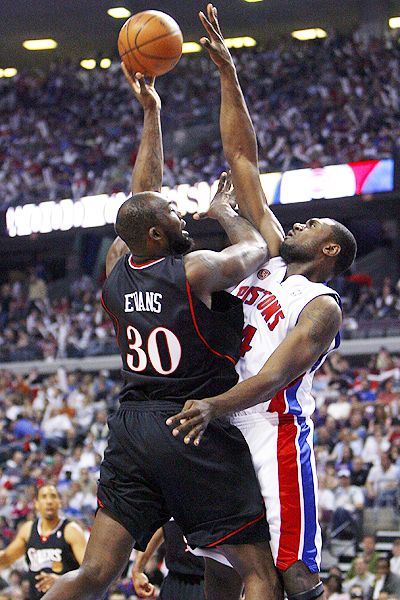 The Legomaster is at it again.
In a rare early June trade the Raptors have dealt Jason Kapono to division rival Philadelphia for Reggie Evans.
This deal shouldn't come as a surprise, unless of course you thought Jason Kapono and his salary were completely untradeable.
In our recap of Colangelo's end of season media address we wrote the following:
The Major Needs:
Outside of the back-up PG situation BC pointed out that the team's biggest needs were two-fold – a player who can both create offensively and be a solid defender to help protect Jose at the 2, and a rebounder. Raptors fans are craving the former but the focus during the press conference was on the latter. In regards to rebounding BC pointed out that the team, as currently constructed, will never be a great rebounding team. Although Bosh averaged ten rebounds, BC does not feel that Andrea "will ever be a monster on the glass" based on his style of play, and the team needs help in this department.
It's not just rebounding that the team needs help in however. The team is soft and Colangelo acknowledged as much saying that the team needs is too nice as a group. There clearly is a toughness deficit on this team and it's nice to hear that BC will be looking to address it even with the big guys he added over the course of the year.
The motivation for this deal is crystal clear. By acquiring Reggie Evans, Colangelo has helped to address not only the team's lack of toughness but also its dire need for a rebounder.
Make no mistake about it, statistically Reggie Evans is a one trick pony in that he is a very good rebounder, but provides little else. In his six-year career, Evans has been consistently ranked as one of the league's best rebounders per 48 minutes and in 2006-2007 he actually led the league in that category. Last season he produced 4.6 rebounds in just over 14 minutes of action.
What can't be measured statistically is the toughness he brings to the front-court. Evans is your prototypical "banger," something this team has been lacking since the days of Charles Oakley and even Antonio Davis. In fact, Evans brings with him a tag of being a bit of a dirty player. (Everyone remembers the infamous "Evans low-blow.") After watching the Raps shy away from contact though and play the victim more times than not, acquiring a player of Evans ilk can't be viewed as a bad thing. It's nice to know that if the other team pushes, the Raps have someone who will push back.
Reggie comes with some glaring flaws however. The big man is a horrific free-throw shooter and has no offensive game to speak of. There's no question that Evans will carve out some minutes on this team, likely at Humphries' expense, but don't expect him to be a crunch time player.
This deal was basically a swap of one skill set for another; 3's for boards. It is debatable which skill is more valuable, but the Raps were desperate for what Evans brings. Of course simply bringing in Evans shouldn't be viewed as the quick fix to the Raps toughness issues. This team still needs a 2/3 who craves contact both on the offensive and defensive end of the court.
From a cap perspective this was a no-brainer for BC as the Raptors are taking back a lesser-paid player. Kapono's contract expires in 2011 as does that of Evans, but rather than doling out $6,212,960 and $6,641,440 over the course of the next two seasons for Kapono, the Dinoss are now on the hook for $4,960,000 and $5,080,000. This is substantial savings at a time when the cap looks to be decreasing, and Toronto needs all the money it can get to fill other voids.
And here's a question; does this trade increase the likelihood of the Raptors re-signing the Matrix?
One thing the trade does do is that it virtually guarantees that the team will be taking a wing player with the 9th pick in the draft. With this move the Raps have no one under contract for next season who can play the 2/3 spot (with the exception of yikes, Quincy Douby). Although it would be nice to see a player like Jonny Flynn in a Toronto jersey, unless BC manages to grab another high first round pick the Raptors will certainly be looking for a player like Tyreke Evans, Demar DeRozan or James Harden to fall. And if those three aren't there, it's not impossible now that they will trade down to nab someone like Gerald Henderson or Terrence Williams. The one potential draftee who definitely seems to be out of the running of course is DeJuan Blair, a virtual clone of Evans on the glass, and a player quite similar in build and style to Nathan Jawai (whose team option seems to be a no-brainer for BC and co. to pick up.)
Seeing Kapono dealt won't cause much of a stir amongst Raptors fans. Yes, he was a fan favourite in many ways because of his professional conduct, but other than the 2007-2008 playoff series against Orlando, Kapono's play has left much to be desired. Save for a couple of 3-point shootout victories in the All-Star Game, unfortunately Kapono will not be remembered for much during his stay in TO. It's a shame too because I think the majority of Raptors' fans really WANTED him to succeed, but this just wasn't the right situation for a player who is so dependent on the talents of others in order to elevate his game.
Kapono may find more success with the 76ers who have been looking for a sharp shooter since dealing away Kyle Korver. In their incoming Princeton-style offense, and with a slasher in Iguodala and a dominant post-presence in Brand, Kapono should find some easy looks. That of course doesn't take away from the fact that he is a defensive liability and when he is not hitting said shots, but for a Philly team dying for some long-distance accuracy, this is a great move for them, especially since Evans barely played last year.
What should not be lost in the shuffle here is that BC once again quickly set to work in righting a past wrong. (You wonder in fact if he wouldn't have pulled the trigger on something similar last year had it not been for Kapono's series against Orlando, and the prospect of open looks in the Bosh-O'Neal experiment.) By making this swap, BC is clearly acknowledging that signing Kapono to such a lucrative deal just a few years ago was a mistake. We the fans knew this was the case and now it has been confirmed. As Vicious D so aptly pointed out in his last article, Kapono was signed rather than players like Pietrus at a time when Toronto desperately needed some defense and athleticism at the wing position; essentially the antithesis of what JK brought to the table.
The trade of course does make you wish that Colangelo wouldn't have made the Kapono mistake in the first place, but the fact that he was able to get some value for Kap-One, and value that addresses team needs, is quite satisfying. Franchise might have gone a bit overboard yesterday when he called if "Hoffa for Hump Part II" but you get the idea. This was a case of moving something that was providing little to no benefit to the team in exchange for something that looks to be a very nice fit.
Now if only he could do the same with Marcus Banks…
HOWLAND
PRE-DRAFT WORKOUT FOR WEDNESDAY, JUNE 10TH.
As Howland mentioned above, with the Evans move it seems more and more clear that the team is bent on drafting a wing.
However you'd never know that from the list of players expected to be in attendance at the ACC this morning; 4 forwards (who project as possible be power forwards in fact at the next level) and two point guards in the form of Xavier's 6-8 Derrick Brown, Gonzaga's 6-11 Austin Daye, Wake Forest's 6-9 James Johnson, Louisville's 6-9 Earl Clark, Maryland's Gievis Vasquez and North Carolina's Ty Lawson, with Vasquez and Lawson being the 1's in this group.
Huh?
What gives?
Well at first glance it is a bit strange to see that Toronto assembled this group but on a closer examination, things do make sense.
For those unfamiliar with some of these names, Brown, Johnson, Daye and Clark are all extremely versatile 3's who could play a range of positions in the NBA depending on how they develop.
Clark is the front-runner from the group, a Lamar Odom type who can score from inside and out with Shawn Marion type athleticism. He tended to disappear at times in college and while he put together a strong final season overall, it's really hard to say just what type of NBA future he has. At times he's completely unstoppable due to his range and athletic ability however last year for Louisville he coasted on occasion and simply didn't dominate the way many expected a player with his skill-set would.
Johnson and Brown don't have the same "smoothness" to their game as Clark but are much more physical specimens. Both extremely strong, have great length, and like Clark, great leaping abilities. Johnson is the more highly regarded of the two but Brown has been creeping up mock draft boards.
Finally we come to Daye, a top 10 talent on paper but who can't seem to shed the "soft" label. In individual settings like this morning's, Daye will look terrific displaying an incredible arsenal of offensive moves, with a Tayshaun Prince type build and length to go along them. However his combine results hardly blew anyone away, and like Clark to a lesser degree, he just didn't dominate at Gonzaga the way many expected him to when he first joined the Bulldogs.
So are any of these four possible picks for Toronto at 9?
It's tough to say.
To me it looks like Colangelo is simply doing his due diligence as the four forwards represent sort of the "next tier" of talent just after the lottery. Considering how equal players from 7 to about 17 seem to be, it's not inconceivable that Colangelo grabs one of these four if none of the original players he has had his eye on are left at 9. Or, perhaps because of this equality in options, the Raptors look to trade down in the draft, thereby grabbing a 3-4, and still picking up a wing.
The bottom line is that it never hurts to get a closer look at as many players as possible, especially with the draft looking to be so up in the air.
And bringing in the point guards with this group of forwards this morning kills two birds with one stone; it helps facilitate the 3-on-3 action all the while giving TO a look at two possible back-up point guard options. Of the two, Lawson definitely has the winning pedigree and is the more NBA-ready of the two but Vasquez is interesting as well. I watched him kill my Blue Devils plenty of times last year in ACC action and the Maryland alum is a bit of a Carlos Delfino type; he can handle the ball and run the offense and yet at 6-6 can be a threat at the 2 with his long-range shooting and crafty moves.
We'll have a full report tomorrow regarding the workout, which looks to be Toronto's second-last.
As we reported last week, Colangelo alluded to another final session next week, one that we're guessing will have some of the final big names such as DeRozan, Curry, Evans and Henderson. Outside of those four names (and some of the bigger ones like Harden and Hill), the Raptors will have seen except Brandon Jennings who is slated to be taken with picks about 5 to 17.
Therefore while next week's workout is obviously the one we're waiting on with baited breath, this morning's action still promises to be quite intriguing. There's no question that both Johnson and Clark have NBA All-Star upside and it will be a real treat to see them gong one-on-one.
In a draft so devoid of sure things, perhaps in the end it's a workout like this morning's that makes the Raptors' draft decision.
FRANCHISE