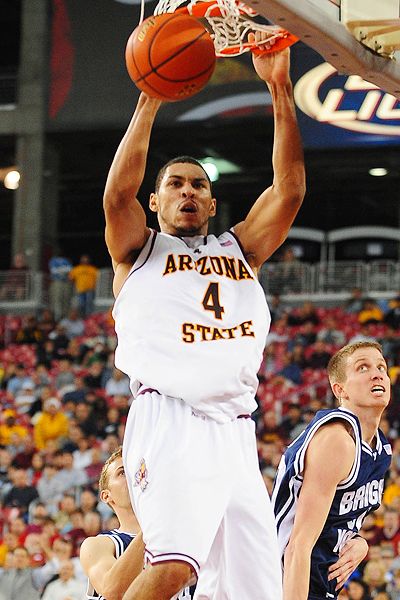 Mike Ulmer beat me to the punch in describing yesterday as a "strange" one in Raptorland but that's indeed what sort of a Monday it was.
First, after trooping down to the ACC to take in the first round of pre-draft workouts, Howland and I found out that Sam Young, one of the two prospects we were most keen on getting a closer look at, had cut his arm during the vertical testing portion of the workout and was therefore done for the day.
Even worse, as a result of Young's injury, the Raptors weren't going to allow Terrence Williams, the player we had come to see, play or speak to the media, thereby facilitating the two-on-two play of Tyrese Rice and Jeff Pendergraph versus Byron Eaton and Russell Hicks.
Then, once the action got going on the court, Howland noted that only Triano was in attendance, with no assistants, an interesting case of foreshadowing indeed as not 15 minutes later did the Raps' media staff inform us that the Triano was in for good and the press conference was set for 1:30.
Unfortunately neither of us could stick around for the presser, but really, the idea that the Raptors were going with Triano was hardly earth-shattering. I for one like the move but not so much because I'm enamored with Triano (I've spoken on this site at length about my feelings towards the "over-rating of coaching" in the NBA), but more because with that case closed, the team can move on to matters like the draft and the future of Mr. Bosh in Toronto.
Vicious D though weighed in with his thoughts on Jay's hiring and had this to say:
With the Raptors re-signing Jay Triano, the Raptors have brought back their longest cultivated asset.
That's right.
Longer than Andrea Bargnani, longer than Bryan Colangelo, and even longer than Chris Bosh, Jay Triano is a person who has worked his way throughout the years as the one consistent in the organization. We've heard from day one that Bryan Colangelo is a big believer in creating a family atmosphere and wants to promote from within the organization whenever possible. Triano, without a doubt, is the most high-profile of all internal promotions Colangelo's undertaken.
Over the next season, there will be lots of analysis about whether Triano was the correct hire. Those against Jay will argue that he got most of his wins against the easiest teams, but they would also forget that Triano was the coach for most of the Raptors most significant wins as well. Against Houston, San Antonio, and Orlando, Triano was handed a depleted and mismatched squad and yet managed to squeeze out some impressive victories. Critics will point out that the Raptors have jumped the gun and should have pursued everyone from Jeff van Gundy all the way to Ettore Messina. However, I'm willing to argue that the Raptors require a steady hand at the helm and a summer of workouts based on a cohesive strategy more than another change at the head coaching position. This hire gives the Raptors less adjustments to worry about as the squad will undoubtedly look a lot different as is by summer's end.
For the first time in his tenure, Bryan Colangelo seems comfortable with his choice at head coach.
For the first time, Colangelo will be entering the draft and the off-season free-agency period with a staff that will be working under a clear mandate.
For the first time, Colangelo will be building consensus with people he respects and trusts.
For us at the HQ, we've argued between ourselves about the merits of coaches around the league. Are they important? How much blame can be attributed to each coach? Which coaches can we say are more than just overpaid babysitters? For myself, I've always felt that head coaching gets too much blame and praise. Triano is not a coach that I believe will be detrimental to the Raptors of the future. He's a person who's managed to get the most out of a limited Team Canada roster and has shown he can get the Raptors to play a running style that doesn't completely sacrifice defence. His ability to draw up plays and create good substitution patterns was seldom put into question, perhaps save the final week when the organization decided to play starters throughout the end.
What will be more interesting will be the changes to the assistant coaches. With Marc Iavaroni expected to join and Alex English and Mike Evans expected to depart, there will likely be at least one more coaching vacancy for Colangelo to fill over the summer. We've seen assistants over the years prove to be invaluable to head coaches and the Raptors should not limit themselves in their search for appropriate assistants to back up their relatively inexperienced head coach. In Chicago, Vinny Del Negro managed to do well in his first year thanks to a coaching staff that included Del Harris and Bernie Bickerstaff. Supplementing Triano's ability to communicate with players with the proper bright minds like Iavaroni will be far more important than this announcement today.
I agree with my colleague and really feel that it's the hunt for suitable assistants that promises to bring the most intrigue. Some are calling Triano simply a yes-man with some Euro flavour but I hardly think that's the case. Being more in synch with the General Manager's wishes doesn't make you a "yes-man," in fact I'd argue that it finally means the coach and GM of this team are on the same page, something I'd been preaching for years wasn't the case. And right away, I think that's a huge step in the right direction for this franchise.
Really, this is "Domino Number 1" in a manner of speaking as now that the head-coaching position has been settled, Toronto can look at drafting prospects that fit the style the coach wants to run with.
We're going to try and get back down to the ACC again today as after being asked to sit out yesterday, Terrence Williams will apparently get his shot at a workout this morning. While we won't get to see him go up against Sam Young unfortunately, match-ups with the likes of Danny Green, Dionte Christmas and Robert Dozier should be very interesting. Green is a similar all-around player to Williams with a superior shooting touch, Christmas more of a natural scorer, and Dozier a taller and more athletic player so each should present match-up issues. However just watching Williams shoot around yesterday had the fan in me screaming internally "just pick him already!" Some guys just have the look and feel of NBA players.
Because yesterday's workouts didn't get started until late, I only got to ask Tyrese Rice a couple questions, you can hear them at the end of this Raptors.com clip.
Rice played in a similar fashion in the 2-on-2 settings to the way he's played his career at Boston College; streaky in terms of long-distance shooting but able to create off the bounce at will, even against a stronger defender like Byron Eaton, who he was matched up with yesterday.
We actually got to see about 30 minutes of action yesterday, twice as much as usual, so that was indeed a good treat. You can never really do a great evaluation of players obviously in such a setting but there are certain things that stand out that can be used to evaluate a player's NBA potential:
-How does he move?
-What are his shot mechanics like?
-What sort of lift does he get on his shot?
-How refined are his post moves, or ball-handling skills?
The Raptors training staff do a great job of running player through a myriad of drills, my favourite being ones that imitate game situations.
Example?
Having the point guards sprint from just inside half-court to the corner of the court outside the 3-point line. There, they receive a chest-pass from the top of the key and have to set their feet to hit the 3-pointer. Drills like this, especially at the end of workouts when workout participants are exhausted, really tell you a lot about the individual players' ability to make shots in transition etc. And enough reps are performed where hopefully a "bad shooting day" doesn't factor in.
For instance Tyrese Rice excelled at this drill, not really a surprise considering the number of big shots he hit at Boston College. Eaton on the other hand struggled, and you can see that he's going to have major issues getting his shot off at the next level. Besides some shaky mechanics (his elbow tends to fly out on shots when he's not shooting from a stand-still position), he also fails to get much lift on his jumper as Howland pointed out. Considering that Eaton is listed at 5-11 and yet was a good few inches shorter than myself (and I'm a shade under 5-10), this spells trouble.
The two bigs ran through similar drills although the Raptors had them shooting their shots on the move from the elbow, which makes much more sense of course as they won't be looked at as 3-point threats at the next level.
Of the four participants we saw yesterday, Pendergraph was the one who stood out the most. The 6-10 Senior from Arizona State simply has a beautiful stroke and rarely took a shot that didn't fall perfectly through the cylinder. His post-game is a lot more refined than that of Hicks, who he battled with all morning, and he looks to be a legit 6-10, with room for increased bulk on his frame. I actually think Pendergraph will find a home in the league next year and be a late second-round selection as he has a nice set of tools offensively. It's hard to know in this setting what his defensive skill-set will resemble, but he was solid in that capacity at Arizona State.
Rice may also find a home if he can prove to teams that he's as capable a distributor as a scorer at the 1. He's not very big (listed at 6-1 but barely taller than myself in person) but as we discussed briefly after his workout, in a league where undersized scoring 1's like Aaron Brooks are excelling, there may not be a better time for a player like him to enter the draft.
I don't expect Eaton or Hicks to hear their names called in June although that's not to say they won't get another look in summer league. Eaton has shown more of a propensity to run a team arguably than Rice, even if he lacks the offensive upside. He's also a bull-dog on defense so may find a spot for himself. Hicks on the other hand looks like he's got a ways to go. He's a legit 7-feet for sure, but his post-game is extremely raw and will need to get a lot stronger. (Although he did hit Pendergraph with a pretty hard foul which ended Jeff's day. Not exactly how you want to start your workout excursion.) However he did show some impressive hustle on second-chance plays and was more athletic than I expected. So again, even if the NBA doesn't come calling, the Euro-League very well could.
In the end, I don't see any of these four suiting up for the Raps next year, but Toronto of course has to do its due diligence. If say a Pendergraph impresses the Dinos' Brass and he's still around late in the second-round, perhaps BC makes a move to nab him. Going forward though, I think that's a lot more likely to happen at the wing and guard positions considering Toronto already has Jawai, O'Bryant and you perhaps even Pops as "project bigs." Hopefully today's action will be a bit more geared towards players Toronto could actually have interest in drafting.
FRANCHISE
PS – For those who haven't seen it, please set aside 15 minutes or so to read this great piece on Chauncey Billups. It's rare in this day and age of immediate media that you'll find such a thoroughly researched and extensive piece but this ESPN article is a brilliant look at not only Billups, but the NBA in many senses as well.