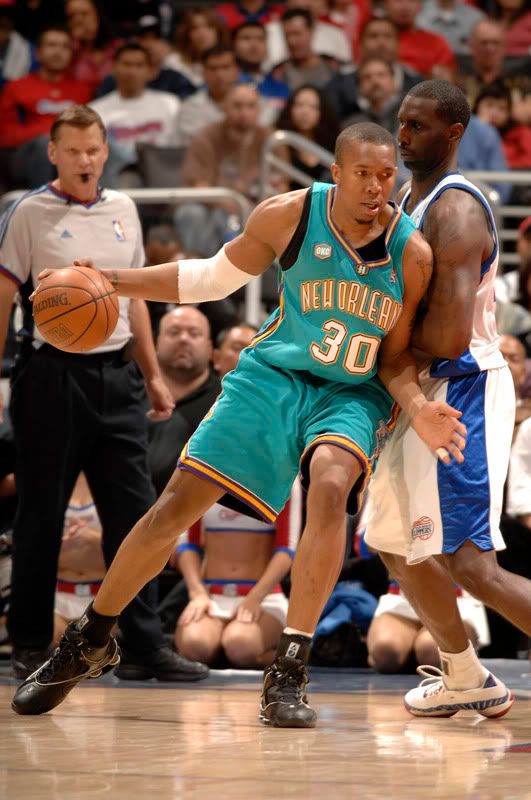 One thing I left out of yesterday's recap was an interesting event late in the game.
The Air Canada Centre's announcer Herbie Kuhn was addressing the Toronto Raptors' upcoming schedule, and relaying the information being shown on the large-screen scoreboard above the court. However upon announcing that the next two games would be shown on TSN2, he was greeted with a chorus of boo's from the ACC faithful.
I was among the booers, and to hear the rest of the arena respond in kind, was a sight for sore…um…ears.
When it was first announced that many of this season's games were to be shown on TSN2, I was disappointed. Yes, I knew that this was a business decision but I figured that things would get sorted out sooner rather than later.
Apparently many others felt that way too.
I can recall both Michael Grange at the Globe and Mail, and Doug Smith at the Toronto Star guessing that fans would miss the first two games, but then TSN and Rogers would come to an agreement and Rogers would carry TSN2.
However the season is suddenly nearing a close, and a deal between the warring factions of TSN and Rogers (or should we say Bell and Rogers) is not.
I think the final two straws for many fans were not being able to see the Lakers game on Wednesday night, a game usually viewed by many non-Raptor and basketball fans, and then last night not having access to an epic tilt between the Boston Celtics and aforementioned Lakers.
The most frustrating thing in the midst of all of this for me is MLSE's complete and utter lack of attention to the entire situation. We've yet to hear any sort of apology, and instead, have had to endure a continual bombardment of Rogers commercials which have the gall to advertise having "the most variety and the most HD sports etc available."
Regardless of bickering between two conglomerates, what exactly did MLSE expect when they made this agreement with TSN?? Of course TSN is going to ask for a higher rate than usual for Rogers to carry the channel! And of course Rogers in return is going to want something that helps their cause – like TSN carrying more Blue Jays games or curling or something.
In as disappointing a season as this has been for fans in terms of on-court production, this off-court mess has been almost equally as frustrating – especially because the early returns in terms of viewers on TSN 2 has reportedly been quite
The booing on Wednesday night was a start, but as Doug Smith proposed yesterday in his blog, perhaps boycotting some of MLSE's other sponsors will get the message across. (And really, does it take that much to not want to shop at Loblaw's thanks to Galen Weston's annoying commercials?) Because from a few recent reports I've had, Rogers is clamping down on giving discounts to fans unhappy about the lack of TSN2, so calling to complain seems to have fallen on deaf ears.
The other answer is to look to another source (no, not Bell) and numerous readers have thankfully posted some online options.
There is http://www.justin.tv/ and the one I've been using the most now, http://atdhe.net/.
Both should be carrying tonight's game and tomorrow night's match against Memphis so like Toronto's playoff hopes, I'm putting this whole TSN2 thing to bed. It's a ridiculous situation and in a season where the Raptors should be trying to appease the fans as much as possible, they've in fact done the complete opposite. Imagine if the Dinos did make the playoffs and fans were unable to watch some of the games??
However before we even start entertaining that notion, Toronto is going to have to go on a major winning streak. Without Bosh and Jose at 100 per cent I don't think this is possible, as discussed yesterday, however tonight's match against an undermanned Hornets club should be a good test.
Since Chris Paul went down with a groin injury a few games ago, New Orleans has hardly looked like last year's dominant squad and on Wednesday night they ended up getting beat pretty soundly by the Chicago Bulls. They've lost four in a row, and without Paul and Tyson Chandler, this club lacks most of its ability to score in the paint with David West their only true threat.
And that leads us to our first key…
1) Attack the Interior –
One thing Toronto was very successful with Wednesday night against the Lakers was attacking their interior. Bosh, Bargnani and O'Neal put up over half of the club's points between them and Joey Graham used his size and strength at times down low as well. Without Tyson Chandler swatting away shots, it leaves the Hornets with only Hilton Armstrong and Melvin Ely up front. While both were former first-round picks, neither matches up well with either JO or Bargs and I'm expecting the Dinos to go down low early and often in this one. Armstrong started the last game but New Orleans' coach Byron Scott has stated that he will probably be coming off the bench again tonight. That probably means Ely gets the nod next to David West and while West is making his second-straight All-Star appearance, he alone shouldn't be enough of a threat to Toronto in the paint.
The Raps need to keep him off the glass, and do a good job rebounding the ball overall to take advantage of New Orleans' lack of size and depth up front.
2) Defend the Perimeter –
While I'm not so worried about the interior play tonight, I am concerned about the perimeter. Last time these clubs met the Hornets absolutely destroyed Toronto from beyond the arc with James Posey and Rasual Butler doing most of the damage. In addition, players like former Rap Morris Peterson and Peja Stojakovic can do light it up from long range so it's imperative that players like Joey Graham, Jamario Moon and Anthony Parker contest shots and keep these guys under wraps. Peterson probably won't be in action tonight but the last thing Toronto needs is to dominate inside only to have any such advantage negated by open 3's from the Hornets.
3) Take Good Shots –
One of the other reasons the Raps had so much success against Los Angeles was that they didn't force many shots. Anthony Parker did a good job running the offence, and it was only on the rare occasion that Toronto settled for perimeter jumpers.
This has to continue tonight. That means taking shots in the flow of the offence and looking for mismatches down low. It also means attacking the rim and getting to the free-throw line. Toronto did this early Wednesday night but let off later in the game. As a result, the Raptors stopped getting calls and the Lakers, who continued their attack, started getting whistles courtesy of the zebras. I'll be looking tonight to see if the Dinos can take advantage of an undermanned Hornets' squad and putting players like West and Posey on the bench due to foul trouble would be a good start.
This is a very winnable game tonight and with Jay Triano's new and compressed line-up, I'm anxious to see how they do.
Although you won't catch me trying to watch it on TSN2...
FRANCHISE