I didn't give the Raps much of a chance to win this game. In fact I was fully prepared to watch the Dolphins vs. Ravens match-up from half-time on.
The Magic were coming to Toronto having won 9 of their last 10 games and sporting a 12-4 record on the road. With no Calderon or O'Neal I figured it was a lock. Yet somehow the Raps managed to do the unexpected and pulled out a hard fought 108-102 victory.
The unexpected win was the result of some unexpected contributions from some unusual suspects. Suspect number one and two are Roko Ukic and Will Solomon.
We all know how lethal Jameer Nelson has been against the Toronto Raptors in the past and the point guard play was going to be key in this match-up. It was the Solomon/Ukic vs. Nelson match-up that was really the source of my pessimism regarding this game. The back-up guard play for the Raps has been suspect at best and to call it inconsistent would be giving it a complement. To see both of these players elevate their game was a big surprise.
Early on it will Will Solomon who looked like he had brought his A game. He didn't force the issue and played within himself. He took shots he was confident in taking and made them. As the game progressed though it was "Baby Ukic" that rose to the challenge. Ukic played the majority of the second half minutes (full credit to Coach Traino for leaving him in the game and riding the hot hand) and looked like he was in full control of the offense. He continually found open cutters and when the game was in the balance he had the guts and wherewithal to take the big shot and make it. It was easily his best game of the year and for a player looking just to get minutes and build his confidence a big performance.
Of course for the Raps it wasn't just the PG play that was surprising. Anthony Parker who lately has been nothing more than a blip on the radar also had his best game of the season offensively. Parker played 36 minutes and was on fire for all 36 going 13-16 from the floor and making big shots from all over the hardwood. His play couldn't help but make we wonder what this team would look like if it had a player who could do this sort of offensive damage from the wing position on a consistent basis. Let's be honest, without the spectacular play from the guards this was going to be another L for the Raps.
I don't say this because Bosh and Bargnani didn't play well because they did. Actually I don't think either of them could have played that much better. Bargnani for the first time in a long time has strung together three solid games. Andrea helped to not only pull Dwight Howard away from the glass (he only had 8 boards) but also did a commendable job on the defensive end. Bosh was also solid and managed to get to the line on a regular basis to off-set a sub-par shooting performance.
It was Bosh's ability to get to the line, and the teams performance from the line that will likely be overlooked by many. The Raps shot an amazing 23-24 from the line (more impressive considering Calderon didn't play) while on the flip side Orlando, with the same number of attempts only hit 17. This discrepancy from the line was one of the, if not the biggest reasons for the Raps W.
Note that all of Orlando's misses came from Dwight Howard. There is no question he is an absolute dominant force, as evidenced by his 39 points, but he absolutely must start hitting free-throws if he has visions of lifting the Larry O'Brien trophy one day. This game is a perfect example.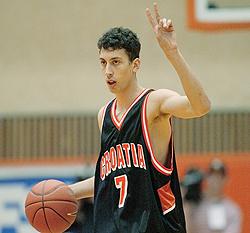 It was a gutsy win for the Raps. They withstood a barrage of three pointers, in particular from Rashard Lewis and got great performances from a variety of players. This could be that key win that we have all been looking for. It could be that win that truly does help these guys get on the winning track. It could also be a fluke. If you expect Parker to have another game like this one or for both Solomon and Ukic to play almost flawless basketball you are gravely mistaken.
Without question this team still needs to get Calderon and O'Neal back but watching this team take control of the game late and grab the W allowed me to enjoy Raptors Sunday basketball for the first time in a while.
Besides, I didn't really want to watch the Ravens and Dolphins much anyway.
HOWLAND