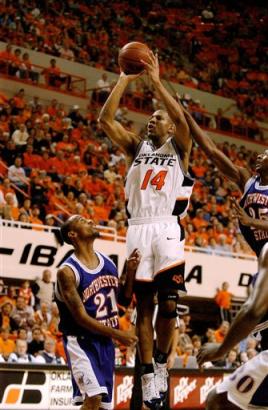 The picture was grainy, the sound quality wasn't great, and I was watching it on my old PC's 17 inch screen…hardly HDTV.
But there it was, Vegas Summer League.
Last night after work I watched Toronto drop a 90 to 79 decision to a vastly superior Denver Nuggets team, putting their record at two losses to go with zero wins.
Denver lead almost from the outset and while Toronto's defence managed to keep things close at times, the Nuggets simply had too much firepower on the night.
So what can we take from the game? Well, for starters, I'm going to be blunt; the Raptors entry this year may not win a game in Vegas.
The team can't score, can't shoot from long-range, and Joey Graham is far and away the best player.
Yep, when Joey Graham is your best player, you might be in trouble.
That's not to say that Joey hasn't played well through the first two games. He scored 16 points and grabbed seven boards in 30 minutes of action, and hit almost 50 per cent of his shots from the field. Watching the action, you can clearly see that Joey stands out above the rest of the field. He's stronger, quicker, and more athletic than nearly everyone else on the court.
The problem is, I expected that.
What I was hoping to see was not just that Joey could score and defend against rookies and fringe NBAers, but that he'd improved in those areas which frustrated us as fans over and over the past few years.
Unfortunately the verdict so far isn't promising.
Graham still is foul-prone (he racked up seven yesterday), fails to recognize game situations (missing box-outs and assignments), and just botches plays that make you want to pull your hair out (elevating over everyone in traffic for a put-back dunk, only to bang the ball off the back of the rim.)
It's even more frustrating when you consider how huge Graham could potentially be for this club next year. Someone of Graham's athletic ability, strength and size would be a huge asset considering the club might be a bit thin at the 2-3 spots. However I just haven't seen that he's been able to put it all together. Graham's shot looks a little more consistent, and he has no trouble beating his man on most occasions, but once again it's the little things that he fails to take care of.
And after Graham, it was all downhill yesterday.
Only CJ Giles, Desmon Farmer and Jaycee Carroll showed me anything and none were exactly stars on the court. Giles had some nice post-work from time-to-time, Farmer was probably the best perimeter defender Toronto had, and while Carroll didn't exactly have the best shooting day, you could see his talent shine through. Interestingly, Toronto played Carroll at point guard today and Daniel Ewing got the DNP. While Carroll failed to record an assist, he looked ok running the show, but wasn't as good as Lucas.
However the more I see Lucas, the more I worry about him being an option for Toronto as a third-stringer. He's an abysmal shooter, is already quite undersized, and as one of our readers pointed out, he doesn't stray far from his right hand. That's not to say he doesn't have great point guard instincts and is a tough competitor, but I just think that Toronto would be better served looking elsewhere for help at the 1.
The rest of this team? Well four minutes of Joel Bosh was more than enough for me. Jawai for someone his size was nearly invisible on the court. And let's not even get into Hassan Adams. Adams hasn't been able to hold a candle to Joey Graham offensively and for now I think we should all ease off the "Adams will be taking Anthony Parker's starting job" mantra for a while.
Yes it's only Summer League, but looking around at some of the other teams, Toronto just doesn't have the same talent as many other clubs. Partly this is due to the fact that they actually had a decent team last year, whereas the best Summer League clubs are usually the ones chock full of lottery or first round picks. Even the Nuggets starting five of Bobby Jones, Mike Hall, Dahntay Jones, Elton Brown and Taurean Green are all good enough to play in the NBA, even as 10th men.
Really though, the purpose of this league is to get some run in for certain rookies, and audition any possible talent to fill out final roster spots. For Toronto, that means lots more of Joey Graham, Hassan Adams and Nathan Jawai. Hopefully it also means more of Rod Benson, who received his second DNP yesterday, as well as Sean Banks, a player I don't think we've seen enough of.
Toronto plays next on Thursday and hallelujah it appears to be on RaptorsTV.
Hopefully the improved quality of footage will trickle down and result in some improved quality of play as well.
FRANCHISE