It's funny what lengths you'll go to as a basketball fan to get your b-ball fix come off-season. Exhibit A of this line of thinking is the NBA's Summer League. Friday night I ended up watching the Clippers Summer-League squad take on the Mavericks entry (featuring former Raptor Pape Sow) and you would have thought I was watching Game 1 of Raptors-Magic last year I was that excited.
Yep, I guess you could say I'm anxious for the season to get going.
The reality however is that we're still a good three months away from anything resembling real NBA basketball and if you've watched any of the Vegas action, you've seen some of the sloppiest, most horrific basketball there is. Yesterday morning I had a WNBA game on briefly and it was superior in quality in almost every way.
(Although it didn't feature any dunks like this.)
And thanks to some compatibility issues on my Mac, I could only hear the audio of Toronto's game against Sacramento on Saturday, a 93 to 86 loss. From the highlights however and various other reports, it sounded like Joey Graham had an MVP-type performance however I'm not sure I'm going to agree. It seemed from the audio like Graham was constantly getting called for fouls (he finished with EIGHT) and you could hear Toronto's coaching staff shouting instructions at him through most of the affair.
You can watch highlights of the game here at Raptors.com and from these select cuts, it looked like Joey did some nice things. Obviously a few less fouls would be nice, especially considering he's a three-year pro playing against mostly fringe NBAers, but seeing on the box score that he got to the line 15 times is encouraging. This is an area Toronto is still going to need help in next year so here's to more stat-lines like this over the next few weeks.
The player though who really stood out from the footage I saw was Jaycee Carroll. Carroll, an undrafted shooting guard from Utah State, was a last minute addition to Toronto's roster but ended up playing 15 minutes in the loss, scoring 14 points and dishing out four assists. He's undersized at the 2 spot in the NBA (he's only about 6-2) but has a lighting quick release ala Jason Kapono and can really shoot it. Carroll is actually Utah State's all-time leading scorer and from yesterday's highlights, you can see he really knows how to fill it up, being able to score in a variety of ways.
However there are quite a few questions about Carroll's game. In college, many draft experts actually thought he was a more efficient shooter and scorer than JJ Redick however lacked Redick's strength and athleticism. Well considering that Redick is not exactly the picture of elite athletic ability, this really paints a picture about Carroll. He's going to struggle to create his own shot and taller and more athletic wings in the NBA so the question is, regardless of these potential issues, is he someone who Toronto may still take a flyer on?
I'd have to say yes and only because of his ability to play the 1. He ran the point for his team at the Orlando pre-draft camp and while it's not his natural position, he did a fairly decent job. In Vegas, his only competition at the spot would be Daniel Ewing and John Lucas Jr and really, Carroll has more upside to his game than either. Ewing struggled on Saturday with five fouls and only two points and no assists in about nine minutes of playing time. Lucas was better with 10 points and six assists but shot only 3 of 13 from the field.
Therefore, it will be interesting to see who gets the minutes at the 1 spot today when Toronto takes on Denver. Something to keep an eye on though is the chemistry between former college teammates Joey Graham and John Lucas Jr. The two seemed to play quite well together and one idea might be to have Lucas Jr. become the third stringer simply to inject some confidence and familiarity into Joey's game.
A final note from Saturday's action, Rod Benson and Joel Bosh both got the DNP status however that's not too surprising. I expect to see both get minutes today and two others to sit out the action. Usually in Vegas coaches like to get a good feel for each player and therefore tend to limit their bench. On Saturday Graham, Lucas Jr. and Hassan Adams (who had a tough night shooting the ball) all saw nearly 30 minutes of action or more.
Coaching Toronto's Vegas entry is Eric Hughes, not Sam Mitchell, however Mitchell and co will have some more sideline help next year. Toronto has hired Gord Herbert as an assistant coach/player development lead and the ex Canadian National Team member brings with him an extensive resume.
From the official press release:
The Toronto Raptors announced Saturday they have hired Gord Herbert as an assistant coach/player development. Herbert, a former
Canadian National Team player, has extensive coaching experience in Europe.
Herbert began his professional coaching career in 1994 and led three of his teams to a spot in Euroleague play. He coached last season in Greece, guiding Aris to a third-place finish in league play and a berth in the Top 16 in Euroleague competition. Prior to working for Aris, he coached three seasons in France, with well-known French teams Paris Basket Racing (2004-06) and Pau Orthez (2006-07). He guided Pau Othez to the French Cup championship and a Top 16 finish in Euroleague action.
Hebert's first head coaching experience came in Finland. He coached U.U. Korihait from 1994-96 and Honka from 1996-99. Herbert coached in Austria in 1999-2000 and then moved to Germany for five seasons. He led Wurzburg for one campaign (2000-01) before coaching the Opel Skyliners from 2001-04. He captured the German Cup Vice Championship in the 2001-02 and 2003-04 seasons.
Herbert's coaching experience also extends into international competition. He coached the Finnish Junior National Team from 1995-97, the Georgian National Team from 2005-07 and was an assistant to Jay Triano with the Canadian National Team at the 2002 World Championships.
Herbert was a player on the Canadian Junior Team in 1979-80 and for the country's National Team from 1982-87. He teamed with Triano to win gold at the 1983 World Student Games. A first-team Big Sky Conference selection at the University of Idaho in 1982, Herbert played professionally in Finland and Belgium from 1982-84.
Also from the Raptors' PR department, the announcement late Friday of Nathan Jawai's signing:
The Toronto Raptors announced Friday they have signed forward-centre Nathan Jawai to a two-year contract. Per team policy, financial details were not disclosed. The club acquired the draft rights to Jawai from the Indiana Pacers. He was the 41st overall selection in the 2008 NBA Draft.
Jawai (pronounced JA-why) was the unanimous 2008 Rookie of the Year in Australia's National Basketball League. He averaged 17.7 points and 9.6 rebounds in 30 games for the Cairns Taipans. He ranked third in the NBL in rebounding, fifth in field goal percentage (.575) and ninth in blocked shots (1.0). He also captured MVP honours of the 2008 NBL All-Star Game after registering 24 points and 12 rebounds.
Jawai, 6-foot-10, 280 pounds, scored 20 or more points 12 times and posted 13 double-doubles for Cairns. He had a career-best 28 points on 13-for-16 shooting and pulled down 15 rebounds at Townsville. He grabbed a career-high 18 rebounds and added 22 points at Sydney. Jawai also recorded a 25-point/16-rebound effort against Singapore.
Jawai attended Midland Junior College in Midland, Texas in 2006-07. He appeared in 13 games, averaging 11.4 points, 5.8 rebound and 1.0 blocks, before returning home to Australia.
He is the first indigenous (Aboriginal) player from Australia to be drafted by an NBA team.
Jawai will participate for the Raptors' entry in the Las Vegas Summer League (July 11-19).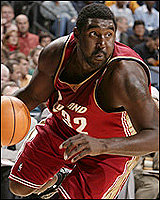 Did Toronto just draft the next Tractor Traylor? We may get a good idea starting this week during the Vegas action.
FRANCHISE