What many are referring to as the "Second Annual Jamario Moon Invitational" kicks off today as besides workouts, the Raptors look to run 20-some fringe NBA'ers through the paces in hopes of finding another diamond in the rough. The camp will continue through to Sunday afternoon and once again, RapsHQ will be there for some up close looks at the prospects.
While yesterday represented a look at the draft aspect of this year's off-season, many of the players discussed below have as good a shot or perhaps better at not only making the Dinos next year, but having an immediate impact as well.
Sure the Jamario Moon finding may have been a one in a million shot, but that's not to say that Toronto won't find someone useful once again this year via the camp. And in fact, after seeing the draft process up close again this year, here at the HQ we started to realize that there's a lot of method to Bryan Colangelo's madness regarding these camps when you really boil things down.
The NBA Draft is always an exercise in "upside" and it's the aura of the "untapped potential" that surrounds it which makes for such an exciting event. However if you look over the roster for this year's free agent camp, the majority of attendees were at one point (most only a few years ago in fact) top prospects that sported that same aura of intrigue! The only difference is that by not sticking in the league on the first go-round, these players have been "out of sight, out of mind" so to speak for most NBA fans and therefore are always undervalued as opposed to even the latest second round prospects for this year's draft.
I mean right now, if I asked the average fan if they'd rather take Joey Dorsey in the second round, or sign Marcus Haislip, I'm sure the answer would be a resounding call for Dorsey.
And maybe that's the right answer, only time will tell.
However right now, there's no argument that besides being a better fit for the Raptors on paper, Haislip has more experience than Dorsey and is a more refined player. Dorsey simply has the exposure from his recent college play and has that "potential" tag still firmly attached like a fresh suit from Harry Rosen. Dorsey is still in fans' minds…Haislip, a former LOTTERY pick, is not.
Bryan Colangelo knows this all to well and also knows that someone like a Haislip or a Tamar Slay, who have been grinding it out overseas and in the minors for years now, will be that much hungrier than many newly minted draftees for a job in the NBA. Remember, these guys if signed aren't expected to be difference makers necessarily, but moreso back-up options and depth deep on the bench. Therefore from a chemistry standpoint, players like the ones auditioning this weekend make a lot more sense in terms of taking flyers on than most second round picks. Even the lowest second round picks are used to being "the man" at their respective colleges…how will they adjust to playing maybe 12 games all year and probably under 100 minutes in total?
Contrast that with the players attending this weekend's free agent camp. The majority of them would simply be happy just to stick with a team for more than 10 days so sitting on the bench entertaining Joey Graham and working hard every day in practice? No problem.
On top of everything, this year's camp in our opinion actually offers more realistic options for the Raps than last year. Even though Moon of course made a huge jump to the team, the talent that surrounded him wasn't as good as this year's collection of players.
So let's take a look at about half of them today before touching on the rest tomorrow…
JOHN LUCAS III
Who is he? 5-11 Point Guard from Oklahoma State.
As many of you know, Lucas' father was on the Raps staff this past season working with TJ Ford following his neck injury. As Lucas Sr. sat behind the Raps bench, his son was in Europe playing PG for Pallancestro Treviso. Lucas is one of the better-known players invited to the free agent camp. The undersized PG came into the league
undrafted and since leaving Oklahoma State has had a tough time (like many on this list) finding stable employment. His two year stint with the Houston Rockets gave him his first exposure to the NBA but he did little to establish himself despite the Rockets having very little talent at that position.
What Can He Do? If Colangelo does decide to deal one of either TJ Ford or Jose Calderon then there will be at least one open PG spot to be had. If Roko does come over then the role of third, or maybe even second string PG will be available. Is Lucas III the guy to fill the second string spot? Unlikely. He's significantly undersized, doesn't shoot a high percentage, and in some ways reminds me of Omar Cook. That being said Lucas does have the pedigree, is a tough competitor, and could surprise. If Roko plays well enough to grab the back-up spot, Lucas could be nice option as the third stringer.
HASSAN ADAMS
Who is he? 6-4 forward from Arizona.
Adams was drafted in the second round of the 2006 draft by the New Jersey Nets. A great athlete at Arizona early in his rookie campaign things looked promising. Adams started 8 games his rookie year and managed to get some burn in 61 games that season, a solid start for a late second round pick. For whatever reason however Adams quickly disappeared from the NBA scene after a short pre-season stint with the Cavs. Hassan spent lastseason playing in the Italian league for Basket Draghi Novara.
What Can He Do? Hassan Adams is someone to watch during the camp. Now with the release of Garbo, and the uncertainty surrounding Delfino, there may just be a spot on the roster for someone who plays hard-nosed D, has a decent mid-range game, and is not hesitant to draw contact. No one has ever questioned Hassan's athletic talents or his ability to score the basketball...but for someone listed as a "forward," 6-4 isn't going to get it done. Without the required ball
handling skills to play the point, Adams is essentially a very undersized 2/3. That being said in the right circumstances he could contribute given limited minutes and he was one of our favourites as a second-round option instead of PJ Tucker.
JAMES WHITE
Who is he? 6-7 Forward from Cincinnati.
Of everyone invited to the camp this guy might be the most intriguing and that's not simply because he has an NBA Championship ring. (Albeit as a deep sub with the Spurs.) James White is an absolute athletic freak. If you don't believe me, check YouTube for his many highlight reel dunks. If basketball was all about dunking, James White would be an All-Star. A second round pick by Portland in the 2006 draft he was immediately traded to the Pacers and was one of the last cuts. His last NBA stop was with the Spurs two seasons ago where in 6 games he managed 8.3 points. White played last season in Europe and put up mediocre numbers playing for the Turkish champions Fenerbahçe.
What Can He Do? Like Adams, White was another of our favourite second round options instead of PJ Tucker and it's great to see him at this camp. It's somewhat of a surprise though that this guy hasn't made a niche for himself in the NBA to date. White was one of the most heralded high school players in his class and he has all the skills to be a solid player. Frankly you would think White could do it all and in some ways he can. He can put the ball on the floor (he even played some point-forward in college) has a decent range in his shot, and isn't a black hole on the offensive end. He is also a very capable defender. The problem is that outside of dunking he isn't great at anything. White, because of his athletic skills is one of those players that it's hard not to be disappointed with. You expect more than what may be reasonable. This guy definitely deserves a shot to make it, Toronto just may not be the best situation given that Moon already plays the role of athletic freak who leaves you wanting more. That aside, given White's talents, provided he plays well it would not be a total shock to see him get a training camp invite when all is said and done.
MARCUS HAISLIP
Who is he? 6-10 Center from Tennesee.
Haislip to date is a classic draft bust. Selected 13th in the 2002 draft by the Milwaukee Bucks, Haislip has yet to meet the expectations associated with such a high pick. Like many players on this list he is another sick athlete who has yet to master the thinking part of the game of basketball. After failing to leave his mark in the NBA, Marcus was forced to head to Turkey for two seasons where he had good success, and he played last season with Unicaja.
What Can He Do? Haislip is an athletic big man with a variety of appealing attributes. Quick and agile with a good face-up game, this big man is like a poor man's CB4. Haislip is an above average defender and if it were not for his inconsistent play he would have a spot on an NBA roster. He stands out in the Euroleague games I've watched and it seems to be a case of a player simply not getting an opportunity. In his three years in the league, Haislip only played in 79 total games, amounting to less than one full NBA season. To me the Bucks simply didn't invest enough time in this guy. Sam Mitchell essentially reiterated this at yesterday's workouts and this is another player to keep an eye on as Raptors fans. He has clearly improved his game since coming out of Tennessee and given the lack of talent in the Raps frontcourt, he could work himself into a nice situation. The scary part is the guy is only 26 and his game is still developing. Matching up against CB4 in practice everyday could be just what the doctor ordered.
D'OR FISCHER
Who is he? 6-11 Center from West Virginia.
Like a few players invited to this camp there are simply some guys we know little about and D'or is the perfect example of this. Fischer played four years at West Virginia, his best season coming in 2003-2004 when he averaged 10.8 points, just a shade over 6 rebounds and 4 blocks a game. After college he signed with the Charlotte Bobcats and was released. The past two years he has played in the NBDL.
What Can He Do? Based on what little information is out there the consensus seems to be that Fischer, despite having played four years of NCAA ball, remains extremely raw. The truth of the matter is that even in college he got very little burn and this big man is still learning the game. His numbers in the NBDL give no indication that he could contribute to an NBA franchise and this camp will likely be viewed by him as both an opportunity to measure his development over the past season or two, and a hope to catch lightening in a bottle. Fischer has a big body, he just has not figured out how to get the most out of it.
HOWLAND
KEITH LANGFORD
Who is he? 6-4 Guard from Kansas.
Langford is another prospect in this camp that bears watching. He had a cup of coffee with San Antonio last year (hasn't everyone on this list???) and while he didn't stick, he has a phenomenal year in the D League with the Austin Toros. Langford was selected to the D League All-Star team averaging 24.5 points, six rebounds and almost four assists per game.
What Can He Do? Langford suffered from the "combo-guard" label when he came out from Kansas. He was always a great scorer, but besides not being a pure point guard, scouts questioned his shooting ability, especially from long-range. However he silenced his critics by shooting 43 per cent from beyond the arc last season and looks ready to take the next step into the league. Will it be with the Raptors? It's quite possible. Bryan Colangelo may opt to have someone who can put points up on the board and still defend the 1 and 2 spots as his third stringer. If that's the case, Langford has a good shot at a callback come Summer League time.
DIJON THOMPSON
Who is he? 6-7 Forward from UCLA.
Bryan Colangelo is already quite familiar with this former Sun considering he acquired him via a draft-day trade with the Knicks when he was still the GM in Phoenix. On top of this, Colangelo invited Thompson to appear at last year's free-agent camp that saw Jamario Moon become a surprise Raptor. Thompson played on a 10 day contract for the Atlanta Hawks in 07 and moved on to play for Alba Berlin before parting ways with the club and returning to the US.
What Can He Do? I've always been a big Thompson fan since his days at UCLA and it was Thompson who I actually felt could make the Raptors out of last summer's camp. Unfortunately he suffered a knee injury prior to the camp and therefore was quite limited in what he could do. Looks like BC wants to get another look at him now that he's healthy and the 6-7 forward still could become the standout player from this camp. He's probably the premiere invitee in terms of being able to create his own shot and is comfortable both shooting the ball on the move or fading away. He's got good size as well and the real question could simply be at the defensive end. His offense has always been NBA level but defensively, he's lacked focus and determination in the past. If he can show improvement in this area Thompson could very well get another call from the Raps' brass in a few weeks for a trip to Vegas.
ROD BENSON
Who is he? 6-10 Forward from Cal.
Benson played for the Dakota Wizards of the NBDL the past two seasons and was voted in as an All-Star last year. He lead the league in rebounding averaging 12.1 boards per game and actually averaged a double-double putting up almost 14 points on offence. A Cal grad whose career was derailed by injury, Benson has been on the cusp of the NBA for a good year now and just needs to find the right fit.
What Can He Do? For those online basketball enthusiasts, Benson is probably the most well-known of anyone at this camp. His outrageously entertaining blog work recently saw him get picked up as regular contributor to Yahoo Sports, and his candid takes on professional basketball, not to mention is fledgling rap career, are a breath of fresh air. But besides his extra-curricular activities, Benson has some game. He's a terrific rebounder, obviously something the Raps could use, and a decent low-post scorer as well. It wouldn't surprise me at all to see him get an invite to Summer League at the camp's conclusion and I'm almost certain that if not the Raptors, some team will swoop him up.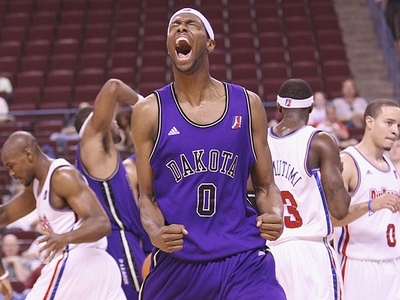 SEAN BANKS
Who is he? 6-8 Forward from Memphis.
Banks has been a D Leaguer for a few years now and last year with the LA Defenders was voted to the All-Star team. He averaged 21.7 points, 5.4 rebounds and 3 assists per game in the 0708 campaign and talent wise looks to be ready to make the leap to the league.
What Can He Do? Some may remember Sean Banks for being a black cloud as a Memphis Tiger. Here's a player who skipped out on the under 21 Team USA invite he received, only hours before, without explanation. Here's a player who also was suspended numerous times by the Tigers, ended up in a post-game fight with a team-mate, and eventually entered the draft simply because he was forced off of Memphis due to academic issues. And that's not even getting into his two arrests in high school, one for aggravated assault with a weapon and endangering the welfare of a child.
Yep, sounds like the perfect Raptor right? The thing is, skill-wise Banks is probably more talented than half players currently in the NBA. He has a silky smooth jumper, great size for the 3, and the ability to score from almost anywhere on the court. He's a great rebounder as well for his position and doesn't shy away from contact or taking the ball to the hoop. Banks in fact was destined to be a lottery pick out of high school but never had the maturity to keep himself out of trouble. He was abandoned by his mother at an early age and is the classic case of a player with out of this world talent who just never had the proper teaching, guidance and role models in his life. The last three years toiling in relative obscurity however seem to have been just what the doctor ordered in this department and it will be interesting to see how he plays at this camp. If Banks can get his head on straight there's no question he could be a great Stephen Jackson type player in this league; an inside-outside offensive threat and great, hard-nosed defender.
FRANCHISE