Back when I was a summer student working for the Government, one of the most common phrases people used was "hurry up and wait." It sort of described the atmosphere at times where decisions needed to be made, but red tape was preventing this from occurring. So at times, you were anxious for something to happen…but were simply in a holding pattern for the time being.
Such is the case with the NBA draft at present.
The playoffs are still in full swing, workouts don't kick off for about another week, the Raptors' braintrust is off to Orlando for the annual pre-draft camp starting today and the rumour mill, while running full speed ahead, is still just that, rumour and innuendo.
However an interesting little blurb from good ol' hoopshype.com's rumour section caught my attention yesterday morning. It was a piece from the South Florida Sentinel Sun that stated:
"Keep in mind nothing can be done with sign-and-trade transactions until July 9, the start of the free-agency signing period.
So for the talk coming out of Toronto about the Raptors possibly interested in the Heat's No. 2 pick for a package that includes restricted free-agent guard Jose Calderon, it would require the Heat first to pick for the Raptors and then a leap of faith that Calderon would, two weeks later, agree to a contract and deal to Miami."
My initial reaction was "woah, where did this supposed talk out of Toronto come from?" I mean, I don't think anyone's heard any rumours about Calderon being dealt at all and aside from my recent pot-stirring on the topic, I think the assumption has been that Ford will be the one shown the door.
However after my initial surprise, my second reaction was more along the lines of "hmmm…could Toronto ACTUALLY put together some sort of package to snag the 2nd pick from Miami?"
As visions of Michael Beasley danced through my head, I thought now might be an interesting time to touch on this topic. There has been lots of talk about who the Raptors should take at 17, but who would they take if they drafted from one of the top spots, or even a slightly higher position?
I guess to answer that question we should discuss why Toronto would have any interest in moving up to begin with. I think for Colangelo to look to move up, he would have to be extremely keen on a certain prospect. We've seen in the past that BC has targeted certain players in the draft (Marcus Williams in 2006) so it's not out of the question that he once again has his eyes on someone. But who would that be? Let's take a look at the current consensus top 10 picks, in no exact order, based on a sample of most mock drafts done by NBA.com:
1. Michael Beasley – At first glance trading up for Beasley doesn't seem to make much sense. He's a 4, and the Raptors already have one of the best in the league in Chris Bosh. But the reality is that Beasley plays a lot more like Carmello Anthony than Bosh. Beasley is an extremely skilled 3 who can score like a 2 and post-up like a 4. I'd argue that Beasley already has a better back-to-the-basket game than CB4, and considering Toronto's issues on the glass and in the paint, would be the perfect complement to the Raptors' franchise piece. However in reality, I just can't see any team that takes a talent like Beasley moving him, and therefore the chances I'll be able to rock my black number 30 K State jersey to the ACC next year are very slim…as in the one or two times next year the team who drafts him plays in Toronto.
2. Derrick Rose – Dealing up for Rose is probably the least likely scenario of any. Toronto has one starting point guard too many at present so unless BC has a secret crush on Rose that none of us know about, I think it's pretty safe to say this one's out.
3. Brook Lopez – I'm not sure Lopez makes much more sense than either of the first two options. Yes, he's probably the best offensive big in the draft, but Toronto needs someone in there who can bang and defend next to Bosh. I don't think this Lopez is the answer, and his bro, a better fit based on need, would be available for much cheaper later on in the draft.
4. Jerryd Bayless – After Rose, I think Bayless makes the least amount of sense for the Raptors to try and move up to acquire. Yes Toronto could use someone of Bayless' scoring prowess but I think as fans we'd much rather have it arrive in the form of a 6-7, 6-8 swingman than a 6-3 shooting guard.
5. OJ Mayo – Mayo has been getting rave reviews of late for his workouts and draft prep but can you really see Toronto moving up to grab him? Neither can I. He would be a great scoring threat at the 2 for sure, and is an upgrade over Bayless in terms of point guard mentality and NBA size at 6-5, but unless Jose is going somewhere via trade, this is another quasi-point guard that doesn't seem to be a great fit for Toronto.

6. Eric Gordon – And speaking of non-fits, hello Eric Gordon. Gordon is my least favourite of any of the top 10 we have listed here and while he can score, I just don't see why BC would look to move up to draft him.
7. Danilo Gallinari – Now things get interesting. Gallinari is a 6-9 swingman who I'm sure the Raptors have scouted extensively. He's drawn comparisons to Detlef Schrempf, Hedo Turkoglu and Mike Dunleavy Jr, and will certainly be linked to the Raptors via trade rumours before all is said and done simply because of his background and origin. I haven't seen him play, so it's hard for me to say he's that missing piece at the 3 Toronto needs, but this is the first player in the top 10 that I could realistically see Colangelo looking to move up to obtain. BC has a wealth of knowledge at his disposal concerning Danilo so may know a lot more than many other GM's about the young Italian's upside.
8. Kevin Love – Love is the second player I could see BC making a play for. Love has already slimmed down since UCLA, has the toughness and rebounding ability that Toronto sorely needs, and with such a soft touch around the rim he'd be a nice fit next to Chris Bosh. Yes, he's perhaps undersized and not the greatest athlete, but paired next to Bosh I'm not sure it would matter as the 4-5 spots would essentially be interchangeable and a tough match-up for teams on the inside and out.
9. Anthony Randolph – Of the top 10 we've listed, Randolph is the only NCAA player I failed to get to see play last season. LSU had a rough year and without much national television coverage, Randolph fell under the radar to start the season. However he put together a solid campaign for himself and is one of the players sporting the most upside in the draft. Would BC look to make a play for him? That's a tough question. Comparisons to Rudy Gay and Tayshaun Prince will have fans licking their lips and he's definitely one of the best athletes in this year's class. But is he really a 3? Randolph has also been compared to Chris Bosh incidentally so there's some question as to which positions he'll fit into in the league. To top it off, he's not exactly a proven commodity so in the end, this is another player I can't see the Legomaster looking to move up to take a flyer on.
10. Russell Westbrook – The final player in our top 10, Westbrook makes some sense to jump up to obtain. First of all, he's not exactly a lock to go this high so perhaps Toronto could make a small swap of say 17 and someone for Westbrook should he fall to 12 or 13. Second, while he's not exactly your pass-first point guard type, the success of athletic 1-2's like Rajon Rondo and Monta Ellis might make him a desirable commodity come draft time, especially for a team like the Raptors. And finally, if BC is looking to move TJ Ford, I can't think of a better back-up situation for Toronto considering the price.
Now having examined those players, are there any others who could foreseeably sneak into the top 10? And if so, would Toronto look to move up to acquire any of them?
Perhaps Darrell Arthur or DJ Augustin could find themselves in the top 10, but I can't fathom why the Raptors would covet either except as trade bait for other interested parties. The only other player who fans might see in the top 10 in the end I think is DeAndre Jordan, simply based on his size and that magic word, "upside." But could I see Colangelo taking a project that will probably need to about three years to develop if he develops at all? I can't right now and I think that represents a good rule of thumb with regards to the Raps this draft. They Dinos aren't in rebuilding mode. They're not in "we just need to tinker with the roster a bit to get back to the finals" mode either. So I think if Colangelo keeps his draft pick, it will be because he's found someone who he believes can come in and help this club immediately in some capacity.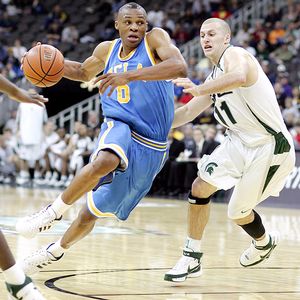 That's why of all the top 10 picks we listed, guys like Love and Westbrook make sense because the possess specific skills sets that Toronto currently lacks. These are guys who might not be the most glamorous of choices, but they would be able to contribute starting next season to the team's bottom line.
However I think these two are the exception instead of the rule and I believe that once the workout lists are released to the media, we'll see plenty more invites to guys like Brandon Rush and Courtney Lee than the Mayo's and Bayless' of the draft. Right now to me, there just doesn't seem to be much enticement for Toronto to look to get into the top 10 or lottery unless a team like Miami or Chicago really is willing to trade their top pick for someone like Jose. I like Jose, but I think Toronto would be crazy not to move him for Beasley or Rose if the opportunity presented itself. And from the Miami or Chicago side of things, considering that both Beasley and Rose would be great fits for their respective clubs no matter how the chips may fall, I'm not sure why either team would prefer Jose or a package that included him.
And unless clubs like the Clippers, Sonics or Knicks get real desperate for TJ Ford, assuming Jose stays with Toronto, then I'd say that as fans we can forget about jumping into that upper draft stratosphere.
For me, the most viable scenario in which we would see Toronto trading up is the one described earlier, a small flip in draft selections with teams drafting just ahead of the Raps. Of the lottery teams, Portland, Sacramento and Golden State make the most sense as trading partners. The Blazers are looking to add experience, not more youth, the Kings have needs at the point, an area Toronto can help address, and Golden State needs keep their salary situation in order with players like Baron Davis, Andris Biedrins and Monta Ellis up for new deals.
In fact, as Howland mentioned to me the other day, Golden State could be a very interesting potential trade partner for the Raptors if Baron Davis opts out of his contract and looks to play elsewhere. All of a sudden, TJ Ford looks like a pretty good fit for the Warriors, especially considering his coach would be Mad Scientist Nelson, the same coach who last season referred to Ford as a Steve Nash clone. In terms of trading up, Toronto could perhaps kill two birds with one stone by shipping Ford out to Oakland while grabbing an excellent change of pace back-up for Calderon in Westbrook. Or maybe the Blazers decide to package their pick in exchange for some point guard help?
At this point of course anything is possible but I think it's quite safe to say that if Toronto does jump up from the seventeenth spot, it won't be into the top 10.
But trading down of course is another topic altogether…and something we'll be discussing later this week…
FRANCHISE