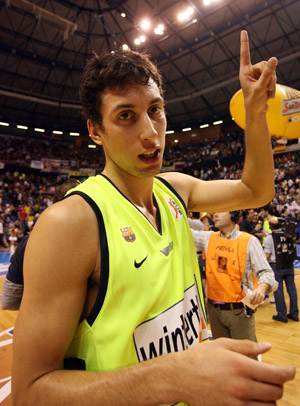 As the NBA playoffs continue to grind on (and it really is a grind if you have been watching the Cavs/Celtics match-up) and before we get into the draft season, Franchise and I figured we would put together our respective "Dream Off-season". These are some of our favourite articles to write because (a) it takes some research, (b) they seem to create the greatest amount of conversation after the fact. One person's plan is not necessarily similar to another's.

I'm up first. In order to create a blue-print it is important to understand what you have and what you don't. On a macro level the Raptors team has had some success over the past two seasons as evidenced by back-to-back playoff berths and one Atlantic Division title. The team is fairly solid on the offensive end and the roster has some nice young talent. The foundation of the team is the All-Star CB4 and there are some other young players (Ford, Bargnani, Calderon, Kapono) who could develop into key pieces given time.

On the flip side there are some glaring flaws. The team is lacking toughness, repeatedly gets beat-up in the paint and on the glass, and does a poor job defending. Most of the players on the roster are inconsistent and consequently so are the results. When the team was put together two seasons ago it was clear that Colangelo had a three year plan in mind. The contracts of Anthony Parker, Jorge Garbajosa, Joey Graham, Rasho Nesterovic, Maceo Baston, and Jamario Moon all expire at the end of this upcoming season. BC wanted to commit to these guys for three years and see what they could do. Unfortunately it's hard to believe that without some significant changes this team will achieve anything more than they did last season. So in my opinion it's time to shorten that three year window and start again.
Now I'm not suggesting trading all of the young talent for veterans and trying to catch lightening in a bottle like the Miami Heat a couple of years ago. We now see the results of that and it's ugly even after winning the almighty NBA Championship. To me you have to build a franchise slowly, develop from within and add the right parts along the way.
Here's the roster today:
PG: Ford/Calderon
SG: Parker/Delfino/Kapono
SF: Moon/Garbajosa/Graham
PF: Bosh/Humpheries/Baston
C: Nesterovic/Bargnani/Brezec
Easy Decisions
Let's get a few easy decisions out of the way right now. Primoz, despite the entertainment value simply doesn't have a spot on the team next year. So, he won't be re-signed. Second, I don't think there is anyway that Rasho opts out of this contract. The money is just too good and if he plays at a high-level again he could end up with another decent payday next year. The two remaining free-agents (Calderon and Delfino) are discussed later on.
That doesn't change the roster much but brings it down to the following:
PG: Ford/Calderon
SG: Parker/Delfino/Kapono
SF: Moon/Garbajosa/Graham
PF: Bosh/Humpheries/Baston
C: Nesterovic/Bargnani
The other no-brainer to me is that it is finally time to bring Roko Ukic over. A young, athletic 6'5" PG is just too good of an asset to continue to store abroad. This season in Europe Ukic finally managed steady minutes and did a nice job for Lottomatica Roma averaging 12.7 ppg (54.5fg%), 2.4 rebounds and 2.8 assists. Apparently the team has already reached an agreement to bring him over and now's the time. Seeing Roko in a Raps jersey guarantees that Darrick Martin won't see another minute and given my draft approach below it helps add some youth.
PG: Ford/Calderon/Ukic
SG: Parker/Delfino/Kapono
SF: Moon/Garbajosa/Graham
PF: Bosh/Humpheries/Baston
C: Nesterovic/Bargnani

The Draft
The talk surrounding the draft right now is that it is going to be a solid and deep draft. The Raptors will have the 17th pick. Right now the major draft sites are forecasting players like Joe Alexander, Alexis Ajinca, DJ Augustin, Robin Lopez, Chase Budinger, JaVale McGee and Franchise favourite Chris Douglas Roberts around that spot.
There will be talent available at 17, but history has shown us that at that level in the draft things are very hit or miss and you have to be extremely lucky to get a player who can change your franchise. As you can see the 17th spot has produced some very nice players but it has also produced some busts:
Sean Williams (2007)
Shawne Williams (2006)
Danny Granger (2005)
Josh Smith(2004)
Zarko Cabarkapa (2003)
Juan Dixon (2002)
Michael Bradley (2001)
Originally when I drafted this piece I thought I would deal out of the draft but instead as you will see I deal down. The player being targeted is Chris Douglas Roberts. As I mentioned from the get go this Raptors team is already very youthful (plus I've added Ukic) and I am not sure there are a lot of guys who I would want this far down given the Raps need experience and production now, not two years from now. That being said CDR is great getting to the rim and creating his own shot and we all know the Raps need that.
Could this guy be in a Raps jersey in 08.....
So provided he is there the Raps look like this:
PG: Ford/Calderon/Ukic
SG: Parker/Delfino/Kapono
SF: Moon/Garbajosa/CDR/Graham
PF: Bosh/Humpheries/Baston
C: Nesterovic/Bargnani
Trades
This is obviously the hardest part of these types of articles as it is truly hard to be objective. Over the years we at the HQ have broken down a variety of trade scenarios and the reactions have ranged from "You guys are on drugs" to "that would be interesting".
The key here is not simply to make a trade for the sake of making a trade, but to make a trade and fill a need. The problem is the Ford/Calderon situation seems to be coming more tenuous by the day and it's clear that a trade HAS to be made. The question you have to ask first is who do you trade. The obvious answer is TJ. His me first attitude has started to wear thin and because of his tirade of injuries it's just hard to believe that he is the long term answer. On the flip side will Calderon's value ever be higher? Wouldn't a sign and trade with Calderon net a really solid player? Maybe TJ will find it more comfortable and settle in if there wasn't someone banging down his door.
The answer for me however is to deal TJ. Yes his value is low considering his play and the injury concerns but when you look back at last season the Raps offense simply ran better with Jose. The chemistry he developed with Bosh can't be matched and he doesn't turn the ball over. If he continues to improve he could be one of the best PG's in the league. TJ just has not shown that he can be an elite PG. When you add in the decision to bring Ukic over it really becomes a no-brainer. Calderon would be more willing to groom the young PG and ease the transition.
The question then is who are the possible trading partners?
When you look around the L for those teams who need PG's the following franchises come to mind:
Miami
Denver
Indiana
L.A. Clippers
Portland
Seattle
Almost immediately you can take Miami off that list. The only guy on that roster that interests me is Haslem but I doubt that Riley would make him available given their other options. Also the rumour is that Miami is hot for Rose with the first pick in the draft so that would address their need to get the ball out of Wade's hands.
Originally I though about Seattle but when you look at their roster a few things jump off the page. First off they have a lot of $$ locked into two below average PGs and would probably want you to take one of them back. No thanks. Second, other than Durant, Green and Wilcox there is very little that interests me and these three guys are their building blocks.
The Clippers are another team is disarray. Maggette and Brand could opt out, so despite all the calls for Maggette he could be signing elsewhere. The only player who moderately interests me and could be available is Quinton Ross but he is a free-agent as well.
That leaves Portland, Indiana and Denver.
Portland has a lot of assets but I for one think they are going to be looking to make a bigger splash this off-season than simply trading for TJ Ford. They have a lot of young talent and four picks in this upcoming draft (three second-rounders). The guys they would likely make available include Martell Webster, Jarret Jack and Blake, but their salaries just don't match and give that another pick probably is not of interest to them that makes the TJ Ford sweepstakes a two horse race.
Indiana is an interesting situation. They have nice pieces but they just don't mesh well. The team has stated that they intend to build around Granger so he is out of bounds. Coach O'Brien also said this week that he can't rely on Jamal Tinsley. Sounds like a good fit. The question is then one of what works. There are a few guys of interest here. Dunleavy Jr., Jeff Foster and Jermaine O'Neal. Jermaine O'Neal, despite the injuries would be a huge addition to the Raps. His rebounding, shot blocking and work in the paint are all desired characteristics. It's clear his time is coming to an end in Indiana and maybe a fresh change of scenery is just what the doctor ordered. The problem is the huge cap number. It would take Rasho, Ford and someone like Parker to get the deal done. Huge risk.
What does work however is Dunleavy for Ford straight-up.
Interesting deal. It gives the Raps more versatility on the offensive end, a decent rebounder and a player with a strong PER (Hollinger Rating). Junior broke out this season and was a stat-sheet filler. For Indiana it gives them the PG they so desperately need.
Before I pull the trigger on that deal the Denver situation is a very interesting one. The rumours are they desperately want to trim some pay-roll and at the same time finally get themselves a PG. The name being bandied about is Marcus Camby. It's completely bizarre to me why a team that doesn't play defense would want to rid itself of its best defensive player but this appears to be the situation. Martin, Carmelo and Iverson either can't or won't be moved, and Nene's contract and health situation isn't helping matters either. Camby back on the Raps would be very interesting.
A deal of Ford, Graham and the 17th pick for Camby and the 20th pick works.
For the Raps you instantly upgrade the front-court with a shot-blocking and rebounding fool. It's a hefty contract but Camby seems to have gotten over the injuries he suffered from early in his career. Strangely enough though he has a lower PER than Ford. Graham is there for cap-filler and to fill a roster spot for cheap. The ability to move up three spots in the draft is extra incentive and the costs cap-wise is doing so are minimal.
I make this deal. Even if I have to include the 17th pick and not get the 20th it is still a deal I make. It addresses rebounding, defense and a little bit of an edge to a soft Raps front court. The benefits here are much greater than the Dunleavy deal.
So here we are:

PG: Calderon/Ukic
SG: Parker/Delfino/Kapono
SF: Moon/Garbajosa/CDR
PF: Bosh/Humpheries/Baston
C: Camby/Nesterovic/Bargnani
Not done yet. Although I have addressed the rebounding issue I am still unhappy with some of the wing-play. The defense was just too porous last season. Time to deal with Colangelo's old team.
The deal is a simple one-for-one in Anthony Parker (and next season's second round pick and even last seasons 2nd rounder) for Raja Bell.
Bell had a bit of an off-season this year but he is known for his hard nose D and can hit the open three like no-body's business. It's hard to say good-bye to Parker but this simply is a deal this team needs. For Phoenix Parker is a solid, yet unspectacular addition who is more versatile plus the Suns need to start getting some assets in terms of the draft as they are an aging team.
That make's the team look very different:
PG: Calderon/Ukic
SG: Bell/Delfino/Kapono
SF: Moon/Garbajosa/CDR
PF: Bosh/Humpheries/Baston
C: Camby/Nesterovic/Bargnani
Now there's no question that I want to deal Baston, the question is whether anyone would want him. He adds zero to this team. The deal I need to find is a zero for zero, much like BC did with Hump and Hoffa. Problem is Baston's salary makes it difficult to deal him. The reality is he keeps his trap shut, so he stays in civilian clothes all season.
Besides, if I can pull these deals off Baston is irrelevant.

Signings
Well the first signing is obvious and that's Calderon. He will probably command similar loot to TJ, so that is somewhere between 7-8.5 million per. Is there a possible home team discount now that it is his show. One would like to think so but if it has been said once it has been said a million times…it is a business. For fun let's say a 5 year 35 million dollar deal. Seems reasonable and fair.
While on the PG topic however it is clear that this squad is in dire need of a back-up PG. I suggested this a while back in a re-cap and I still like the idea. Chris Duhon. He is a hard nosed player and obviously has some interest in Toronto given he signed an offer sheet a few years back. You can't think that by moving Ford that the PG situation will be slightly weaker but this is a nice addition. He is not the best shooter but can run a team, play D (Calderon's weakness) and is your typical back-up PG. He would be a change of pace from Calderon and given his off-season outburst could probably be had for a similar price as his last deal, around 3 million per and maybe less.
PG: Calderon/Duhon/Ukic
SG: Bell/Delfino/Kapono
SF: Moon/Garbajosa/CDR
PF: Bosh/Humpheries/Baston
C: Camby/Nesterovic/Bargnani
The biggest issue then is that there is very little loot for Delfino. As you can see from the above I have kept Delfino on the team throughout this whole process. I'm not sure how reasonable that is given the salaries on this squad and it is inevitable that he garners some interest from other teams. Even if there was no way to sign Delfino it's not the end of the world to have an empty roster spot.
I'll admit this is a very different squad from what was fielded last season. I for one like it A LOT more.
The PG situation is established and there is a clear cut starter. There is also a young up and comer in the wings. The best thing about this trio is that there would be no drama and each would know their role.
The Raps starting PG.
The SG position is an interesting one. Bell can be as inconsistent as Parker but he brings a hardnosed intensity to the court. His battles with Kobe are well documented and although he is not a guy to create his own shot he brings something extra. Mitchell now sees what Kapono could do and I would expect him to see some more time next season. He can be a lethal weapon if used correctly. Delfino, if possible would be a great luxury.
The SF position is not one I am completely happy with but there are a variety of options. We all know what we are getting from Moon. Garbo is a bit of a wild card as know one really knows what sort of player he will be when he comes back and there is no pressure CDR right away. The opportunity would be there for him to get some minutes and bring a slashing element to the offense.
If I have learned anything from the playoffs this year it is that you can never have too many big men. Obviously CB4 holds down the PF spot. Bargs would be his back-up and given the centre situation could also play some 5 in the right situations. There are still minutes to be had, provided they are earned. Hump, Ukic and Baston are the two guys that likely wouldn't dress on most nights.
The C spot is all of a sudden a position of strength for this team. The addition of Camby with Bargs and Rasho backing him up would really change the face of this team. His presence would be huge and with Bell suddenly the Raps would be solid on the defensive end. There would undoubtedly be some growing pains as all of these players got accustomed to each other but it would be a team with many strengths and very few weaknesses.
Obviously anything is possible but this would be my dream scenario this offseason. Franchise will be by in a couple of days with his, but we would love to hear yours. If you email us your thoughts we will gladly post some of the best and maybe even wackiest ideas.
It's a long summer, might as well start talking possibilities now.
HOWLAND