How do you define a successful season for an NBA team?

By winning a championship?

Advancing past the first round of the playoffs?

Even MAKING the playoffs?

Obviously judging whether an NBA team's season is a success is a very relative matter.

For instance the Knicks could decide their season was a huge success if they fail to win 25 games, yet nab the top overall draft pick and drive Isiah Thomas out of town! (Which with today's announcement that Donnie Walsh will take over as President, seems more and more likely.)

So what about Toronto, a team that had fairly high expectations going into the season? Has this been a successful campaign for the Raptors?

The Toronto Star's Doug Smith raised this point yesterday in his blog when looking at the remaining schedule:

Let's say, just for argument's sake, that these guys (the Raptors) rattle off six wins in their last eight games (it might be a stretch given their penchant for blowing relatively easy games but play with me here).
That gives 'em 44 for the season and, I'm guessing, a fifth seed. Maybe sixth.
Is that a good season?
Does 44 make it successful given the absence of Garbo for almost the entire year, the absence of Ford for 24 games and Bosh for 15, the inconsistencies of Bargnani and every swingman on the roster and the presence of a rookie in the starting lineup?
Can you make the case given those circumstances that they over-achieved to get to 44, or even 43?
I think you can make that argument quite easily. And what's that say about the coaching? And the other guys? That they were able to, in the absence of three key players and the knowledge that they never knew night to night what they'd get out of Delfino, Kapono and Moon, survive and even thrive at times?
I think it says a lot.
Let's say Bosh only misses six games and of the nine he sits out they win over? Take that and you're getting to 47, 48 wins and then how's the season?
Do I agree with this viewpoint?
Well yes and no.
I think it's important to note that defining "success" is fairly arbitrary as each individual within the Raptors' organization may have their own idea of whether the season has been a success or not.
So with that in mind, let's look at things from three different perspectives; the players, the coaches and management.
1) The Players – From the players' standpoint, I think the majority of them would say that the season has been a success so far. Sure, the club isn't fighting for the top of the Atlantic as they may have expected last fall, but considering the injury situation this year and new personnel, as Doug Smith mentions, the team is still on pace for a decent playoff seeding and close to the same number of wins as last year.
2) The Coaches – I think the coaching staff by and large would deem this season a success as well. The club is still a potent offensive group and yet has improved defensively from last season. They've had to juggle various lengthy injury situations to key players and yet still have the team pointing straight ahead at a playoff spot. With a run in these final few games, the team could once again look like an Eastern Conference dark-horse.
3) Management – If Bryan Colangelo were asked his views on the degree of "success" the team has achieved this season, I'm sure he'd echo the sentiments of the coaches and players. However deep down, I'm not sure how he could say that with much conviction.
-His top draft pick struggled to the point that he's been replaced in the starting line-up and has almost regressed from last year, at least offensively. There are also now some big questions as to this same pick's "fit" with the team in terms of manning the center position, a position Colangelo thought Bargnani could play when he made Andrea the top pick.
-His biggest free-agent signing has been relegated to bench duty as well, and sporadic at that.
-His other signings and re-signings, Joey Graham, Kris Humphries, Carlos Delfino and Maceo Baston, have had performances ranging from mediocre to virtually useless.
-The point guard he envisioned as being the team's starter in the future has been injury-prone and unwilling to accept different roles with the team while the back-up has flourished and put together All-Star caliber numbers as a starter.
The Jamario Moon finding and the play of Rasho Nesterovic have been positives for BC in terms of player development, but it's pretty hard to say that the team has made substantial improvements on an individual basis and a link provided by one of our readers yesterday bears this out.
Only Jose Calderon significantly improved his "wins produced" statistic over last season.
Yes the club is still winning more games than they are losing in spite of injuries and personnel changes, but for me, a successful season for the Raptors to this point would have involved the majority of the team taking a step forward in terms of level of play.
I just don't think you can say that's occurred.
I'm not saying the year to date has been a crushing disappointment, but the club just has not quite matched the expectations I've had for it both in terms of player development as mentioned, and in terms of taking the next step as a complete unit. For instance, I feel that a number of games Toronto lost this year against lesser opponents were ones that the previous year's club would have put a W on.
To illustrate this point, I looked at the Raptors' schedule from last year and this year and made a quick comparison. Discounting the first month of the season in both years, let's call it a "gelling period," Toronto by my count let more games that they should have won get away this year than last.
Last year by my count there were only seven games which saw Toronto under-achieve compared to their competition:
Dec 30 – Memphis 110 to 104
Jan 27 – Indiana 102 to 84
Feb 21 – Cleveland 86 to 85 (Varejao tip-in for the win off a missed box-out.)
March 2 – Milwaukee 94 to 81
March 18 – New York 92 to 74
March 26 – Boston 95 to 87 (Garbo injury)
April 18 – Philly 122 to119 (Last game of season – Luke Jackson had 30 points which tells you all you need to know about the rest of the team's effort.)
This year, I've got 10 so far:
Dec 1 – Washington 101 to 97
Dec 19 – Portland 101 to 96
Dec 21 – Seattle 123 to 115
Dec 29 – Houston 91 to 79
Jan 6 – Cleveland 93 to 90 (Perhaps thanks to Chris Bosh' significant other trash talking James)
Jan 19 – Philly 99 to 95
Feb 8 – LA Clippers 102 to 98
Feb 22 – New York 103 to 99
Feb 29 – Indiana 122 to 111
March 2 – Charlotte 110 to 98
And that's not counting other close losses such as:
-an early season loss to Dallas whereby the Raptors allowed the Mavs to come storming back from a huge deficit,
-a loss to Sacramento on the last Western road trip,
-an L at the hand of Denver recently at home where Toronto couldn't close out the game in crunch time,
-and a loss to Washington in a game that saw Toronto play some awful basketball only to get to overtime on a "Hail Mary" 3-pointer by Anthony Parker.
Every season you're going to lose some games that you perhaps should have won on paper, and therefore I'm not saying that the Raptors should have 10 more wins this year. But I don't think it's unrealistic to say that last year's club would have closed out games such as the last five losses above, giving Toronto a 43 and 31 record heading into tonight's game against the Hawks…which prior to the season is about where I saw the club sitting at this point on the NBA Calendar.
But besides individual players not taking the next step, or the team squandering some games that should have resulted in victories, I think the biggest issue I have is that with eight games left on the season, there is still so much instability in terms of player rotations. Jason Kapono goes from a starter one night to DNP-CD the next, Andrea is the first guy off the bench one night and then gets eight minutes in an eighth man role the next night…I worry about this going into the playoffs against teams that have gelled as cohesive groups a long time ago.
And according to an article in this morning's Toronto Star, we may even see some Joey Graham tonight, a player who wasn't even dressed for Toronto's last match.
Obviously it will be playoff accomplishments that really determine this season's success, but as of now, I can't help but feel like I've been left wanting more.
Who knows though; perhaps the Raptors can keep up their winning ways tonight against Atlanta and head into the playoffs winners of nine of their last 12. That would give the team some much-needed swagger and a chance to put what's been an up-and-down season behind them.
But one step at a time – first thing is to grab a road victory in Atlanta tonight.
The Hawks for all their management and coaching turmoil have been playing quite well lately and look more and more like a lock for the eighth and final playoff spot in the East. This is a team that gives Toronto problems with its athleticism and in an important game for both teams tonight, I think it will be the club that comes out with the most aggressiveness from the tip that takes the W.
1) Start strong. No surprise here then for our first key. The Raptors need to get off to a good start at both ends of the court and play with some fire. We've seen good and bad starts lately for Toronto and it's easy to see early on in games which Raptor squad is going to show up. The Hawks are playing for their playoff lives and will come out fired up. Toronto on the other hand is going to have to try and shrug off the somber atmosphere of the Atlanta home-court (and all 300 spectators) in order to prevent falling into a hole early. If Toronto doesn't defend aggressively on the perimeter against the likes of Josh Smith and Joe Johnson, and look to attack the basket, it could be a long night.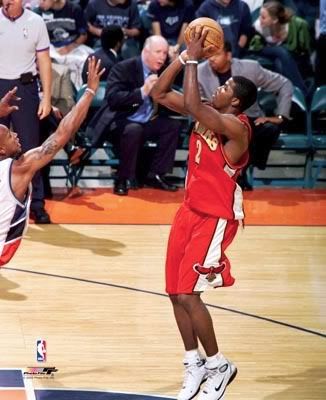 2) Get quality minutes at the 1. Mike Bibby is banged up and Acie Law is not exactly Jason Kidd. Toronto has a distinct advantage at this position and if Toronto gets solid point guard play this evening, it should bode well for a Raps' win. In particular, I'm looking to see Ford attack the basket against the slower Bibby and force the Hawks' frontline to foul. Ford is a great foul shooter and seeing Toronto's success in this arena last game, it would be great to have Ford leading the foul-line parade tonight. In addition, this should open up looks on the perimeter for the rest of the Raptors, something a team like Atlanta struggles to defend against.
3) Get production from the bench. As I mentioned yesterday, Atlanta is basically playing six guys. Therefore Toronto needs its bench to step up and do a much better job, especially on offense, than they did Monday night. Without the Hawks having much in the reserve tank, the Dinos should be able to bring in fresh legs and energy to help take control of the game. Guys like Bargnani, Humphries and Delfino will be counted on tonight to give different looks for the Hawks to have to adjust to and their play could mean the difference between Toronto's 39th win, and 37th loss.
FRANCHISE