41 and 41.
If someone had told you that prior to the season, they expect Toronto to finish at .500, would you have been disappointed?
Perhaps so, but what if you were told that Jorge Garbajosa would be out for the year, Chris Bosh and TJ Ford would miss large chunks of time, Sam Mitchell and his staff would never figure out how to correctly use Jason Kapono, Andrea Bargnani would have a fairly terrible sophomore season and Toronto would start a career D-Leaguer at the 3?
Sorta brightens the picture a bit doesn't it?
Not to mention that some were not as enthusiastic as others about Toronto's chances at the start of the season. I had predicted 48 wins but worried about the injury factor and the Kapono signing as perhaps hindering this total in the end. This was definitely the case although it's hard to say just how many more wins the Raptors would have had if everyone would have been healthy.
Unbelievably, we've come to the end of the season and with a win tonight, Toronto can grab its 42nd of the season. With a loss, the situation as I just described presents itself.
And really, I'm expecting a loss tonight.
Not that I don't think Toronto can't beat the Bulls, but in all seriousness this game means little to Toronto and Sam Mitchell should be focussing all his energies on the impending match-up with Orlando.
So tonight he just needs to keep everyone loose and healthy.
And Chicago? Well the Bulls had arguably the most disappointing season of any team in the NBA other than maybe the Miami Heat. Chicago was viewed by many as an Eastern Conference finalist and instead, are looking to win their 33rd game of the season. That's a far cry from the near 50 that many expected or even the 41 from the 2005-06 season, and as further proof, SI.com had the Bulls ranked as the eighth best team in the pre-season. The Bulls finished 15 spots below that on their final tally, at 23rd.
Chicago is playing for pride. Win or lose the team is looking at having the eighth best shot at the top pick in this summer's NBA Draft.
So let's have a little fun with the 3 keys then shall we? It's been a long and strange season, and really, this game should be all about seeing lots of the Raptors' bench. Here's what I'd like to see tonight:

1) Primo Brezec versus Joakim Noah. I'm hoping these two play 25 plus minutes each and consistently dunk on each other until either Brezec has enough of Noah's yells and clothesline's him, or Noah has enough of Brezec pointing at the sky and gives him the Captain Kirk two-handed axe chop. The NBA – Where Beeker versus Noah happens.
2) Joey Graham and Maceo Baston getting playing time. Talk about two guys who epitomize the term "practice player." For the life of me I still don't know why either is under contract so hopefully tonight they'll get to show that they can do more than absorb Sam Mitchell's cursing. Baston has been a complete bust to the point that he's only played in 15 games this year, and Bryan Colangelo had so much faith in his abilities that he traded for another big man who plays only sporadically. And does anyone remember when Joey started against New Jersey last year?
3) Jason Kapono, Carlos Delfino, Andrea Bargnani and Kris Humphries getting major minutes. These four represent big X factors for Toronto in the next round.
-Kapono is going to be needed to counter Orlando's perimeter shooting and to help stretch out the Magic defense,
-Delfino's scoring off the bench will be key against the Magic (not to mention he may need to play some point if Ford gets hurt),
-Andrea desperately needs to re-emerge as a second scoring option
-and Hump's rebounding and toughness may be in need if Rasho gets into early foul trouble against Dwight Howard.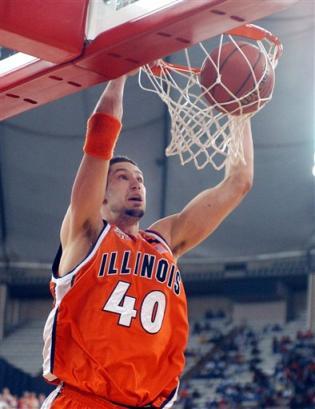 Therefore while this game doesn't mean anything in the standings, it does actually mean a lot in terms of preparing for the next round. Who knows when Sam Mitchell is going to call one of these guys' numbers? So tonight the entire bench needs to go out against the Bulls with the mindset that they have something to prove to Mitchell and co. I saw it last night in the game between Orlando and Atlanta; guys like Salim Stoudamire, Acey Law and Zaza Pachulia looked like they were auditioning for a playoff spot and the same was true with JJ Redick and Pat Garrity on the Orlando side.
I'm guessing that Mitchell plays his starters about 20 to 24 minutes each so there should be lots of time for "auditioning." We'll start breaking down the Orlando match-up Friday and hopefully there will be some encouraging signs of life from the bench tonight that will warrant discussion.

FRANCHISE