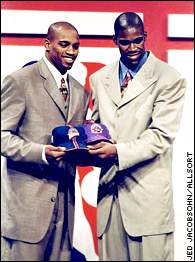 Lacing Them Up
Kicking off a weekend where getting two victories at home was absolutely essential before heading west bound for a five game trip the Raps faced an undermanned Washington team. The Wizards have been a tough match-up for the Raps all season long, but this was a night where the team had to play with a sense of urgency despite Bosh's continued absence
The end result was a disappointing OT loss, 110-106. The night was another prime of example of both this teams inability to hit the glass and TJ Ford's struggles. Despite it being a fairly entertaining game this loss wasn't pretty folks. First off this game never should have gone to overtime. The reason these teams needed an extra five minutes to settle the affair was this series of plays between the third and fourth quarter when Calderon was subbed out for TJ Ford up by 6:
Ford Driving Finger Roll Layup Shot: Missed
Jamison Jump Shot: Made (13 PTS) [WAS 70-74]
Ford Driving Finger Roll Layup Shot: Missed
Blatche Free Throw 1 of 2 (5 PTS) [WAS 71-74]
Blatche Free Throw 2 of 2 (6 PTS) [WAS 72-74]
Ford Turnover:Bad Pass (2 TO)
Young Driving Layup Shot: Made (6 PTS) [WAS 74-74]
Delfino Pullup Jump shot: Missed
Young 3pt Shot: Made (9 PTS) [WAS 77-74]
Parker Jump Shot: Missed
Bargnani Jump Shot: Missed
Jamison Running Jump Shot: Missed
Parker 3pt Shot: Missed
Blatche Driving Hook Shot: Missed
Parker Free Throw 1 of 2 (9 PTS) [WAS 77-75]
Parker Free Throw 2 of 2 (10 PTS) [WAS 77-76]
Young 3pt Shot: Made (12 PTS) [WAS 80-76]
Moon Jump Shot: Missed
Blatche Layup Shot: Made (8 PTS) [WAS 82-76]
Ford Substitution replaced by Calderon
This was over a 6-7 minute period. Look at what happened here. Calderon leaves and over half a quarter the Raps manage...yup, 2 points. TWO POINTS?! The game, in my opinion, changed right here. This was a twelve point swing that took the wind right out of the Raps sails.
There is no denying that TJ Ford is not playing well. Look at what happened as soon as he came into the game. Sure he gets credit for getting to the rim but if you watched he didn't pass the ball during those possessions and he basically alienated the guys on the floor with him. Now that is weak PG play. Actually, it's just bad PG play. If he keeps this up no-one is going to want to play with him.
It's simply bizarre what is going on with him right now. I firmly believe that the absence of Bosh is having a huge influence on TJ. The leader is missing and now Ford is failing to play within the system. What's worse is that it doesn't appear on the surface that anyone is holding him accountable. His play alone killed the Raps last night.
A Number Game
Maybe we should just call this section "How Badly Did the Raps Get Out-rebounded". Once again the Raps were killed on the glass. Washington had eleven more rebounds than the Raps which haunted the Dino's throughout the game.
The other killer number was 6. The Wizards had six guys in double figures, led by Jamison. Coach Jordan has to love this offensive output considering Arenas and Butler are on the shelf. The only way this Washington team wins games is by having a balanced attack and that's exactly what they had. Hell even Roger Mason junior looked solid hitting clutch three's late in the game.
The Turning Point
Just read the beginning of the piece. I'd rather touch on something else here. Last night I felt like I had travelled back in time to the 2005-2006 season. Prior to BC's arrival if the Raps were up in any game as a fan you just hoped they could hold on. The losses then were expected and you hoped for a W. The team then had a young up and coming big man (Bosh), and a lot of complementary parts. Last night, other than the fact that the up and coming big man was Bargs as opposed to Bosh the feelings were the same. I was just hoping they would pull it out but expected the L. If Bosh doesn't get back soon expect the road trip results to be similar to those experienced a few years back.
Temperature Check
Hot - Antwan Jamison - Although he didn't start the game off that well he closed it like the solid veteran he is. Jamison took the Wiz on his back in the extra frame and pulled out the W. Jamison has always been a solid player and would be a great addition to any team this off-season. Hell Franchise and I were even wondering if he could play some three for the Raps next season. His career could come full circle.
Cold - Jason Kapono - Kapono was essentially a non-factor in this game. Perhaps it shouldn't be surprising considering the athletes this Wizards team has but I have to wonder whether Kapono will find a role in this Raps team before or after the Suns figure out what the hell they are going to do with Shaq. I for one, despite the poor play and limited minutes am starting to believe that the trade sentiment is a little pre-mature. The facts are Mitchell just doesn't use him right. If he did Kapono could really be a key part to the Raps success. The last thing I want to see is BC deal him for 25 cents on the dollar only to see him blow-up somewhere else.
Luke Warm - Rasho Nesterovic - I have a soft spot for Rasho. He is steady and reliable. His vertical also makes be laugh at times. Nevertheless he is a huge asset to have. He never complains, plays hard and is willing to do the dirty work. He knows what he is, what he does best, and plays within himself. A few of his teammates could learn a thing or two from him.
Moving On
Let me be blunt. The Raps HAVE to win on Sunday.

HOWLAND