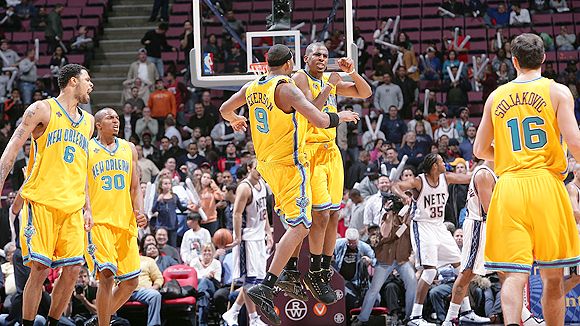 Lacing Them Up –
8.9, 8.5, 5.8, 4.2, 4.1.
Those were the career scoring averages for Toronto's fourth-quarter crew last night, one that led the team back from the dead against New Orleans and which forced Hornets' coach Byron Scott to reinsert his starters.
I'm not sure how else to paint the picture of what was again a complete lack of effort by Toronto through the majority of this game.
Yes, Chris Paul is unreal – he makes the right decision with the ball 99.9 per cent of the time and is almost impossible to contain.
And yes, New Orleans did hit almost every open look they had.
However Toronto's defensive lapses allowed many of these looks and for Sam Mitchell to once again post-game state that "Toronto lost because the other team just hit more shots," was ridiculous. If that was SOLELY the case, how can he explain the fact that a line-up of Kris Humphries, Jose Calderon, Jamario Moon, Carlos Delfino and 10-day contract holder, Linton Johnson, turned what was a 20 point lead into a six point one? Yes, it was against New Orleans' bench but this was the same bench who continued to get easy baskets with Toronto's starters in the game.
I'm sorry, but you can't tell me by reviewing the video evidence that Calderon, Humphries, Delfino, Johnson and Moon (who looked like he was competing with Johnson for his own 10-day contract in the final quarter) didn't bring more intensity the moment they walked onto the court.
It was something sorely lacking once again from this team and as one of my basketball associates mentioned, "perhaps the starters should be playing on 10-Day contracts as well?"
Not a bad idea in fact.
Because I'm not sure what it's going to take to get this team to kick it into high gear.
New Orleans is the better team for sure and put on an offensive clinic, but there's no excuse for waving the white flag so early in the game.

A Numbers Game – 37 points
And by early in the game, I'm referring to the first quarter. The Raps just didn't come out with the necessary fire to set the tone in this one and as a result, the team allowed the aforementioned number of points in the first quarter. Things weren't much better in the third session either as once again the Hornets came out of the locker room ready to put this one away dropping 32 to Toronto's 21.
If the Raps don't get a better effort tonight early on in Charlotte, something that seems to be a reoccurring "3 key," it's going to be loss number 37 on the season, dropping them back to .500.
The Turning Point –
I hate the fact that the turning point for the majority of games lately seems to be the tip-off but once again last night, this was the case. Toronto just didn't come mentally prepared for this one, especially on the defensive end, and while New Orleans was indeed blazing hot in terms of their perimeter scoring, there were too many easy lay-ups and forays to the basket on the Hornets' behalf.
Adding to this, I'm still scratching my head over Mitchell's decision to start Jason Kapono. I know what Chuck and others said as an explanation…but give me a break. With 10 games left in the season this move reeked of desperation in terms of getting Toronto's top off-season prize going. Instead, Kapono missed every shot he took early on, and played some defence that could best be described as "matador-esque." I like Kapono, but once again I'm not sure Toronto's coaching staff is putting him in the best position to succeed. No Peja isn't a great defender himself, but it's not like Kapono is a slasher that needed some confidence getting to the hoop – he's a shooter, and one that if used effectively off of screens and cuts could be out there doing damage no matter who is defending him. Look at the way Davidson used Stephen Curry, a player with an equally quick trigger but with a much smaller stature. Against the more athletic Hoyas, Badgers and Jayhawks, the Davidson coaching staff had a system of constant motion whereby Curry was always getting touches even if it didn't result in him shooting the rock. Curry is definitely more adept at getting to the rim and handling the ball than Kap-One (not to mention we're talking college and not the NBA,) but it's discouraging that such a potent offensive weapon ends up standing around on possessions far too often.
Temperature Check –
Hot – Morris Peterson. Peterson didn't have a huge game by offensive standards however his return was one of the more memorable moments in Raptors' history for me. To see a former Raptor return and kiss the ACC center-court was a sight to behold and besides being a completely unexpected (and un-planned) gesture, reaffirmed what a pro Peterson is.
Mo Pete isn't the same player he was a few years back in terms of athletic ability, but watching him yesterday didn't do anything to change my mind that we might as well have kept him this past off-season considering the play of the guys who replaced him. And considering Peterson's paltry numbers while playing with a stud like Chris Paul, that's not saying much about our free-agent decisions is it?
Hot – Chris Paul. There's not much you can say about CP3 that hasn't already been said. The kid is flat out unstoppable and in my opinion, the most well-rounded point-guard in the league today. He constantly makes the right decisions with the ball, has a great change of pace, can shoot from inside and out, gets in passing lanes on D, and has the strength to take contact and finish around the rim. At Wake Forest Paul always looked like a great prospect to me but both he and Deron Williams have gone way above and beyond what I ever expected in terms of NBA potential. I always worried that neither would be good enough shooters to carry their clubs at this level but both have worked on improving this part of their game to the point that you just can't sag off of them to guard against penetration. He's my pick for MVP and while I think Kobe will get the award based on the "he's never won it before" line of reasoning, there should be plenty more opportunities for Paul in the future.

Hot – David West. Now we come to the good stuff. In yesterday's previews, I asked the Hornets' bloggers about West versus Bosh on purpose. I wanted to get their take on the two because in all honesty, for a while now I've thought that West was better than CB4. Now that the cat is out of the bag, let me break things down.
First of all, West absolutely dominated Bosh yesterday, both on the offensive and defensive ends. His "gimme the ball back" block on CB4 was incredibly impressive and after detonating in the first half scoring-wise, West chipped in when need be for the rest of the game to ensure his team kept the lead. Bosh had a good game scoring wise in this one as well, but he just didn't take control of the game the way someone of his stature should.
And that's the difference between the two in my opinion.
Bosh is more athletic, gets to the free-throw line more often, and has a higher upside skill-wise than West, but West is just the more aggressive of the two and the more intelligent offensive player.
If West and Bosh switched teams, I'm entirely confident that West would have a similar PER as the go-to guy on the Raps, and have the same NBA-wide spotlight (Youtube videos aside.)
And don't give me this "Chris Paul makes him better" line of reasoning. Yes, Paul makes everyone better, but if you watched yesterday's game, West scored the majority of his points off of isolation moves either by using great footwork in the post, or by hitting open shots near the top of the key. He's just as adept at scoring inside and out, and does a much better job of mixing up his offence than Bosh. Yesterday, while CB4 was settling for contested J's, West was backing players down using his strength and post-skills. At one point he performed a Ronny Seikaly-esque right to left spin move that left Bosh and the other Raptors' defenders in the dust, and that left me searching for the "rewind" button on the remote.
Don't get me wrong, I love CB4, but when I see West I just wish that Bosh would adopt some of his ruggedness and intensity. I think West is one of the league's most underrated players and teamed with Chris Paul, New Orleans has a deadly one-two punch for years to come.
Cold – Toronto's starters. The effort on both ends of the court just wasn't there, it's as simple as that. Rasho was the best of the bunch but wasn't the factor I expected on the glass. 21 points from Bosh was nice…but these came on only a handful of aggressive plays and since his return, I've yet to see him put this team on his back. Kapono we've discussed, Parker was sort of invisible and Ford looked like he was still mourning Texas' thrashing at the hands of Memphis.
Cold – Sam Mitchell. I'm really getting tired of Mitchell. Besides the post-game excuses and lack of tactical manoeuvres, his decision making is what is really driving nails into his coffin for me. Besides not understanding the logic behind the Kapono start, let's just say for sake of argument that it was a rational decision. Then here's the next question – why now? Just like the Rasho change, the Ford re-insertion, the Darrick Martin waiving, why now? I love the idea of changing starters for match-up purposes but why the hell didn't Mitchell take this same approach earlier this season when the club was struggling? It's not like Kapono couldn't have started last time Toronto played the Hornets!
And for that matter, there were a ton of games this year where match-ups dictated a switch at certain positions yet Mitchell trudged out the same starting five. He played match-ups last year…I remember one game in particular against Denver where Mitchell changed his starters to match up with Denver's size. Did Colangelo recently give him the green light to switch things up? Or is this more proof of the panic button theory where someone said "hmmm…we better start trying to validate our biggest off-season signing?"
I'm not sure, but frankly my level of faith in Mitchell's coaching has sunken to an all-time low. I thought he did a great job last year putting together the pieces he had, but this year has gone from a mixed reaction to his performance, to one of downright dismay.
Moving On –
It's not exactly an encouraging sign when your franchise player says things like "It scares me" in regards to the upcoming schedule. Bosh continued this line of thought last night by stating "Sometimes when you play teams like that (Charlotte etc), it's kind of tough to get up for games. It shouldn't be like that, but that's how it is…"
I can throw out all the 3 keys I want to tonight's game against Charlotte but this "laisser-faire" attitude this team inexplicably has, needs to go before any of them have a hope in hell of being effective.
And right now, I'm not sure how to change this demeanour.
Leo Rautins commented on it many a time last night but Toronto just looked happy to be playing, but not actually competing. Sam Mitchell can't change everyone's contracts to 10-day deals to try and inject some urgency into the team's psyche but here's an idea; how about putting Linton Johnson in the starting line-up tonight? It's not like Mitchell is locked into a certain starting five anymore and Johnson gave Toronto a good shot of athleticism and tenacity last night. He helped set the tone for the group on the court and everyone else responded. Toronto needs someone like that as for some reason, Chris Bosh just isn't leading the charge as expected.
And really, whether Linton starts or not, this team simply needs to start putting together some complete games. Last time against Charlotte they played well defensively and scored the ball, but got killed on the glass which resulted in a loss.
I'm going to be watching this one closely and the three keys of playing with some desperation, rebounding the basketball and getting some production from the bench will be under the microscope as will Sam Mitchell's coaching decisions.
Because while the schedule looks easy going forward, the way Toronto is playing is not exactly instilling a lot of confidence that they'll take advantage of it.
And if they can't do that, I'm not sure it matters whether Toronto keeps the sixth seed and plays Orlando, or faces the Pistons.
FRANCHISE