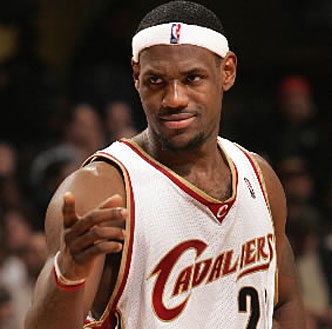 Lacing Them Up –
Well Raptors' fans, you got what you wanted.
With the Toronto Raptors' loss last night to the Cleveland Cavaliers, and the Washington Wizards' win over the Miami Heat, the Dinos suddenly find themselves precariously hanging onto the sixth playoff spot in the East.
And yet it seems like only a week ago there was still talk of a shot for the Raps to grab the third overall spot.
Now, with games against Denver, Detroit and New Orleans representing three of their next four matches, Toronto needs to start gutting out some wins to prevent losing any more ground.
The 76ers lost last night to the Magic, but are still only a game back of Toronto with both teams suddenly hovering around the .500 mark.
So from here on out, it's going to be time to see what this Raptor club is made of.
They put up a good fight last night against Cleveland, but with Chris Bosh still playing at less than 100 per cent, this team needs more contribution from the rest of its supporting cast.
As I wade my way through the last 48 hours of March Madness (which we'll be discussing more later this weekend) this "complete team effort" is even more apparent.
Beasley couldn't do it alone against USC, and Belmont's team effort almost did in my Blue Devils. Having a single superstar at the Kobe or Lebron level is one thing, but in their absence, you need everyone on your squad to step up.
A Numbers Game – 39.5 and 16
It's pretty hard to win games in the NBA when you a) shoot just under 40 per cent from the field and b) get outrebounded by 16 on the glass.
In a game where Toronto played some of their best defence in weeks, poor shooting and board work were the two main reasons the club came up short.
The main culprits however weren't the Raptors' wings, the usual underachievers, but Toronto's bigs. Starters Chris Bosh and Andrea Bargnani had but seven rebounds between them in 54 minutes, not exactly numbers that lend themselves to W's. Had it not been for Rasho's seven off the bench and Jamario Moon's 10 in only 20 minutes of action, things could have been a lot worse.

The Turning Point –
Tough to call an exact turning point in this one. Lebron started taking things over late in the game and Damon Jones made some big back-to-back 3's that felt like a momentum swing. But Toronto still managed to keep this one close down to the end. So an exact turning point? I'm not sure there was one as Cleveland was simply the better team last night. Toronto just didn't seem to have the juice to go all four rounds with Cleveland and even when the Raps briefly took the lead, it never felt safe.
But perhaps I've been watching too much March Madness…
Temperature Check –
In a game that was mostly a defensive struggle, I'm not going to go with our usual "hot and cold" descriptions.
Instead, I thought it might be interesting based on this game to think about the possible playoff situation should these teams meet.
On the plus side, I'm still not convinced that Cleveland is a better team post the Hughes, Gooden trade and in fact, I think they've regressed offensively. Prior to the trade for Big Ben and co, the Cavs were averaging about 97 points per game. Since the trade? Try 96. No, not a huge difference but it's only been 16 games since Drew Gooden and Larry Hughes were dealt. If Big Z can't stay healthy (he's been battling back problems) than a front line of Wallace, Varejao and Smith is one of the least worrisome offensively in the league.
However the flip side to this obviously is that the team is now huge up front, and a real problem on the glass. Toronto always had problems in this department against Cleveland but now, and as we saw last night, this is even more of a concern.
So am I saying I'd rather Toronto face Cleveland now than Orlando?
No, simply because of Lebron James. He seemed to be content to let his team-mates do their thing last night and then took his play to another level with the game on the line. Sure overall right now Cleveland might not be as dangerous offensively…but I just think avoiding Lebron James in the playoffs is almost more important than avoiding the Pistons and Celtics.
The other piece of the puzzle here is Cleveland's health. Daniel Gibson has been out of the lineup for a while, Ilgauskas as mentioned has missed time, and Sasha Pavlovic is still working his way back. With these three healthy, Cleveland gets a lot more dangerous and if Wally Szczerbiak would stop shooting like Larry Hughes, the team's O should become a lot more potent.
Moving On –
During last night's game, viewers were treated to an excerpt from an interview with Sam Mitchell.
The questions for Sam all revolved around TJ Ford and most specifically, about the media and fans' criticism of the now back-up point guard's play.
What I found interesting was that Mitchell explained that he would not switch TJ back into the starting line-up this season. Mitchell felt that Jose Calderon had earned the nod with his play while TJ was out, and furthermore, Jose had developed some great chemistry with the starting group which Mitchell did not want to "screw up."
I like this line of thought, and liked the fact that RaptorsTV sought Mitchell out to get his take on the Ford situation, but was anyone else getting mixed messages from this interview?
I mean, yes, on one hand I applaud Mitchell's decision to reward Jose who clearly has played like the team's starter. But to say that if TJ had not gotten hurt, he would have remained the starter, doesn't that make you scratch your head as a fan? Knowing what Mitchell now knows in terms of how well Jose plays with the starting group, why would he still claim that Jose is essentially the back-up unless TJ gets injured?
What happens next season?
Will Jose go back to the bench even though even the coach of the Raptors admits he plays better with the current starting five?
And taking that one step further, Mitchell claimed that he didn't want to risk screwing up the starting line-up's chemistry by re-inserting TJ. But now that the second unit is screwed up, and Mitchell clearly favours TJ as the starter barring injuries, why wouldn't he change things back to try and give both units a boost?
I just don't really understand the logic here. In most other situations, when the best player comes back from injury, the replacement returns to the bench. Mitchell isn't keeping Rasho and Bargs in as starters now and bringing CB4 off the bench. So if he thinks TJ is the better starter of his two point guards, why is TJ now still coming off the bench?
I'm not saying I'm in favour of one situation over the other, but the more I watch TJ, the more I worry that the Raptors won't ever be able to take advantage of his strengths in this back-up role. He comes into the game trying to do too much, and just doesn't seem to be effective right now.
And really, this team needs TJ to be more effective. Watching Lebron last night I was reminded of something Brett from the Bratwurst.com mentioned to us in our TJ chat the other day.
"Even the biggest Ford basher among the Raptor fans has to admit that sometimes he can be unstoppable. Sometimes Ford is the best player on the floor. Not many players can do that, and only the LeBron's and MJ's can do it every night."
He's right, and for that reason Toronto needs Ford to get back on the top of his game.
The Raptors don't have a Lebron James, but a ducking and weaving Ford in combination with Bosh can be a pretty lethal one, two punch. Add in the play of Jose, Rasho, and Anthony Parker, all of whom have been playing quite well lately, and it's this complete dynamic that made Toronto so deadly earlier this year and last season.
Oh…and a little of ANYTHING would be nice from Andrea against Denver on Sunday as well before I start a new website - www.startrasho.com.
Mitchell may have his own convoluted logic as to why Jose is starting for the remainder of the season, but he has yet to explain why someone averaging 15 points and almost seven rebounds a game over his last five is sitting behind someone averaging six and two…
FRANCHISE