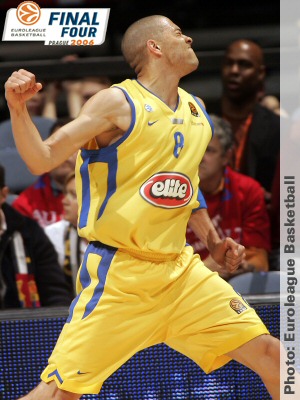 Lacing Them Up:
Look, I know there's going to be lots of TJ Ford talk today, but can we talk about Anthony Parker first?
I mean, is anyone else as blown away by Anthony Parker as I am?
He had 21 points, four rebounds, two assists, two steals, and was seven for 11 from the field against the Lakers.
Granted it's a little frustrating to know that he's had this offensive game in him all along but wow…the aggression going to the basket, the smooth shooting, and of course, his usual solid defense and rebounding. And how about the way he's looking at players now, trying to take them off the dribble one-on-one, even Kobe last night? This is the Parker I've wanted to see for a while now, and hopefully this continues for the season, especially when Bosh returns.
In fact, watching him I was reminded of Lamond Murray.
No, not in terms of their style of play or abilities, but in how funny the NBA is. A player can look like a stud on a bad team (Murray with the Cavs earlier in his career) and a stud can look like simply a complimentary piece on a good team (Parker.) It's starting be really evident to me now how good Parker is, and hopefully the Raptors start doing a better job of getting him involved.
Which brings us to TJ Ford.
Look, I'd rather discuss Western Kentucky's big win last night over Middle Tennessee State than get into this over and over, but it's starting to look like there's no avoiding it.
The fact is, Jose struggled last night while TJ had it going offensively. He didn't do enough to get his team-mates involved, something we'll discuss later, but it's evident that having received the lion's share of minutes last night, Sam Mitchell has some tough decisions ahead.
A Numbers Game – 53.6
Yep…pretty hard to win games when your opponent shoots that percentage from the field.
The Lakers rarely seemed to miss and ran their offence to perfection. Maybe it's a good time for me to cast my vote as one who begrudgingly thinks that the Lake show will be in the Western Conference finals this year. Kobe is just that good, and he now has some perfect compliments surrounding him with which to run Phil Jackson's triangle offence. A healthy Andrew Bynum represents the last piece of the puzzle and at that point, this team is going to be very difficult to stop.
15.
Oh…and as evidence of the Lakers well-oiled triangle? How about 15 three-point makes off of some crisp ball movement that the Raptors had no answer for.
The Turning Point:

I thought that Sasha Vujacic's 3 with about seven minutes left was the final nail in the coffin. That pushed the lead to 97-85 for LA and Toronto really never got close enough where you thought they'd pull it out after that point. The Lakers got way too many open looks in this one and the result was loss number one on the road trip.
Temperature Check:
Hot – Anthony Parker. As mentioned earlier…let's hope he keeps it up.
Hot – Lamar Odom. Odom simply owned Jamario Moon and anyone else who tried to guard him last night. He's the Lakers' true X factor and when he's doing the little things in addition to providing some timely scoring, it just makes this LA team that much more deadly. Oh…and memo to Jamario Moon this off-season – time to hit the weights son!
Hot – Joey Graham. No, I'm not joking. He only had four points and played but nine minutes but I'm seeing some subtle improvements in Joey's game lately. He looks a bit slimmer too and more agile and I thought he did a nice job in limited game time. I'm not suggesting he start taking over for Moon at the 3, but if Sam Mitchell can get that type of consistent play from Joey G each game, he'll be nice fit coming off the bench for the Raps.
Hot – Kobe Bryant. The guy didn't get to the free-line once until the game has basically been decided yet scores 34 points. Oh, and did we mention he had seven rebounds, seven assists and four steals? He's still not my MVP on the season, but I maintain that he's the closest thing to MJ we've ever seen and will probably ever see again.
Lukewarm – TJ Ford. And now we come to the TJ Ford section of our programming.
It's pretty easy to pick on Ford again after last night, not necessarily because he had an awful game, but because of his style of play.
28 points, five rebounds, four assists, perfect from the line (five for five)............
......and 23 shots in only 27 minutes of action.
Who is this guy, Ben Gordon?
It's hard to know whether Sam Mitchell has dictated that TJ take on more of a "scoring role" now off the bench, but even if that's the case, shouldn't he have looked for his team-mates A BIT more? In his first minutes last night this was especially true as he had 10 points in 11 minutes hoisting up eight shots. And late in the game, you could easily fault Ford for looking almost exclusively for his own shot, thus neglecting a blazing hot Anthony Parker, who got nary a touch offensively.
But he also neglected an 0 for 4 Carlos Delfino, a 2 for 5 Jason Kapono, a 1 for 5 Kris Humphries…get the idea here?
If I put myself in TJ's shoes I'm not sure I wouldn't have looked for my own shot as much as I did either. He probably would have ended up with eight or nine assists but Rasho missed a gimme lay-up off of a great Ford pass, Kapono missed a point-blank look, etc, etc. So what was he supposed to do? He was on fire from the field and was making an insane array of jumpers, fade-aways and even hook shots. Does he keep scoring to keep the game relatively close, or keep passing to team-mates who are settling for jumpers, risking a double-digit loss?
More importantly I thought, he was the ONLY one on the club who looked to match Kobe's demeanour with the game on the line.
I mean the guy is not even six feet tall, has had some serious spinal issues, and is getting up to block Bryant on one end and trying to dunk on him on the other???
I'm sorry but that takes some serious cojones.
In fact, does Ford not remind you of Bryant?
Ultra competitive, extremely athletic and talented, plays with a "chip on his shoulder" type intensity? Of course Bryant is more talented, a better scorer etc, but both are quite easy to despise and admire at the same time.
And therein lies the story of TJ Ford, a blessing and a curse.
When he's on, he's very hard to stop because of his quickness, athleticism and explosiveness. But at times that "on" gets in the way of his team-mates' success.
We've seen the stats a hundred times too, when Ford scores this much, his team rarely wins and in the end I came away from this one wishing that there was some way to try and balance things better between he and Jose. But without Bosh, Calderon just doesn't seem to be the same player right now.
A final note on Ford, his defense. The guy is as pesky as they come but he takes too many risks, especially against a well organized offensive club like the Lakers. At one point in the broadcast Chuck Swirsky asked how guys like Farmar and Fisher were getting such open looks and the answer was TJ Ford's defence. No, Leo didn't give that answer, (I believe he said something more diplomatic like "the Lakers ball movement") but if you watch the fourth quarter again, you'll see TJ hanging around in the paint hoping to use his quickness to thieve the ball from the Lakers bigs. This constantly left his man open on the wing to fire away…
Cold – The Score. Oh my lord. Howland discussed the quality of CBC's broadcast on Sunday and in comparison, last night's affair might as well have been shot on a handi-cam. In fact I think it was. Nothing like not showing the score for an entire quarter, having various technical difficulties wherein the screen splits and during the post-game chat with Sam Mitchell, having the audio switch to the guys in the truck so instead of hearing the coach, you could hear "I'm not on the colour I'm on the pshhhhhhh." Yeeeeeeeeeeeeeeeeeeeeeah.
Let's add in Chuck and Leo to this. Between Chuck's plugs for Kobe, who's agent Rob Pelinka is a friend of Swirsk's, and Leo's contradictory MVP comments (how can you question Kobe's whining earlier in the year and now say he should be MVP because he's getting his team-mates involved? Um…isn't Kobe only now getting them involved because they are better than team-mates he's had in the past?)
The only good thing about the broadcast coverage was the close-up of the Chuck and Leo late in the game, because as usual, certain Laker fans seemed strategically…ahem…placed.
Moving On
Nothing like going from running around like a mad man against the Lakers to having to sprint up and down tonight against the Warriors. Toronto managed to keep last night's game fairly close even though you never really felt like they would get over the hump. Tonight though could be ugly.
That's why the Raptors need to focus on the following three things in my opinion to keep things close and grab a surprising W.
1) Inside Play. The team looks to be settling into life after Bosh and both Rasho Nesterovic and Andrea have been a big part of this. Rasho in particular has been playing at another level. He had 18 points, eight rebounds, a couple assists and a block and seems to be confirming my suspicions that he should have been the team's starting center all year. Bargs still looks to be best served in the sixth man role but in Bosh's absence, I've been fairly happy with his play as well. He wasn't hitting his 3's last night but five of 10 from the field, perfect from the line (a place he seems to be trying to get to more and more) and six rebounds is respectable. Even better were his six assists as he did a great job finding open team-mates. These two need to have good games, especially on the offensive end against an explosive Warriors club that is lacking inside presence.
2) Pace. It will be really tempting to play at the Warriors' break neck speed (ahem TJ) but Toronto is better served slowing things down a bit and playing their own style. Golden State's mode of play should actually provide lots of open looks for the Raptors' shooters so it's imperative that they knock them down. But the last thing I want to see is Ford trying to go one-on-one all night with Monta Ellis and Baron Davis, a recipe for disaster.
3) Perimeter D. With a lack of inside presence, the Warriors use their athletic ability on the wings to drive their offense, and Andris Biedrins cleans up the misses. Toronto needs to try their best to keep G State in jump shot mode instead of getting into the paint. I expect this one to be a high-scoring affair, but if the Raps allow the Warriors to get consistently get to the rim, it could be a long night.
FRANCHISE