What if Portland had selected Michael Jordan and not Sam Bowie?
What if Bill Buckner had caught the ground ball to first base?
What if Tiger Woods had never rebuilt his golf swing?
You could go on and on.
However it makes for some thought-provoking discussion anytime these scenarios are brought up and recently, ESPN.com's Bill Simmons (aka the Sports Guy) took a look at some interesting "what if?" scenarios from the last decade in the NBA.
Some of his "what ifs" that really made me think were what if Boozer had never screwed over the Cavs (Booze and Lebron together now – can you imagine that combo??), Jason Williams had never crashed his motorcycle (something I was thinking about Saturday night after seeing him at the Duke-Carolina game and for the record, I think Simmons is bang-on with his assessment of Williams' potential) and most shockingly, Duncan had signed with Orlando in 2000.
However I think there are a few huge NBA "what ifs" that Simmons left off this list, especially for us Raptors fans.
What if the Raptors had never drafted Chris Bosh?
Let's rewind the tape.
Simmons comes to this scenario in two ways when asking "What if Memphis had landed Lebron instead of Cleveland…" The Raptors that year of course were on the short list of teams to nab James too, until the Raptors logo was pulled out of the fourth place envelope.
But what if they had gotten the top pick that year? Would we still be watching a Lebron-Carter duo? Or would Lebron have refused an extension and attempted to march off to New York?
Even scarier though is the second scenario.
Let's say Toronto didn't win the lottery that year, and still held the fourth pick.
What if Joe Dumars changes gears and takes Carmello Anthony with the second pick and Denver takes Bosh at 3?
Could we have been attempting to rebuild around Darko?
Think about that for a second, because it's a scary real possibility. Grunwald was always fairly good at assessing the draft but if Dumars, quite respectable himself, was fooled into taking Darko, why not Glen as well?
I mean, this is the team that drafted Hoffa because it needed a big! Do you think the Raps would have passed on a 7-footer who was supposed to be the next evolution of a big man?
Vince Carter would have still undoubtedly wanted out, albeit probably even faster, and what would this club have been left with? Certainly not a foundation to build around and with Darko on board, this team's best player for a few seasons would probably have been Mo Pete. We're not talking a couple of seasons with Bosh of 33, 33 and 27 wins. With Darko and no Bosh, does this team even win 20 games a season? Memphis is sitting at 15 wins right now with 20 games remaining and they have Rudy Gay and Mike Miller!
If Darko's number had been called instead of CB4, would it even be a stretch to say that the Raptors might have found themselves in a situation much like the Sonics currently, albeit for slightly different reasons?
The reality of course is that Bosh is now looking like a lock for the All-Star game each season for the Raptors, Lebron is looking to win his first MVP award (something that Howland and I both agreed on for once in our recent blog-roll MVP voting) while Darko is probably a few years removed from being out of the NBA if he doesn't start showing some of the potential he was originally drafted on.
So now I'm going to throw another "what if" scenario at you, this time one concerning the present.
What if Sam Mitchell puts TJ Ford back in the starting line-up at some point on this road trip while Bosh is out?
Yes, a testy subject for sure so let's start by looking at some numbers.
According to 82 games.com, a staggering 70 per cent of the Raptors' field goal attempts come from jump shots this season. This makes Toronto one of three teams in the league with that high a percentage. (Without Chris Bosh, I'm guessing that percentage is even higher, perhaps upwards of 75 per cent.)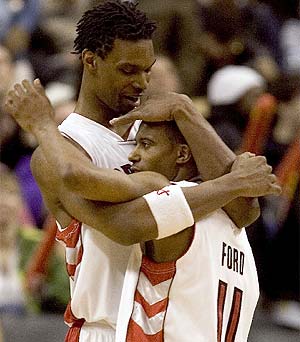 20 turnovers by the Seattle Sonics Sunday afternoon gave the Raptors a nice boost in this area but on this road trip, with the exception of maybe Denver and Sacramento, I can't see that reoccurring.
In addition, sans Bosh the Raptors' free throw attempts (which were already at the bottom of the league) have dipped from 21.3 a game to 17.5 and with no one getting to the line or getting open looks, Toronto has found themselves struggling to get easy baskets (save against Seattle.)
With so much of Toronto's offence predicated on jump shooting, the Raptors need to draw in defenders to open things up and whether you like him as a player or not, TJ Ford is Toronto's best bet in this regard.
Now before I go any further, let me just say that I think Jose Calderon should be the starter on this club. I think he does a better job of getting teammates involved than TJ, and his style of play is a better fit with the usual starting five, especially because of his ability to hit the long-range shot.
However with Bosh out of the line-up, I've found that Jose has not been as effective. Jose can curl to the rim off the pick and roll with the best of them, and does a great job finding seams in the defence, but he's not a creator off the dribble the way TJ Ford is. And without Bosh drawing fouls and getting open looks for shooters, Toronto essentially has a starting five of two great jump shooters (Parker and Calderon), one decent jump shooter who burns hot and cold (Bargnani), one defensive minded player who THINKS he's a great jump shooter (Moon) and a "pick and pop" big-man whose post moves are mostly relegated to jump hooks.
Nope, not a lot of shot creation coming from these five.
I think that's why then we've seen such rough starts from Toronto over the past two weeks.
But with TJ starting, I think that might change. It would enable the Raptors to set a better tone early, and allow the Raptors' "Plan A," to really get going offensively.
This team is still not a great defensive club (and now without Bosh they are allowing opponents to score on average seven more points per game and shoot nearly 50 per cent from the field (48.2) as opposed to 44.9 before) so if the O isn't there, the D just won't be enough on most nights.
We saw this against both Orlando and Washington, decent defensive performances that were thwarted by some terrible offence.
Now the problem with starting TJ right now is well documented. For one, how can you reward someone who may indeed be having major issues with his new role off the bench, and as one poster so eloquently put it, "A whining [player] (TJ in this case) must learn that, not only will it (whining) not get him what he wants, but it will produce a reaction that has no pay off for him."
Very true.
But what ever happened to making personnel decisions for the betterment of the team?
During this stretch without Bosh, if starting Ford makes the team play better and win more games, why not make the temporary switch?
Would Jose take the switch personally and even if relegated to the bench for a few games, want to bolt this summer?
I think not. To his credit, Jose is one of the only players I think in the league who truly understands the idea of sacrificing oneself for the betterment of the team and was recently described by a reporter from Slam Magazine as:
"…the most cordial NBA player that I've ever spoken to. Unlike some of his League brethren, who treat media like pesky flies equipped with digital recorders, Calderon actually takes the time to listen to your questions and look you in the eye when answering them. An all-around swell guy."
Am I saying the Raptors' should take advantage of the "swell guy?"
Well yes…but only in so much that what the team is taking advantage of, is the depth available to them.
Really to me this isn't even about the whole TJ versus Jose thing, it's about what is best for the team over this next stretch. I'd feel the same way about putting Moon on the bench and Delfino in as a starter if I thought that would help things out. (And actually that's not a bad idea for Mitchell and co. to give some thought either.)
Furthermore, think back to last season. When Bosh was out, who lead the Raptors with his clutch play to keep the team afloat through the end of December? None other than TJ Ford.
I know for many it's a tough pill to swallow as TJ doesn't "deserve" to start and I agree. And maybe TJ starts a game and things are worse offensively, who knows? If that's the case, back to the bench he goes.
But I just think that not considering giving him a shot at this point is more of an emotional response to his antics and not a cerebral decision based on the team's struggles lately.
With that being said, let's move on to the specifics of tonight's game and for that we've brought in Kurt from Forum Blue and Gold to talk some Lakers in our weekly "blogging with the enemy" segment:
1. RaptorsHQ: We didn't get a chance to touch base after the last time these teams met, which was essentially the first day of the Pau Gasol era. What were your thoughts after you heard the proposed deal?
Forum Blue and Gold: My thoughts at the time went something along the lines of, "YES! YES! YES! YES! YES! YES! YES! YES!" The thing is, unlike the trades Phoenix and Dallas made, the Lakers gave up nothing of long-term significance to get Gasol. And, the Lakers remain relatively young ‹‹ Kobe, Gasol, Odom, and Bynum are all under 30 and under contract for a few years. (Bynum's rookie deal will be up, but he's not going anywhere.) With that trade the Lakers have a four to six year championship window that is open, starting this year. You can't ask for much more than that.
2. RaptorsHQ: What's the update on Andrew Bynum? Do you think he'll be healthy enough by playoff time to help this team and for that matter, do they really even need him considering the way they are currently playing?
Forum Blue and Gold: The current word on Bynum is early April, just a few games before the playoffs start. But that is without further setbacks. He is supposed to start running on a treadmill this week. And, not that you asked, but the Lakers are wise to take it slow here. You don't rush the knees of your 20-year-old future face of the franchise.
To the other part of your question ‹- yes, I think they do need him to win the title this year. The question is not on offense, Gasol is a perfect fit there and this team can score in so many ways. More importantly, this is a lineup of good passers. Right now the offense is fun to watch (unless you're Sam Mitchell tonight). But the Lakers lack toughness in the paint and someone who can defend the rim and alter the shots of fast penetrating guards. Gasol is a solid defender but he is not the shot changer that Bynum is, nor the ferocious rebounder. Getting out of the West is going to mean three grueling series (think about it, a 47 or so win team is going to miss the playoffs out West) and it's going to get physical. I think the Lakers need Bynum to counter that physicality.
3. RaptorsHQ: Keys to tonight's game. What do the Lakers have to do to defend their home court?
Forum Blue and Gold: Play defense. Two nights ago against Sacramento the Lakers took a night off from playing both ends of the court. The Kings (who do have some talent on the roster) put up 71 in the first half and, in crunch time, got open lay-ups off back-door cuts. I imagine Phil Jackson and crew played some of that tape, used a few colourful words and ran the team hard in practice, yesterday. Even without Bynum the Lakers can play solid defense when focused, and I think Toronto may pay the price for the letdown against Sacramento. Plus, the Lakers next game is Friday at the start of a tough road trip (New Orleans, Houston, Dallas, Utah) so you can bet they will be focused on getting the win here.
The other thing the Lakers need to do is stay home on the three-point shooters. As a team the Lakers tend to collapse on guys getting into the paint, and if that happens the Raptors could hurt the Lakers on kick-out threes.
All the focus in my comments is on the defense because, as you will see, the
offense can take care of itself. Even on an off night for everyone else, there is always Kobe.
A big thanks to Kurt for the contribution and the last line definitely rings true. Kobe will no doubt get his tonight but let's look at some other keys to an upset victory for Toronto:

1) Andrea, Andrea, Andrea. Without Chris Bosh, who now will miss at least this and the next game on the road trip, the bulk of the scoring load falls on Bargnani's shoulders. Bargs has played better lately but hasn't had one of those "he just can't miss" games in a while. Toronto needs that from him tonight to combat the likes of Kobe and Gasol, who really the Raptors have no answer for. In fact, Bargs may find himself matched up with the newly acquired Spaniard and needs to stay out of foul trouble while doing solid job against Gasol on the inside. Pau isn't going to want to trail Bargnani out to the three-point line so Andrea needs to realize this, put the ball on the deck, and get to the rim. If he could get Gasol in early foul trouble (instead of the other way around) this might force Kobe into trying to do too much offensively at the expense of the rest of his team-mates. Or…it could mean he scores another 81 points…
2) Don't get in a hole early. Toronto has had some horrendous first quarters to inferior opposition of late so the last thing I want to see this evening is a 37 to 22 lead for LA at the end of one. This means that the entire team needs to come out aggressive and looking to attack the rim. Settling for jump shots against a Lakers club that likes to get out in transition could seal Toronto's fate early on and therefore it's crucial to try and get some semblance of an inside-outside game going early. Yes I realize this is somewhat of a tall order with this club of jump-shooters and that's why key 2b) here really is getting Rasho involved early. Without Bynum, LA is a bit soft on the inside, especially when Ronny Turiaf isn't in the game. If Toronto can get Rasho some easy looks around the basket, and then use Humphries down low in the same way as they did against Seattle, this might then open up shots for Toronto's jump shooters. This is an area where the Raps really miss Chris Bosh (the team has struggled from 3 since his injury) and without clean looks, the offense gets mired down and the Dinos have a tough time creating their own offence. The other part of the equation for preventing an early deficit on the scoreboard is quite evident I think; keep the Lakers off the glass!
3) Bench play. Early in the season many spoke of the Raptors' bench as being "the deepest in the league." Now the Lakers seem to have taken that title and based on the last time these teams met, it would be hard to argue the point. That's why much like against Seattle, the Raps need a complete team effort to get this win. In their last encounter with the Lake show, guys like Radmanovic, Farmar and Vujacic made Toronto pay and Toronto can ill afford to let the same thing occur tonight, especially minus CB4.
FRANCHISE