A few weeks ago, I realized that it was almost the end of the NBA's second trimester. In the past, we've doled out grades to mark the end of this period of time but this year, we've gone the roundtable route.
However for this edition of the roundtable, I decided to do something a bit different, and talk to some of our favourite bloggers who cover Atlantic Division teams.
Here were the participants:
-Jeff Wong writes for "Four-Point Play" currently, a blog on thescore.ca.
-Gagan Gandhi and Kinnon Yee both write for HoopsAddict.com.
-Aarick Knighton writes for Passion and Pride, a Philadelphia 76ers blog.
-Mike Kozlowski writes for Joe Netsfan.com.
-John Karalis writes for Red's Army, a Celtics blog.
-In addition, the good folks at Knickerblogger and NetsDaily lent us a hand.
Here were the results:
1) RaptorsHQ: How do you see the final standings looking for the Atlantic Division? Which teams do you think will make the playoffs?
Jeff Wong: Like you implied, there's not much to choose from in the "Titanic" Division, with only Boston and Toronto above .500. I expect the Hawks, armed with a Bibby gun, to move up from their current ninth place in the conference.
That leaves the Nets and the Sixers fighting for the eighth spot.
Gagan: I really like the Knicks chances of finishing off the season strong...okay, I'm sorry, I can't even say that without laughing. The Celtics and Raptors will be the only teams out of the Atlantic to make the playoffs as I see the Hawks and Bulls taking the spots of the Nets and 76ers. Boston will come back to earth a bit, but will still hang on to win the Atlantic division crown. Meanwhile the mess in New York doesn't seem to have any quick fix which bodes well for the other four teams in the division.
Kinnon Yee: Boston, Detroit, Cleveland, Orlando, Toronto, Washington, Philadelphia,
Atlanta for overall in the Eastern Conference. With that, I think Philly and New Jersey will switch places within our own division. I think Chicago will have an outside chance, as both Philly and Jersey have horrible schedules for the next two months.
Aarick Knighton: Boston and Toronto are locks for the postseason but I think a third team will slip in. It looks as if the J-Kidd move was the first of many in New Jersey to start the rebuilding process. They should slip out of the race if Vince Carter is now the leader.
I believe the Knicks are bad, but not that bad. In my opinion, they are a coach and a starting point guard away from being a 27+ win team. Free-agents will always find New York an attractive place to go but the problem is they lack the money to land them. It may take some years and many trades for expiring contracts but they have nice pieces like David Lee and...and...they should start by firing the coach and go from there.
Mike Kozlowski: The Frantic Division will place the Celts as #1 and Raptors as #6. Look for the Nets to collapse late in the season, ceding the 8 spot to the Sixers and bringing shame upon Rod Thorn. But there is good news - the Nets will find themselves with a high draft pick for the first time since Kenyon Martin and will NOT draft an Antoine Wright clone.
Alas, friends, none of the Atlantic Division playoff teams will advance to the Conference
Finals. I've got Detroit and Orlando today, might be Detroit and Cleveland tomorrow if
the new pieces fit.
John at Red's Army: I think the Atlantic is going to finish as we see it...with Philly
finishing a couple of games ahead of New Jersey. I see the C's finishing with probably 63 to 65 wins. Toronto will probably finish at just under 50 wins. Philly is really working hard, so I give them an edge over New Jersey. Although, I'm a fan of Devin Harris, and I think he'll do well for them. The tiebreaker, for me, is Vince Carter. He's sure to drag the Nets down and out of the playoffs. Don't get me started on the Knicks.
As for the playoffs…I think the top 3 seeds are locked in as Boston, Detroit and Orlando. Very tough call on the 4th seed...but I'll give the slight edge to Toronto simply because I think Cleveland still needs to work through some chemistry issues. Acquiring four new key players so close to playoff time will cost them some wins. And Toronto will have a few easier games. So I'll give them the 4 spot and slide Cleveland down to the 5.
Washington will probably fall out of the playoffs because they can't stay healthy. And New Jersey is out too...which means I'm putting Atlanta in...and maybe Chicago. I think Gooden will be a big help for them. When you've got soooooo many perimeter players you benefit by adding a presence in the post that can at least draw some attention.
2) RaptorsHQ: Talk a little about the squad you mainly blog about - have they met your expectations so far in terms of a) where you saw them placing in Atlantic Division standings and b) where you saw them finishing in terms of the Eastern Conference playoffs?
Knickerblogger: Knicks.
a) No.
b) No.
Prior to the season starting, I had a poll on how many games the Knicks
would win [http://www.knickerblogger.net/index.php/2007/11/02/how-many-games-will-the-knicks-win/]. Only 6% selected the 32 wins or less option, while the most popular option was 41-44 wins. Yours truly took the middle ground and predicted 37 victories. Right now the team is on pace for about 25 wins. Saying the Knicks have crushed the expectations of their fans is an understatement. They've taken Knick fans' expectations and put it in a juicer and tossed the pulp. Then they've taken the juice and made an ice mold of Jar Jar Binks and placed that in the middle of Times Square so that everyone can have a hearty laugh.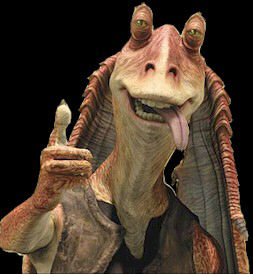 Gagan: I had the Raptors winning exactly 50 games and finishing second in the Eastern conference, only behind the Chicago Bulls. I greatly overestimated this team and more-so in my opinion, Sam Mitchell's coaching. I understand his reluctance to play Jason Kapono during crunch time, but I still feel he should be getting more minutes than he does in the first three quarters. In the end though, they have not performed to expectations thus far, mainly because of the health of TJ Ford and Andrea Bargnani's inconsistency.
Kinnon Yee: Well, since I'm one of many who cover the Raptors...
The Raptors have not underperformed to my expectations for the year, nor have they surprised me much. If you told me that TJ Ford and Jorge Garbajosa would be missing significant playing time, I would have revised my statement that they'd finish first in the Atlantic and second overall in the standings. Maybe I was being optimistic, as I thought that Boston would have difficulties overcoming injuries over the year, but that just hasn't been the case. Then, the Raptors have also now begun to have a very odd season where shooting 50% from the field has barely netted them 100 points. It's improved in the past month or so, but it was so odd watching this squad play during the first half of the year. At first, they were ahead of last year's pace, but it just didn't seem like the team had the same kind of cohesion or movement that we saw last year, and it's still lacking on that front.
All it adds up to is possibly fewer wins than last year, which can be considered a disappointment. It'll also mean a lower seed. Nevertheless, it's within expectations and the club hasn't taken a huge tumble down the standings like many believed it would.
Jeff Wong: After last year's playoffs, I thought the Raptors and the Nets would be
duking it out for number one in the Titanic, third in the Conference, with the Celtics and the Knicks being X-factors after their off-season moves. Who knew that Boston would get out the gate like gangbusters and New York...well, most people thought New York was a disaster.
But as the other Raptorbloggers here would agree, I expected our team to be further ahead than they currently are, last year's record at Game #55 notwithstanding. I guess we can blame injuries for that, with Chris Bosh, TJ Ford and Andrea Bargnani all missing significant chunks of time.
Like Gagan said, matching last year's record is still do-able.
Mike Kozlowski: The Nets have definitely NOT met my expectations for '07 - '08. I bought into the fact that Jason Kidd even said that this was the best bunch of talent he had surrounding him since he came to New Jersey. Now, having said that, Nets' fans ignored all of the obvious signs in the pre-season - Nenad Krstic not yet ready to return (to be fair, we were told he was getting ready by the team, only he was getting ready to rehab in non-game situations), Jason Collins still in the starting line-up, Kidd not motivated based on his desire to be elsewhere, the bad signing of Jamaal Magloire (common sense should have told us Lawrence Frank would never play him), the career year of Boki Nachbar last year, and the overall weakness of the bench. What we didn't see coming was the complete lack of defense, always a Net staple in some fashion but completely missing this year.
I had them finishing with 45 wins and 2nd in the Atlantic (to be fair, I picked Boston
ahead of them and the Raptors behind them, but I also picked Chicago as the best team in the East - go figure), so I would say conservatively that based on their projected 36 wins at this point, I was way off...
Nets Daily: I pretty much agree with everything that Mike said, except that I had no real issue with Collins starting. If the other four (Kidd, Carter, Jefferson and Krstic) are healthy and carrying their weight, Collins is OK as a fifth starter.
But alas, Kidd quit on the team, and anything else is almost inconsequential. If the best player and supposed leader doesn't have his heart in it, the team is going to underachieve.
Ideally, Kidd would have played with passion and the Nets would be on pace to match my prediction of 45 wins, or better. But given the circumstances (his crummy attitude), they did pretty well to get a promising young point guard, some defensive players and a pair of picks in return.
I find them more enjoyable to watch now that he's gone than I did in the first 50 games. They're playing hard for 48 minutes for once and I think they still have a decent shot at making the playoffs. Philly does too, so it wouldn't surprise me all that much if the Atlantic had (heaven forbid) four teams in the postseason.

John at Red's Army: The Celtics have far exceeded my expectations. I expected them to have a much longer adjustment period…which I thought would keep their win total closer to 50. But that preseason trip they took to Italy went a long way in making this team jell. They were forced to get to know each other in a very short amount of time because they could only hang out with themselves - very beneficial for a newly reconstructed team.
Plus…I never realized what kind of force Kevin Garnett is. I'm not sure you can realize it until you see it on your own team. I've seen great players in a lot of sports...but KG is just different. If there was a Hall of Fame for all of sports...a sort of like "Superfriends Hall of Justice" type of thing...he'd have to be one of the first people you put in there.
So I expected them to win the Atlantic division going into this... but I thought they'd be the third seed. To seem them as one of the two "powers" in the East...that's surprising.
As for the Playoffs...I think a lot of fans would have been happy with a great showing this year...and then expected to win a title next year. But things have clearly changed. Celtics fans...myself included...would be disappointed with anything less than an NBA finals appearance...and the only loss we'd accept is a 7 game, gruelling, knock-down drag-out type of thing.
3) RaptorsHQ: Gazing into your crystal ball, do you see the current divisional standings staying the same in the next few years? Or is there a certain team that has underachieved this year that you see making a jump?
Gagan: Short Answer, no.

The next few years could see some radical changes in the Atlantic and it could really become one of the better divisions in the NBA. The Celtics will probably steadily decline the next few seasons while the Raptors will steadily rise. That's if age catches up to Boston and the Raptors improve with experience as they are such a young team. The wildcards here are the Nets, Knicks and 76ers. I like Devin Harris running the point for the Nets and with a couple pieces here and there they could be a really solid team. The Knicks are never going to run out of money and as soon as Isiah is gone, that team will immediately have a brighter future than it does now, especially with big time free agents coming up in a couple of seasons time. So, I guess my answer really is that it's probably too hard to predict at this moment in time. But if I were a betting man, these would be my Atlantic division standings prediction for the 2010-11 season: 1. Toronto 2. Boston 3. New York 4. New Jersey 5. Philadelphia
Knickerblogger: You have to like Boston for at least one or two more years. Although their trio is all over 30, by the time Allen & Pierce start to decline, some of their younger players like Rondo, Perkins, Powe and Davis should mature a little to pick up the slack. As long as their core remains intact and healthy, they'll be at the top of the division (and conference) for the next few years.
Toronto has a nice core with Bosh and Calderon, and they have a lot of nice pieces on the roster. But they need to develop a third star to reach the next level. And things don't look promising for Bargnani who's starting to look like a three point specialist with little else to add but height.
As for the rest, the Nets are obviously rebuilding, but if they move either Carter or Jefferson they can quickly build around some of their young players. The Sixers' future success depends on what they do with their cap space (other than resign Iguodala). And the Knicks have some talent, but they'll only succeed if they fix their front office situation.
John at Red's Army: I think the Celtics have the ability to sustain this level of play for a few years. After that, there are some tough decisions to make. After that, I think we have the potential to see a lot of movement in the East. I always question how much longer Detroit can keep this up. They clearly got a boost this season from Jason Maxiell...and he has been a key to keeping their energy level high. However, this group has played a lot of basketball for the past few years...at some point they're going to break down. I love Dwight Howard, but I question how much better Orlando is going to get. I think Hedo Turkoglu is playing way above his head, and will come back down to earth a little. And I think the Magic screwed themselves with the Rashard Lewis deal. They've got a lot tied up in him...and I think it will knock them out of the running for some players they'll need. I still see them as a 3 - 4 - 5 seed over the next couple of years…but I don't know if they're going to be a true Finals contender. I think Toronto will continue to get better...and they'll have some great battles with the Celtics but I think the C's will hold a slight edge. That will always give the Raptors a much tougher road to any Finals appearance they might have. Cleveland will always be a contender with LeBron because he can just carry a team of lesser talent. It"s as close to Jordan as we've seen (yes closer than Kobe) and no matter what the seed, LeBron is good enough to raise the level of his team-mates' play. All you need is one guy to catch fire along side him and you've got a great playoff run.
As for underachievers...A lot of people will point to Washington, but Gilbert Arenas just tries to do too much and it hurts his team. I appreciate the sack that it takes to try to take every "last shot"...but sometimes you gotta realize a pass is better. I'm not surprised his team played well without him. They have good players that Arenas actually makes worse because he needs the ball so much. However…if Gilbert tweaks his game...then watch out. I think Atlanta might actually have a few years worth of playoff appearances and some maturity could make them into a pretty good team. I also think Milwaukee, with a couple of moves, can be in the mix.
Yes, I'm leaving Chicago out of this... because I'm sick of Chicago's Gordon/Deng/Hinrich mess. They're thiiiis close to being considered a functional version of the Knicks. If Isiah Thomas was competent at all…or if EVERY Knick not named David Lee magically shed their attitude problems...then you'd have the Bulls.
Jeff Wong: Oh, I fully expect the Atlantic landscape to change over the next two to
three years. Consider the following:
- the Celtics' window of opportunity is about one or two years, given the
age of G.A.P.
- the Sixers are rebuilding
- the Nets are rebuilding
- the Knicks are at the tipping point, with Isiah perpetually close to being fired and the players frustrated and looking for a way out
- the Raptors' young core is maturing and improving
So I guess the Knicks are my pick as "underachiever." Maybe after dumping some salaries and adding some hungry youngsters, they'll come out of the basement next season.
Kinnon Yee: Personally, I believe Philadelphia will be showing something next year. I think with a signing, a trade, and a draft, and the 76ers will have a very dangerous team. I'm not entirely sold on how much they paid Dalembert, and Iguodala's gotta cut down on those turnovers, but for some reason, I've always felt some danger playing them.
I don't think the Nets really have a direction anymore, though thanks to that Jason Kidd deal, they do have a chance to reload. Most importantly is that move over to Brooklyn, which I can see being a valuable energy booster for a team that doesn't have a strong home court presence.
And with the Raptors, I'm already looking forward to seeing what next year will bring with a fully recovered Garbajosa and the strong possibility of a legitimate third string point guard in Roko Ukic. There might be at least a few interesting things happening next year with all the expired contracts coming up, so I'd expect to see somewhat of an interesting season next year, especially if the Raptors do not perform to expectations this year.

The HQ