Well that's two and a half hours of my life I'll never get back.

I can't believe I just spent a good part of my Friday night watching Toronto lose to a D League squad.
With or without Chris Bosh, this loss was utterly inexcusable so I'm coming with the fire and brimstone tonight.
Abandoning our usual format for recaps here at the HQ, I'm going to point out a few alarming things from tonight's loss, and Howland is going to follow things up with some live observations (he was at the game tonight) of his own.
1. Do we need to get Juan Dixon back? One bad game, totally understandable, even two or three I could see since Jose Calderon carried the team through big stretches this year. But after watching him play tonight, I have to say that something's not right. Jose's passes were off mark, he took some uncharacteristically bad shots, and ended up with five turnovers in spite of his 13 points and 11 assists. Most problematic however was the fact that Travis Diener blew by Jose at will. This forced Toronto's defenders to rotate leaving Indiana shooters with wide-open looks. And tonight they made them to the tune of almost 50 per cent.
2. Can anyone on this team guard the perimeter? This isn't all going on Jose's shoulders however. Yes, he was getting beat at the first point of defence, however Jamario Moon might as well have been a chair tonight and Carlos Delfino and Jason Kapono weren't very far behind as a recliner and a loveseat. Seeing Dunleavy Jr. blow by Moon time after time had me screaming at the TV…and eventually changing the channel to watch Rider versus St. Peter's of the NCAA's MAC conference. And while Andrea Bargnani really showed some guts on offence and man-to-man defence, his overcommitting on "help" situations and switching onto smaller men caused havoc for the Raps' D.
And let's give a little credit to Indiana's coach, Jim O'Brien here. After Monday's game I was going to put him in the "hot" section of the recap for his coaching job this year. Sure, in some ways the Pacers have disappointed, but is Shawne Williams getting caught up in a murder charge the coach's fault? How about the injuries to Jermaine O'Neal and Jamaal Tinsley?
Considering O'Brien was trotting out cast-offs like Stephen Graham (who is living up to my prediction of being a better NBA player than his brother) and Kareem Rush, you have to admire the system he's built. It's not great defensively, but O'Brien is running an offence that best suits the strengths of the personnel he does have and Toronto fell victim to it tonight and almost again earlier this week.
3. Why won't Sam Mitchell go big? Look, everyone saw that the ridiculously small lineup wasn't working. So why stay with it? The worry with going big of course is that the "bigs" are too slow to recover on outside shooters. Well considering the "smalls" weren't doing the job, why not go really big, try and trap with size and pound the ball in on offence? Mitchell did trot out Rasho and Bargnani together to start the second half, but how about going with the quicker Humphries at the 4, Primoz at the 5, and Bargs at the 3? Bargs I thought actually did a nice job on Dunleavy one-on-one and at least this way the Raptors might have put up some walls in the paint against easy buckets. Even more frustrating was Mitchell's blatant post-game lie that "if a player plays well in the time he gets, then he can guarantee that he'll play more next game." Really? Well I wonder if Primoz would agree...
4. What about CB4? The report so far is that the team kept Chris out of the game as a precautionary measure but this latest setback (albeit not the same knee he had trouble with early in the season) has to be a bit of a concern. We saw tonight just how important CB4's inside presence is to this team and just when the club looked to be peaking health-wise, this occurs. Apparently the injury stems from an incident Monday night against this same Pacers team, and the knee has been acting up since then. Post-game Bosh seemed fairly jovial in explaining that the team couldn't keep him away from their upcoming road trip though so perhaps with some rest he'll be able to work through this.
Before I turn things over to Howland, the final point I want to make is that this has to be a wake-up call for this team. It was great that John Hollinger heaped praise on the club recently but as I commented on the site, Toronto was hardly playing the Spurs and the Celtics of the league during their recent streak. Seeing defensive performances like this just re-emphasizes how far this team has to go.
FRANCHISE
I had a brutal time trying to get to the game last night. Having early dinner plans, along with the monster snowstorm made it difficult trying to get anywhere in the city last night. In hindsight I should have stayed at the restaurant.
Every team during the year suffers bad losses or games they would like back. Just ask the Suns about their current losing streak against the Minnesota T-Wolves. This was a bad loss. When Bosh went down the wind just came out of everyone's sails (except the fans) and even when the team mounted a slight comeback you knew it just couldn't last.
The performance was weak for a variety of reasons. First was the D which stands for defense and Diener. It was infuriating watching this guy get into the paint at will. It would be one thing if it was Deron Williams or Chris Paul. It's a whole different story when it is this guy. Diener's ability to get into the paint, force a rotation and then kick it outside absolutely killed the Raps. The recipient at most time was Mike Dunleavy who nailed 6 threes. I can only imagine what the outcome would have been had Granger been on the floor as well. One would think after Diener was getting into the paint that there would be some concerted effort to back off and force him to be a jump-shooter. For whatever reason that light-bulb never came on, despite my vocal protests.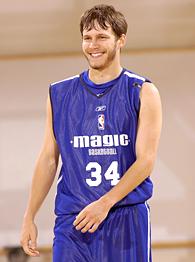 Secondly, tonight we saw the return of TJ Ford's 1 on 5 ways. I was sitting close to the Pacers bench and he was talking trash. He was also very willing to try to break down the Pacers defense on his own and completely ignore the teammates around him. This side of Ford drives me mental. You will never, ever, see the elite PG's in the league act in this way. On the flip side it was not like his teammates were exactly lighting it up. Jamario Moon obviously thinks that the rim is covered in the ebola virus as that's the only way to explain his unwillingness to get within 10 feet of the rim, and Delfino, despite some strong rebounding numbers just never got into a groove.
Some credit must however be passed to Anthony Parker. With the Raps down nearly twenty it was Parker who started to show some emotion. Parker managed to get his team a little fired up reducing the lead to a mere basket. Parker also showed a willingness to get to the rim and make his defender work. The thing about the Raps offense is that when because they are essentially a jump-shooting team there is not nearly as much pressure on the opposing team's defense. It's not that the Raps are easy to defend but when their shots are not going in the opposing team's defense can essentially sit back in a zone and watch the Raps start chucking.
Last, some of the credit for this loss has to be given to the refs. Ed Malloy in particular did a horrid job tonight. If someone had tape of last nights game you would see how many questionable calls he made. His calls were also disproportionately in favour of the Pacers and showed a complete lack of consistency. On the flip side Steve Javie, the head ref for this game barely made a call. It was refereeing at its worst.
All in all the Raps, in particular the swing-men need to look in the mirror and try to determine what they can be doing better to help the team. If you saw Bryan Colangelo's face during last night's game I am sure he would readily agree. With the Bobcats up next on Sunday it won't get easier for the Raps if the perimeter defense is not any better. Guys like Gerald Wallace, J Rich and Matt Carroll can shoot the rock, and Felton is a guy who can get to the rim. Of course speaking of looking in the mirror, there is one guy out there that really needs to look inside because this video makes it blatantly obvious that he doesn't care about his team or what is going on around him.

HOWLAND