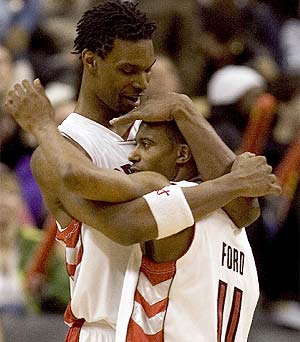 There are two important topics to discuss for this post-game recap.
The first is the game itself.
The second is the return of TJ Ford.
When it comes to the game I won't be doing the traditional recap style. Why? Because the third quarter hadn't even ended and it pained me to watch the fourth quarter simply to get some stats that prove the fact that Toronto absolutely handed it to the Heat.
If there were a few words to describe last night's game they would probably be "complete domination from beginning to end" and this is exactly what should have happened. When I discussed the three keys to the game they
included the following:
1. Perimeter Defence
2. Feed CB4
3. Break the Zone
Well, the Raps played solid D and made it tough for Dwyane Wade to get to the rim. CB4 was an absolute terror on the offensive end and last, and perhaps most importantly, the Raps did one
hell of a job breaking the Heat zone. The best part was that the Raps didn't simply break the zone with great outside shooting, but guys
like Parker, Calderon and even Bargs were willing to take it to the cup. For all those coaches out there, grab this tape and show your team exactly how a zone defense can be exposed.
Watching the Toronto really did show what this team is capable of and I couldn't help but think that this is starting to look like the club Bryan Colangelo had envisioned this past off-season. Who cares about rebounding when you're shooting almost 80 per cent from the field at one point in the first quarter?
The drive and dish worked to perfection, everyone played within the offence, and at the end of the day the Raps did exactly what they
should do against an inferior opponent, get on them from the get go and choke the life out of them early. I mean by the time the fourth quarter rolled around, things got so out of hand that I felt like I was watching the Superbowl again when the production crew started showing some of the commercials from Sunday's monumental upset!

Even thinking about the fact that the re-run commercials were better than the second half of basketball says a lot.
Of course, as exciting as it was to watch the Raps dominate it is equally as sad to watch this Heat team. Wade is simply a shell of his former self right now and I would pit a number of NCAA teams against these guys and bet heavily in favour of the college kids. The reality is the Heat should shut down Wade with Shaq until they are both completely healthy and look towards the lottery.
Post-game Dwyane gave some rather discouraging comments about his team "giving up," and from Miami's body language, it really seemed that way. As for Wade, for a player who relies so heavily on his athleticism, for it not to be there means he simply can't have the sort of impact on a game this team needs. Of course many would accuse the Heat of writing off the season on purpose in order to obtain a high (or the chance at a high) draft pick. The problem with that rationale however, as the Celtics learned last year, is that the top picks don't always land in your hands, regardless of your recrd.
If the Heat do manage to keep the pick the feeling around Miami is that the perfect player would be Michael Beasley. We asked Ira Winderman who covers the Miami Heat for Miami Sun-Sentinel who he would most like to see in a Heat uniform next year (Beasley or Rose) and his response was:
Beasley or Rose? Beasley, because he's simply the better player . Such is the luxury of a team that is lacking at both forward and point
guard. Now, if the issue was between a shooting guard and point guard, then it would be Rose, who this team likes a lot. The greater issue is
getting one of the first two picks, since there is a decided dropoff beyond that. This is not a draft that's going to give you a Bosh at No. 4 or a Wade at No. 5. With Wade's ballhandling, they can get by with a spot-up shooter at the one, as they did with Damon Jones or even Rafer Alston. But they have to find offense and rebounding, both of which Beasley can provide, and provide immediately. I'm not sure a first-year point guard, such as Rose, can have as much instant impact.
We'd have to agree here at the HQ and seriously, there is no upside to watching Wade struggle and risk further injury.
Now that discussion was on the big picture. Perhaps what was even more important for this team was the little things...like the return of the Little Engine.
After much waiting, rehab, and training TJ Ford
came back to the hardwood. A sight for sore eyes to say the least. Ford checked in late in the first half (expect a huge ovation at this
Friday's home game) and again saw the court in the second half. The highlight was clearly his late fourth quarter dunk off of some sick ball movement. Yes, read that twice; his fourth quarter dunk.
What was interesting watching TJ is that he seemed to be playing a more cerebral game. Ford was more under control and while it may have been nerves or rust, it seemed to be the result of his work under John Lucas, who provided some interesting insight in his second quarter interview with Chuck and Jack. The three discussed TJ's work during the past few weeks (Ford looked noticeably bigger and more muscular) and there were even some hints that Lucas, who talked at length about his fondness for this Raptor team, may stick around the club for a while.
While I was left scratching my head at Lucas' comment about Ford being one of the top five point-guards, I do think both Andrea Bargnani and Jamario Moon should spend some time with him this summer. Andrea kept up his excellent offensive play looking extremely aggressive all night and Moon had a decent all-around game. However both could stand for some of Lucas' mental and physical preperation as I get the feeling that neither realize just how good they can be.
This is especially true of Moon, who at around the six minute mark of the third quarter, gave a perfect example of this. Left with space to manoeuver, Jamario took his man off the dribble and easily got to the rim however his awkward finish meant bricking the lay-up. It was as if Moon was saying "wow, I can't believe I got to the rim!" and therefore couldn't concentrate on finishing. Moon has the hops and length to be a devastating finisher and this is something he'll definitely have to work on if he wants to remain a starter at the 3 in this league and perhaps coach Lucas can help.
In any event, with Ford back, it's possible the Raptors have made it through the storm for this season. We have been forced to watch guys like Dixon and Martin try to man the back-up PG spot and now with TJ in tow, and looking better than expected this early, this team can only perform at a higher level.
It was a nice gesture to see Jose give TJ a hug when he first entered the game and I think that gesture really made a statement about how much the entire club and its fans misses Ford. It's hard not to get excited now about this team's prospects for the rest of the season...especially considering that 10 of their next 12 games are against sub .500 opponents.
HOWLAND