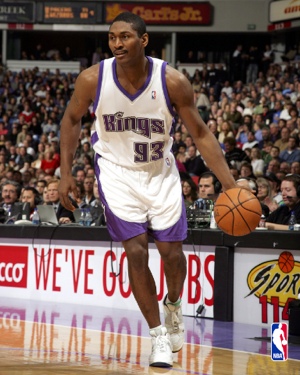 I'm going to start this off by saying that I have no desire for Toronto to acquire Ron Artest.
While talent-wise he would seem to be a great fit for the Raps at the 3, I just don't see him being 1) able to mesh with the other personalities on this team and 2) a Bryan Colangelo type and therefore off BC's radar to begin with.
However this series isn't really about whether Toronto will successfully trade for a player or not, rather it's to examine different trade scenarios and what acquiring such a player would involve.
For starters though, discussing a Ron Artest trade makes more sense today than it did even four days ago. This is because of the unexpected weekend trade made by Sacramento in which they sent Mike Bibby to the Atlanta Hawks for…well, let's call it the Grizzly special. Much like Memphis got a prospect and cap filler in their Pau Gasol give-a-way, Sacramento got an under-used prospect with potential in Shelden Williams and a bunch of expiring contracts.
So the question is, now that Bibby is gone, does this make it more or less likely that the Kings will now look to deal Artest? After all, earlier this year I mentioned how teams like Sacramento were ones to watch on the trade front as they would at some point have to decide this season whether to rebuild, or try and add veterans to make a run at the playoffs. With the Bibby deal in the books, it definitely looks like the former.
Therefore I'd say that this only increases the chances of Ron Ron being in a new uniform in the next little while. Where would Artest go? Rumour has it that the top suitor is the Denver Nuggets but for sake of argument, what would it take for BC to sweeten the pot and get in the race?
I asked this question to long-time
Sacramento Kings guru Tom Ziller of Sactown Royalty
along with a few other questions:
RaptorsHQ:
1) Do you think Sacto will deal Artest now that Bibby is gone (ie did that get the ball rolling on other deals?)
2) If so, do you see Denver as the lead choice?
3) What would Sacramento want from Toronto in such a deal?

Sactown Royalty:
1) Yeah, the trade of Bibby definitely makes you believe Artest is next. Of course, we all assumed Artest was going either way; the depth behind Ron at small forward is one of the (few) strengths of this roster. I still think he'll be traded this week.
2) I think Denver's the strongest possibility only because they seem to be the team most enamored with him (ignoring Isiah Thomas, I guess). It would seem, based on the reports out there, Geoff Petrie's waiting on the Kleiza-Najera-first round pick package, while Denver seems to offering J.R. Smith, Najera and the pick. I think the lack of Kleiza's a deal-breaker, and I assume other teams covet Ron to some extent, so Denver's only a mild favorite at this point.
3) Not to step into a false role of expertise in terms of what Petrie's thinking, but his stance on Artest *seems* to be: Either get a very good prospect and the necessary expiring contracts, a good/decent prospect, the necessary contracts and a pick, or a good prospect, the necessary contracts and removal of Kenny Thomas from the premises. That third option wouldn't work with Toronto, because there's no way Rasho Nesterovic doesn't pick up his option, and there isn't enough expiring contracts otherwise. I'm not sure Petrie values Carlos Delfino given the current rosters strengths, and I don't think Colangelo will be giving up Moon (and certainly not Calderon or Bargnani). Carlos Delfino, Juan Dixon and Joey Graham (with a second-round pick) might do the trick, but that depends on how much Petrie likes Graham.

RaptorsHQ: Kleiza-Najera-first round pick, looks better on paper than anything Toronto can offer I think except for Toronto's pick will probably be higher. So right now the nucleus would you say for Sacto was Brad Miller, Mikki Moore, Francisco Garcia, John Salmons, Kevin Martin and Beno Udrih with a little Shelden Williams and Spencer Hawes mixed in? I guess I was wondering about Rasho because Petrie would probably rather pay $ 8 million or so to Rasho next year than Thomas at close to that for another two.
And what about Udrih, think that he's the starter next year or would the team have any interest in TJ Ford with Udrih a super back-up?

Sactown Royalty: I think they'd be interested in Ford, but the situation with him is so
convoluted I don't think anything would happen until the summer; clearly, the Raps have to pay Calderon quite a bit, and Ford would make sense in a trade. But not now.
I think the nucleus is Martin, Salmons, Garcia, Beno and Hawes, and maybe Shelden Williams. Miller and Moore could be had, for less than you think. But both are over 30 and expensive.
I think Petrie hopes to get space this summer for k-9 (hence pairing him with Artest) but would take space next year if it came down to it.
This insight from Tom runs concurrent with my thought process in terms of Toronto trying to acquire Artest…it's just not very likely.
Paired with my original point that I can't see Colangelo having any interest in adding Ron, Toronto just doesn't have the necessary expiring contracts or prospects to get the deal done in the way that Denver and perhaps other clubs do. Maybe TJ Ford's name starts getting thrown around as his salary is similar to Artest's, but like Tom said, it's really too early to know how to evaluate TJ.
On paper, a deal of Artest and Kenny Thomas for Kris Humphries, Rasho Nesterovic, Carlos Delfino, Juan Dixon and our first-round pick this year works. But the problem with this is that if Sacramento wants serious cap relief now, than Rasho just won't cut it. The lure of course is taking Kenny Thomas off their hands, something Sacramento has been trying to get a team to do for a while. And interestingly, Thomas might be a decent player in Toronto. Many forget that with Philadelphia, Thomas averaged close to a double-double a game and while undersized, his toughness and rebounding might be a nice boost off the bench.
It's just that his contract is one of the worst in the league.
The other option of course is to include someone like Brad Miller in a deal. Miller would seem to be a perfect fit in the East next to CB4 and as Tom mentioned above, might be easier to acquire than Artest. In fact a move of Rasho and Juan Dixon for Miller works and to sweeten the pot Toronto could even throw in a first-round draft pick. This move saves the Kings a good chunk of money as Miller makes $2 million more than Rasho and has an extra year on his deal. And Dixon of course comes off the cap this summer.
However on the Toronto side, there are two obvious problems:
First, Miller is slated to make $11,375,000 next year and over $12 million the year after. That's a huge addition to Toronto's salary situation and while it wouldn't have a huge effect on re-signing Jose Calderon this off-season, it would on having salary around in the summer of 2008-09, effectively killing the cap space created by the end of Rasho, Anthony Parker, Jorge Garbajosa, and possibly Joey Graham's contracts.
Second, making a play for Miller would be an admission by Colangelo that the "Andrea Bargnani playing center experiment" is over. Bryan isn't going to pay over $10 million dollars for a back-up center over the age of 30.
So a final conclusion?
I just don't see Artest ending up in a Raptors' jersey. The Raptors simply don't have the pieces to go after him unless the Kings decide to take on Rasho's contract and Toronto bites on Kenny Thomas, and furthermore I still can't see Ron Ron being a BC type of guy.
No, I think this is the best case of wishful thinking yet and the closest Toronto probably gets to the former St. John's star is if he somehow ends up playing for the Knicks.
FRANCHISE
PS - For our previous edition of "Wishful Thinking," it's been posted as part of the latest edition of the Carnival of the NBA, hosted this week at Sport Projections.com. Check it and other great blog entries out here.