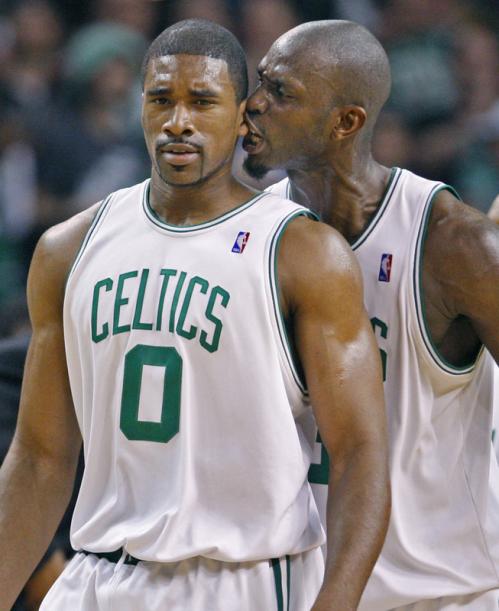 I bet many people had a feeling that today's game was going to end like that.
I sure did.
The Toronto Raptors couldn't shake Friday night's loss to New Jersey and the Boston Celtics took advantage jumping on the Dinos early and never looking back in a 118 to 103 rout.
It was an ugly affair highlighted by Toronto's worst defence of the season, some acute frustration on behalf of Chris Bosh and Jose Calderon, and the semi-return of Jermaine O'Neal.
So let's start with the big picture here.
Toronto now has a much-needed two-day break before taking on the Charlotte Bobcats. If the Celtics were the worst possible match-up for the Raptors post-Nets loss, the Bobcats have to be close to the best after this L, outside of perhaps Oklahoma or Washington. The break should give the team some time to refocus, especially on the defensive end, and most importantly, some much needed healing time for stars Jermaine O'Neal and Jose Calderon. Jermaine made a valiant attempt to play this afternoon (something that seemed unheard of after Friday night's fall) however he just wasn't effective and Sam Mitchell did the right thing by pulling him for good in the second quarter.
Some may think that Mitchell should have kept JO out for the entire match but post-game both the coach and player acknowledged that it was O'Neal who had stated he was ok to play and even upon numerous asks from the coaching and medical staff, wanted to give it a shot.
However without O'Neal, the team's shortcomings became painfully obvious.
Without JO's shot-blocking and defensive presence, Rajon Rondo ran circles around the Raptors' defense either getting untouched to the rim for easy baskets, or forcing rotations and finding the open man (Ray Allen early on.) It wasn't a pretty sight and as a result, Boston dropped over 50 points in the paint and hit almost 60 per cent of their 3-point shots, most of which were wide open.
The easy looks took their toll not just on the scoreboard, but on franchise player Chris Bosh as well.
CBC Sports' Elliot Friedman reported after one particular period of Raptors' collapse, that during the time-out, Bosh spoke to no one, and sat outside the huddle – not exactly the kind of thing Raptors' fans want to hear.
But can you really blame him?
Kevin Garnett had him smothered all day and he still managed to score 24 points and get to the line 10 times yet he had almost no help to speak of at either end of the court. Perhaps he could have been a bit more aggressive but numerous times Toronto could barely get the ball past half-court!
Post-game Bosh seemed calmer and he and Sam Mitchell apparently talked and acknowledged that they'd been here through tougher times. They're right, but at 6-7 and sitting last in their division with a tough Western Conference road swing two days away, it's quite possible that things will indeed get a lot tougher for both of them. If O'Neal can't go Wednesday, or is ineffective for the next period of time, this hardly looks like a playoff team. In fact, this already looks like a lottery squad defensively, something Jack Armstrong alluded to after the match.
I could listen to Jack all day as an aside, he just does a great job simplifying things and breaking down the game's various nuances. Post-game, he correctly stated that this team is simply not a good enough team defensively to compete on many nights and this starts with containing dribble penetration. The past two games Toronto has been exposed in this manner and with JO hobbled, and Jose less than 100 per cent, expect this to continue. Teams right now are looking at Toronto and saying "if we attack Calderon, he can't keep up and this will force rotations and throw the Raptors' defence in a panic."
And that's exactly what we saw today, and saw numerous times last year as well.
Armstrong further went on to admit that regardless of individual effort, at some point you have to look at your personnel and ask if the guys you have possess the ability to be solid perimeter defenders.
I think we all know the answer to this one.
Right now the team has Anthony Parker, an above average defender, but that's about it.
In my mind, the problem begins at the 3 spot as when Jose gets beat, this forces AP to rotate leaving his man, usually the most dangerous scorer on the court, untouched for open looks. In addition, if Parker doesn't leave his man, and there's no Jermaine O'Neal to clog up the lane and block shots, Jose's man can proceed right to the rim.
Even there if he's met by Chris Bosh, this usually leaves Bosh's man open for an easy dump off pass, and therefore an easy lay-up. It's one thing to rotate on the perimeter in help defence, but it's much trickier to help out under the basket. If Jose gets beat and Bosh rotates over, Jose hardly has the size to intercept a dump-off pass to the likes of Leon Powe, Kevin Garnett, Glen Davis or Kendrick Perkins. And he certainly doesn't have the size to box-out that same player. As you can see, containing that initial dribble penetration is key to most teams' entire defensive schemes.
The fourth quarter today was rife with examples of this as Boston simply drove the rim and if the open look wasn't there, they dumped the ball to the open man in the post for the easy lay-up. I think 10 of Davis and Powe's points were scored in that manner.
So what's Sam Mitchell to do?
As much as I faulted him for his performance Friday night, this was a game where his team brought little to the table in terms of energy, and was outplayed or out-talented at every position on the court.
However I didn't walk away from this game feeling very doom and gloomish to tell you the truth. The Celtics simply are that good and against another team this afternoon, I think the Raps would have had a shot. Toronto got to the line an impressive 37 times missing only three shots, did hit on almost half their 3-point attempts, and fought well on the boards even without O'Neal. Boston though has played together long enough that their offence runs like a well-oiled machine and without O'Neal to help defensively, you could see that this one was over as soon as the Raptors got down 10-0 in the first few minutes.
The key now though is for this team to show some heart and pull it together. Bosh is still impossible to contain, Jose has helped cut the Raptors' turnover situation down, Roko showed flashes today, and most impressive in my mind, Andrea Bargnani put up 14 and seven even while limited by foul trouble. Watching Bargs today execute the pump and go leading to the pull-up jumper finally brought visions of Dirk into my head and while he's got a way to go (that forced shot where Andrea sought to draw contact was just uggggly), he's finally starting to look like he could be a very tough match-up in this league. The onus is now on Mitchell and co. to keep bringing him along and get him to understand that he, like Bosh should be able to take games over. If Bargs can do this consistently, and Toronto gets O'Neal back to the level he was playing at two games ago, this again could be a scary team.
Yes they are only games 14 and 15 on the schedule, but that's why these next two are so big.
If Toronto posts solid wins, then perhaps the team can weather the storm until Jose and Jermaine regain their health, and then Bryan Colangelo can finally see what exactly he's got to work with.
As I'll be discussing Tuesday, if they both end in losses, and the Western road swing that follows is not kind, Colangelo may need to rethink this year's game-plan entirely.
FRANCHISE