The Good:
-Andrea Bargnani. Welcome back Il Mago. Besides his outburst against New Jersey in the dawn of the season, this is the best offensive display I've seen from Andrea all year. In a nationally televised game, Bargs stepped things up and was instrumental in keeping this one close early on. Most impressive was Bargnani mixing up his game. A few dunks to get things rolling, some long-range bombs, some nice mid-range shots...now if we could only teach him how to rebound as two boards in 40 minutes ain't gonna cut it.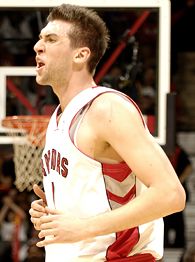 -Jose Calderon. Calderon will never be a defensive point-guard along the lines of Jason Kidd. Therefore against bigger point guards like Chauncey Billups, Jose needs help defensively and last night he didn't get it. But Jose was one of the only players on Toronto to be effective offensively scoring 15 points on seven for 13 shooting to go along with his nine assists.
-Playoff intensity. Toronto's offence sputtered and the defense sagged at times, but both these teams competed with everything they had. The Pistons are simply the better team at this point but it was great to see this type of intensity in early January.
The Bad:
-Jamario Moon and Anthony Parker. Moon had 10 points, three rebounds, three assists a block and a steal and shot almost 50 per cent from the field. That sounds like a pretty complete line so why do I have him in the "bad" section? Because once again he settled for long jump shots on a night when the Raptors desperately needed players going to the rim. As for Parker, two for 11 while allowing his check Rip Hamilton to pour in a game-high 22 isn't getting it done. I'm not sure what to say about AP except that he's basically a Mo Pete clone from last year at this point. All that's missing is a permanent move to the bench in a few weeks and a ridiculous game-tying hail-Mary against Washington.
Think I'm off base?
Peterson is averaging nine points, 3.3 rebounds and an assist shooting almost 40 per cent from the field and 83 per cent from the free throw line.
Parker? 10.6 points, 3.8 rebounds and 1.6 assists shooting 45 per cent from the field and 81 per cent from the line.
Beside Mo Pete's gawd-awful shooting percentage, the two are nearly a match. And Peterson averages three minutes less a game.
Wasn't Kapono supposed to be the one who we compared to Mo Pete?
The Ugly:
Speaking of Kapono...
-The Raptors Bench. Ugh – 5 points from this crew? And outscored by 22 by the Pistons' reserves? Unless Toronto can get some more production from this group the team's in trouble. Toronto doesn't have the star power alone to win games and therefore it needs a complete team effort (especially until we see consistent production from Andrea) to rack up the W's.
I hope however that Sam Mitchell recognizes what the actual problem with the second unit is. It's not that the group isn't scoring, it's that they're not being put in a position to score. Look at the numbers from the bench in the past two games:
Five points last night against Detroit.
Seven points against New Orleans
In both games Toronto got nothing in terms of motion on offense from this unit and turnovers and forced jump shots were the result. Mitchell needs to remember that Juan Dixon, as admirable as his fill-in attempt has been, will never be a creator on offense and therefore the group right now is not getting the looks it needs to be effective. Jason Kapono, and even Carlos Delfino to an extent, are better getting the ball in motion than trying to create their own shot and Dixon struggles against bigger defenders. Hump as a garbage man around the basket can get his but even he is more efficient when his touches are the result of a second and third pass.
You saw this first-hand if you watched the game last night, especially at the start of the fourth quarter, as Kapono and Delfino barely touched the ball. Dixon made some poor decisions, the subs turned the ball over, and the Pistons rammed it down the Dino's collective throats. On top of this, Carlos looked a bit too anxious to take it too his old club and forced the issue. Mitchell has to get some rest for his starters at some point and the bench needs to be able to come in and spell the troops.
-Sam Mitchell. In my dealings with Mitchell in the past, I've always found him to be "candid" with the media to say the least. On a number of occasion I've seen reporters incur the wrath of Sam but last night's post-game press conference took the cake. The following is the quote by quote exchange between Mitchell, who was clearly trying to head back to the lockers and a reporter who clearly was "new" to the whole "ask Sam a question" segment of the program.
Reporter: "How hard of a decision was it to keep Hump on the bench tonight with the way that he was having a great game?" "It's tough because Andrea was out there scoring for you but Hump was having a good game too..."
Sam Mitchell: (Trying to exit stage left) "Well one guy was scoring and the other guy didn't have a great game, that was an easy decision."
Reporter: (In a persistent tone) "He was playing well in the first half..."
Sam Mitchell: (Interrupting and obviously annoyed) "Do you have the stats sheet in your hand?"
Reporter: (Trying to stay strong) "Yeah, he played 12 minutes and had five points and six rebounds. So he was playing pretty..."
Sam Mitchell: (Interrupting again and now furious) "Did you look at the defensive end?" "One thing I don't do, you don't ask me why somebody don't play." "I don't ask you what you write, you don't ask me why someone play." "Understand that?"
Reporter: (Sounding like a scolded child) "Ok."
Sam Mitchell: (Starting to depart and still furious) "Ok. That's my job."
Sam Mitchell: (While walking off and heading to the lockers.) "Don't tell me how to do my job, I don't tell you how..."
Here's someone who as a coach and player has always prided himself on being tough yet with the press he's about as thick skinned as wax paper. And it's not like the reporter asked him an offensive question, I was wondering the same thing considering Hump's rebounding and toughness in the first quarter. Kris is the type to excel in these type of half-court games and while Bargnani was on fire offensively, he provided little interior help, something that Hump could definitely have aided with.
And I guess what really irks me is Sam's general aversion towards the media. I too think that being "miced up" and all of that marketing jazz is crossing the line and bordering on hindering coaching abilities but dealing with the press? Come on! If you hate it that much, YOU SHOULDN'T be an NBA coach! Go coach DII ball or high school in a small town. I hate to break it to you Sam, but just like you teach your players that part of being a successful player in the NBA means you need to play defence, part of being an NBA coach means answering questions for the media. Suck it up.
The one saving grace to the whole unfortunate affair was when the RaptorsTV cameras finally cut back to Centre Court HQ and PJ, Sherman and Leo. Viewers were then treated to the resounding sound of crickets and an unbelievably awkward (and therefore comedic) silence.
Moving On –
Even with the bad and the ugly, you can't be too upset about this loss. The Raptors were outrebounded, outscored, and in the end, out played on this night. The best team won and while Toronto hitting more than 14 of their 22 free throws and 33 of their 80 shots would have helped, it still would have been very tough to snatch away a W from Detroit. After watching the Pistons last night I'm quite confident that this is the team that will represent the East in the NBA Finals. They have the depth, a balanced attack of inside, outside and mid-range scoring, defence at each position, great coaching and most importantly, a ton of experience from their key players. You could see this tonight as the Pistons simply took advantage of each and every Raptor mistake and made Toronto pay.
Any time you play a team like this the margin of error is so small that you almost need a perfect game. The Raptors got a good one, one that would have beaten a number of other clubs on this night for instance, but not one that was enough to topple the battle-tested Pistons.
The Cleveland Cavaliers are up next and having won four of their last five should be another test for Toronto. The Raps are looking at teams like Philly and New York on the horizon so a win Sunday would put them in a good frame of mind heading into what should be two W's.
And for the sake of any Cavs' press that may be in attendance, let's hope they get the memo about asking Sam questions when he's ready to call it a day...
FRANCHISE