Welcome back Mighty Mouse.
Hmmm...sound kinda weird doesn't it? Are fans that fickle? Remember, prior to the departures of Vincent Lamar Carter and Tracy McGrady, this was the player who brought the most venom forth from the ACC faithful.
But there's no denying the fact that an experienced floor veteran with his scoring and passing abilities would be a good fit behind Jose Calderon. He could come in and play 20 minutes a game without missing a beat, and would be a serious upgrade over the likes of Darrick Martin and Juan Dixon. Toronto would have to free-up a roster spot of course, but that means Mr. Martin would likely join the coaching staff once and for all. Toronto kept him around to use his salary and contract in case of trades but he would be a relatively inexpensive buy-out.
To be honest though, I don't see Stoudamire re-appearing in a Raptors uniform. He'll get more playing time in both Boston and Phoenix (unless TJ Ford decides not to return this season) and in all honesty, a better title shot.
That's not to say that Toronto isn't giving it a valiant attempt. The mere fact that Stoudamire is considering a return to the city that drafted him speaks volumes about B.C.'s sway and maybe he can entice Damon into signing something till the end of the season, thus giving him next summer to run with another squad if he so desires.
So I'm expecting today to come and go without any new back-up options for Jose Calderon. We find out on Thursday if Jose gets the All-Star nod and it's been great of late to see some of the US media jump in on the Calderon for All-Star bandwagon. Besides being a Raptors' fan of the extreme variety, I really feel that Jose is a correct choice as an All-Star reserve. Unfortunately, I fear that more well-known names like Hamilton and Jefferson may show up on the final roster. If that's the case it's extremely unfortunate, but I can understand it as both are having great seasons for their respective clubs.
However I will be livid if one of the following three players gets the nod over Jose:
1) Vince Carter.
Nuff said really. Jason Kidd doesn't merit a spot on this team but I understand that he's simply the fans' choice. In fact if anyone on the floundering Nets (nice last second loss to the T-Wolves boys) deserves a spot, it's the aforementioned Jefferson. He's really been the only Net who's played up to his abilities and shown some passion on the court. Nets' boss Rod Thorn echoed that sentiment in the local papers this morning with this quote:
"Am I convinced that all of my players want to be here?...I think how they perform on the court indicates whether that is true or not true."
Well, no surprise to most of us Raptor fans considering one of their "main players" is Carter. Anyone else find it ironic that it looks like New Jersey is about to be in the exact same situation Toronto was only about three seasons ago, having to deal a superstar for 10 cents on the dollar?
2) Shaq. Yes he always provides 'nuff entertainment at these events but let's not make this a legacy vote. O'Neal has been border-line awful this season.
3) Hedo Turkoglu. This one would burn me the most. For anyone who's watched Orlando this season they know that Hedo is not an All-Star. Yes, he's having a great season and is providing a huge shot in the arm for the Orlando Magic. However he's not much different from Vince Carter. His shot selection is some of the worst in the league, he shoots only about 43 per cent from the field, settles for jumpers and while his PER is at an all-time high at 17.01, it still lags behind Jefferson (18.19,) Hamilton (20.35) and especially Calderon (21.77.)
Unfortunately shots like his game-winner yesterday over Boston (which most will remember as opposed to his decisions earlier in the game which allowed the Celtics back into the game) might give him the push he needs.
But enough All-Star talk for now, let's get back to the Raps.

Even in their last bunch of wins it's obvious that beyond the point guard situation, the rebounding and points in the paint departments could use some shoring up. The question then is, is there any way of addressing those if the point guard situation can't be rectified?


The Bird Man would look great flying beside Chris Bosh...
Well there are some interesting options out there and we'll start with Chris Anderson. As most know, the "Bird Man" has been out of the league for the past two seasons due to violating the NBA's substance abuse policy.
However he's currently applying for reinstatement and it sounds like the New Orleans Hornets, who have first dibs, don't want to give him another shot.
However if healthy, both mentally and physically, Anderson would be a huge help for the Raptors as he's essentially an Anderson Varejao type, and could provide this team with the energy, hustle, rebounding and shot-blocking it so desperately needs. Remember Keon Clarke? Well this would be the second coming…in more ways than one.
There are of course a lot of "ifs" at this point regarding the Bird Man but I fully expect B.C. to make some inquiries in regards to his status and where exactly he is in the rehab process.

I also wouldn't be surprised if things get really desperate and the Raptors look for a D League solution, much like they did with Luke Jackson last year. In that light I bring you Rod Benson. Many know of Benson from his hilarious blog, Too Much Rod Benson.com, and he's now writing for Yahoo as well.
However he's not just the second coming of Oscar Wilde, Benson is also the NBDL's leading rebounder at almost 12 per game. At 6-10 with great length and instincts for the ball, it's only a matter of time before he gets some run with an NBA squad. Benson was one of the last cuts from the New Jersey Nets this past fall and is no slouch offensively either averaging 13 points per game as a member of the Dakota Wizards.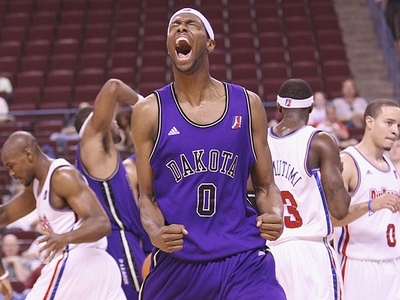 Click here to vote: http://www.nba.com/dleague/allstar2008/asb/ballot.html
And what about some overseas help? Maurizio Gherardini is doing some scouting in Europe in the next while but this may have more to do with the upcoming draft (yes, never too early to talk draft) than anything else.
And speaking of European basketball, check out some of the interesting "one word descriptions" a number of us NBA bloggers came up with recently.
So what about trade options? Watching Minnesota beat New Jersey last night and seeing them hang tight with Boston previously got me thinking about a few of their players. Would Bryan Colangelo instead of acquiring a point guard, look to grab some other "high upside" player? What about Gerald Green? The reigning slam-dunk champ has not had his option picked up by the Wolves and it looks like he'll very likely be a free agent next year. However he's an explosive player with a sweet jump-shot that he's still figuring out how and when to use. What about making a move for the high-flyer for the remainder of the season? It would amount to a try-out for the Raptors and perhaps be the change of scenery the kid needs, not to mention he'd get great tutelage from Sam Mitchell. In addition, Toronto could pick up the rebounding help they needed via Michael Doleac, a back-up center whose contract expires at season's end as well.
To make the deal work financially, Toronto would give up Joey Graham and Juan Dixon. This deal makes sense in many ways as it would be a case of both teams looking for upside as Graham and Green were drafted at almost the same spot and both have not lived up to draft-day expectations. On top of that, there are really no large ramifications salary-wise for either club thus making it relatively risk-free. If Minny doesn't plan on keeping Green beyond the season, they might as well see what sort of interest he could drum up.
All of this of course depends a lot on Colangelo's priorities and TJ Ford's situation but this is the time of the year when teams decide whether or not to give up on the playoffs and rebuild, or look to add that little extra piece they may be missing (see G State and Chris Webber.)
The Raptors have looked pretty good lately winning seven of their last 10, and you definitely don't want to mess with the current chemistry too much…but you've gotta wonder if an extra piece or two wouldn't hurt.
FRANCHISE