I hope Doc Rivers took note of Jose Calderon's game-winning lay-up when the All-Star game rolls around...
Well what can you say, what a win.
And not "what a win" in the same way that Toronto took over against San Antonio when it counted most, or absorbed the gut-shots from the Blazers for the eventual win.
But talk about winning by the skin of your teeth.
Or in this case, your 3-point shooting.
The Raptors long-range bombers were absolutely on fire last night and Jose Calderon did an outstanding job of penetrating and finding his teammates.
The strange thing, as we'll take a look at in a second, is that from a stat-sheet perspective, you never would have guessed that the Raptors would have won without looking at the final score.
However the team got some lucky bounces their way, some poor decisions near the end of the game by the Celtics and just enough offense from their key players to eke this one out.
A Numbers Game –
I'm not even sure which numbers to highlight first in this affair.
Let's start with the negatives, aka the things that almost did the Raptors in.
-16 to 4. While Toronto did a decent job overall on the glass, once again the Raptors were pounded on the offensive boards by 12. The worst part of this was that most of these offensive rebounds came in the fourth quarter, the time when Toronto needed to keep possession the most.
-18. Speaking of keeping possessions, the Raptors were terrible with the ball last night turning it over an uncharacteristic 18 times. This resulted in 29 points for the C's off of these miscues and between the turnovers and the rebounding, had Toronto lost this game, these two stats would have been the main culprits.
-56 to 16. This would be the ridiculous discrepancy between Boston's points scored in the paint, and Toronto's. Had the first two stats not done the Raptors in, most nights, this one would have. If Bryan Colangelo needed further proof that perhaps swinging a draft day deal for DeAndre Jordan is a good idea, this was it. It really was a tale of two cities as while Boston did all their damage inside, the Raptors did theirs from the outer limits.
-71 per cent from the 3 point line. Yes, that would be the outer limits I'm referring to. I'm not sure I've EVER seen a Raptors team shoot this well from beyond the arc and in this game, Toronto hit an amazing 15 of their 21 shots. And even crazier perhaps was that the team only took 69 shots to Boston's 89! Yes, the three-point bomb was indeed the great equalizer on this evening and was the difference in the end.
The Turning Point –
The turning point in this one was Ray Allen's missed shot and the buzzer sounding; it really was that touch and go. The Raps seemed incapable of grabbing a defensive rebound, I was screaming about Ray Allen missing his shot and running untouched to the baseline to get his own rebound, and you just never felt confident that someone in green wouldn't hit a buzzer-beating heartbreaker. However Toronto's luck held and this is one game you chalk up as a W, wipe your brow and move on.
Temperature Check –
Hot – Andrea Bargnani.
Is it a bird? Is it a plane? Nope, it's the return of the magician. It was a bit strange watching Andrea tear it up and CB4 struggle, not to mention you'd hardly even know that Andrea has had such a tough year if this was your first time tuning in. Everyone's got their fingers crossed that this is the start of the Andrea we've all been waiting for but let's give him some space. I'm still going to take the "forget about Bargs" mentality until I see some consistent production going forward but that's not to say I'm not conceding the difference a game like this from Andrea makes to the team. His scoring opens things up for everyone and when he started cooking early, the Celtics couldn't simply hang around Toronto's other shooters on defense. In previous games, with Andrea struggling or being passive, it was essentially five on four for the defending club. Last night you saw however how effective his A game can be as he not only had seven rebounds but had seven assists and as a result Toronto had five players with over 15 points. I also thought he did a solid job defensively in this one.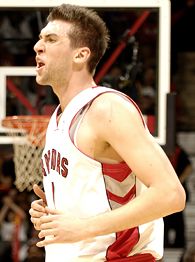 Besides Steve Nash, I'm not sure there's a better point guard in the league at turning the corner on the opposition. Jose had a tough time guarding the quicker Rondo but did a much better job finding his teammates for open bomb after bomb. The strange thing is that it took the entire game for Boston to figure out what Jose was doing. As Jose kept rounding that corner, getting down into the paint, and then firing passes out to his shooters, I kept waiting for Boston to start vulturing his passes. It didn't occur until almost the end of the fourth quarter when KG hung around and grabbed one of Calderon's lobs but by then, most of the Raptors' 3-point damage was done. Heady play by Jose on the game winner and at this point we just gotta hope that he stays injury free...or Mighty Mouse arrives.
Hot – Sam Mitchell.
I got a little antsy watching Dixon play 10 minutes in relief, especially in the first half when Boston stretched their lead to 11 with him running the show. However Mitchell didn't let things get out of control, and in the second half, did a great job of making sure Jose was in the game when Rondo was. That's really all you can ask for as JC can't keep playing 45 minutes a game, and I thought all game Mitchell did a great job of subbing players in and out. Players like Moon and Hump got the quick hook when they weren't living up to his expectations and his match-ups of Bosh and Bargs worked wonders on offense.
Lukewarm – Chris Bosh.
Bosh still seems somewhat intimidated by this Celtics team. He played tight, especially in the first half, and had seven of the Raptors' 18 turnovers. He did have a quiet 23 points and came through in the fourth quarter when Toronto needed it most so it's tough to nitpick. However a more aggressive and decisive Bosh might have put this one away early.
Cold – Paul Pierce.
I've seen the Celtics a number of times this year and Paul Pierce is the weak link to this club. Allen and KG are a seamless fit, both can takeover when needed and both, Allen in particular, are deadly when they get open looks from various spots on the court. But Pierce has a bit of Mike James in him. He too often forces his offense when he feels he needs to takeover games and his eight of 20 shooting hurt the C's in the clutch.
Cold – Raptors bench.
Nothing new to report here really. Carlos Delfino was huge for the Raps but other than his scoring, and some solid minutes from Rasho, Toronto didn't get nearly enough production from their reserves. Unfortunately I don't see this changing until Toronto addresses the point guard situation or TJ Ford returns. The geniuses on NBA TV last night were discussing Kapono's lack of production and blaming it on Moon stepping up and Kap-One simply struggling. Man I can't wait till these guys actually start WATCHING Raptors' games instead of just reading news headlines.
Prior to the game Sam Mitchell was adamant that it wasn't a big game in his opinion for his club. You'd never know that from his reaction on the sidelines when the buzzer sounded however.
This was a huge win for the Raptors on many levels.
First of all, it showed that even without a top-notch defensive performance, the team's offense is more than capable of carrying them through games, a trait that we saw time and time again last year.
Second, the Raptors really didn't play a great game in many respects and still got the win.
Third, in the words of the great Chuck D of Public Enemy, "Don't Believe the Hype."
Maybe this Boston team isn't so invincible? The final score reflected the fact that it was the most points the C's had allowed an opponent to score this season and perhaps Toronto and it's run-and-gun style is the exact type of team Boston doesn't want to face in the playoffs?
In fact, in my pre-game thoughts, I stressed how important it was for the Raptors to play to their style, and that I felt that if they could do that and not wallow in the C's half-court misery, that would be the difference.
Post-game, Boston coach Doc Rivers confirmed this:
"The game was never a power game, it was a finesse game. We can be a good team playing that style, but not a great one."
I have to agree with Doc in this respect and you can chalk this up as another example of "any team can beat any other team on any given night."
Yes, the NBA it's fantastic.
The final reason I felt this was an important win was for Andrea's development. This wasn't the Sonics he was playing when he started firing on all cylinders, this was the league's premier defensive team, whose anchor he was matched-up with for most of the night. In that sense, I hope fans now can stop believing the hype regarding him being a bust. You never saw Kwame Brown, Joe Smith or the Kandiman let alone other successful top picks do some of the things he did last night. Consistency is an issue with any young player so hopefully fans will stop focussing on Andrea, who seemed completely annoyed with Leo's half-time questions last night, and focus on the entire team improving from game to game.
Up for next for the Dinos is the Milwaukee Bucks, a team that I really thought would be competing for a final playoff spot this year. They've had their injury woes but have struggled even when healthy.
My hope though is that Toronto comes out "guns drawn" for this affair as last time these teams met, the Bucks crushed the Raps as Toronto's offence sputtered.
Defensively they were even worse but Toronto has tightened the screws at that end since then and we'll break things down tomorrow, hopefully with the help of a Bucks' blogger.
Until then we'll see if we hear any news on the Damon buy-out situation...oh and a little something expected today called the All-Star selections...
FRANCHISE